Trucking news and briefs for Thursday, Aug. 19, 2021:
Westbound I-10 closed this weekend in Phoenix
Drivers planning to head west on I-10 in Phoenix this weekend should prepare for the fifth in a series of weekend closures as the Arizona Department of Transportation continues initial work on the I-10 Broadway Curve Improvement Project.
Westbound I-10 will be closed between State Route 143 and I-17 from 10 p.m. Friday, Aug. 20, to 4 a.m. Monday, Aug. 23. The ramp from southbound SR 143 to westbound I-10 will be closed, as will the westbound U.S. 60 HOV ramp to westbound I-10.
The westbound I-10 on-ramps at Elliot, Baseline and Broadway roads and 40th and 32nd streets will be closed. The westbound U.S. 60 on-ramp at Mill Avenue also will be closed.
Drivers on westbound I-10 can exit to northbound SR 143 and use westbound Loop 202 (Red Mountain Freeway) to access westbound I-10 beyond the closure. Drivers on westbound U.S. 60 and from other areas of the East Valley should consider using the northbound Loop 101 (Price Freeway) to westbound Loop 202 (Red Mountain Freeway).
Workers are setting up temporary concrete barriers and removing the rubberized asphalt along the 11-mile work zone on I-10 between the Loop 202 (Santan/South Mountain freeways) and I-17. This weekend's closure will allow crews to complete work zone setup and asphalt removal.
The last weekend closure for this initial stage of work is scheduled along eastbound I-10 between SR 51 (Piestewa Freeway) and U.S. 60 from late Friday, Aug. 27, to early Monday, Aug. 30. ADOT anticipates two closures of U.S. 60 for similar work zone setup and rubberized asphalt removal, which will be scheduled this fall.
[Related: Roads 511: Highway information in near-real-time in a curated Twitter list of state DOTs]
New California-legal extendable heavy-haul trailer line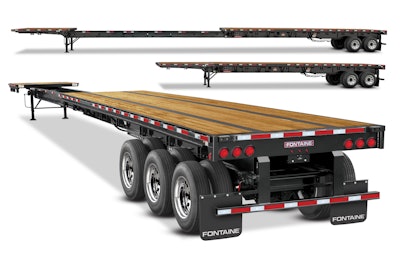 Fontaine Heavy-Haul is introducing 53-foot Xcalibur extendable trailers that are California-legal. "We listened to our customers and responded with four 53-foot California-legal models, offering a choice of spring or air suspension with tandem or tridem axles," said Todd Anderson, Fontaine VP of Sales and Marketing.
The 53-foot designation refers to the overall length in the closed position -- all four are 90-foot fully opened. When the trailers are closed and the sliding axles are in their most forward position, the distance between the kingpin and the rear axle center is less than 40 feet, making these trailers legal to operate in the Western-most state.
Xcalibur is designed for maximum uptime, the company said. An innovative cable management system helps protect telescoping air and electrical lines from damage. Sliding axles are attached to the trailer in a "slider box," so they move together as a unit.
[Related: Trailers' simplicity doesn't excuse poor preventive maintenance]
Love's opens new stores in Louisiana, Illinois
Love's Travel Stops opened two new stores this week in Monroe, Louisiana, and Elk Grove Village, Illinois.
The Monroe store, located off I-20, adds 90 truck parking spaces to Ouachita Parish. The Elk Grove Village store, located off Illinois Route 83, adds 17 truck parking spaces to Cook County.
"We're excited to open our 10th and 29th location in Louisiana and Illinois, respectively," said Greg Love, co-CEO of Love's. "We place Love's in locations that are easy to access and help get customers back on the road quickly and safely. These two locations – one in the South and one in the Midwest – fit the bill."
The Monroe location features Chester's Chicken, Godfather's Pizza and Subway restaurants (all opening Aug. 23); eight diesel bays; seven showers; a Speedco opening at a later date; and more.
The Elk Grove Village location features Chester's Chicken and Godfather's Pizza restaurants (opening Aug. 23), five diesel bays, four showers, and more.