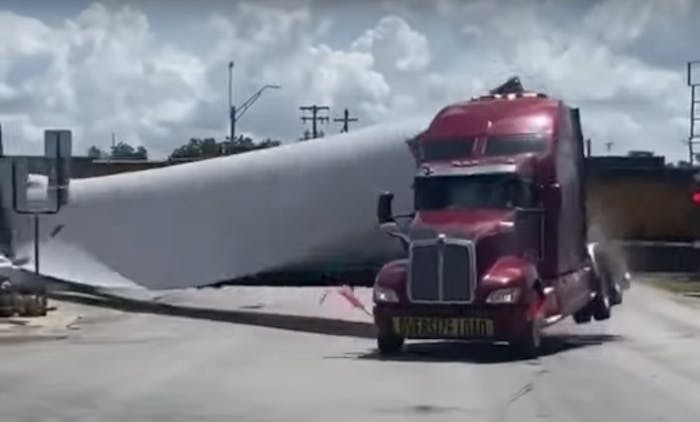 Trucking news & briefs for August 30, 2021:
Driver unharmed after blade trailer's dramatic crash with train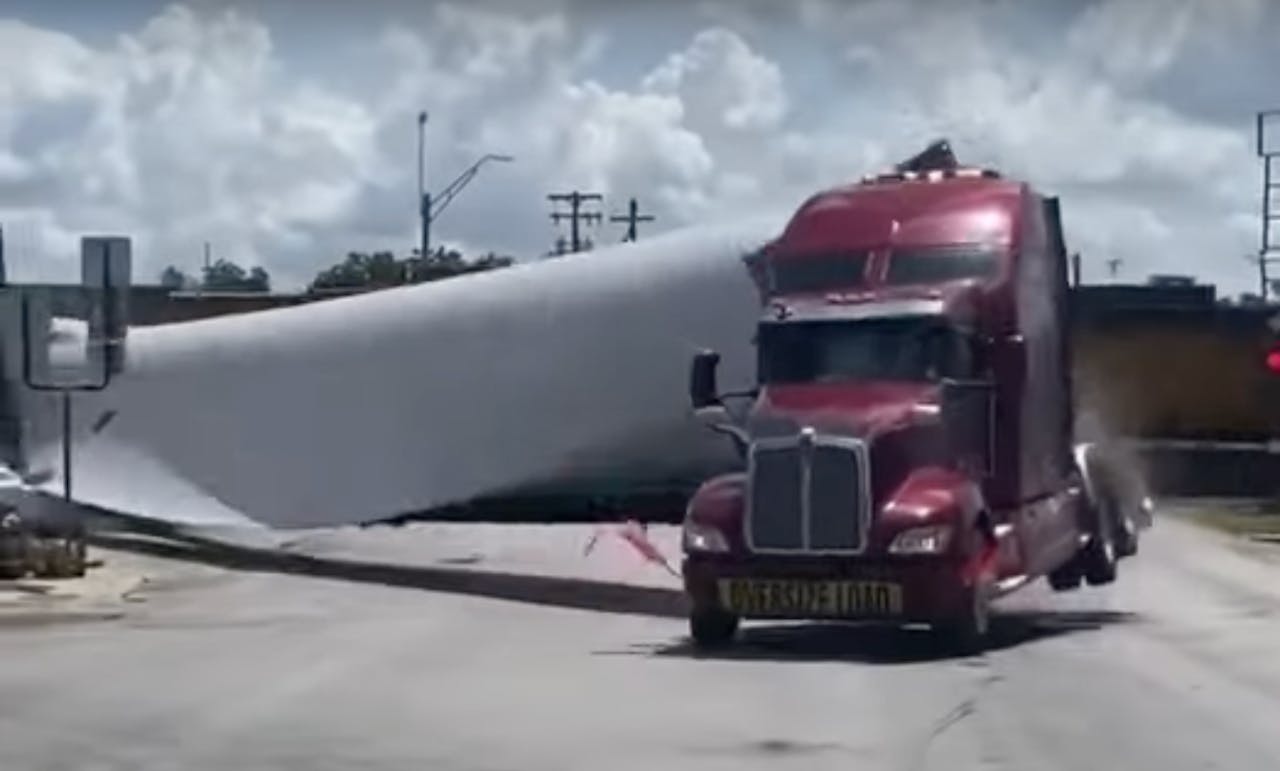 At around 2:30 p.m. on Sunday a Northern Lights Specialized Transport truck hauling an oversized windmill blade was struck by a Union Pacific train traveling at a fast clip at the intersection of Highway 90 and Highway 183 in Luling, Texas.
A video of the crash shows the railroad crossing crossbars lowering around the rig. Seconds later, the train strikes the wind turbine blade, then turning over and dragging the combination down the tracks as onlookers react in shock. Northern Lights Specialized Transport confirmed the incident to Overdrive and said that, thankfully, the driver was not harmed.
Train "crew members sustained minor injuries," said a Union Pacific spokesperson. "The tracks have been cleared and the locomotives involved in the incident were damaged."
Following the crash, the train screeched to a halt, and investigators eventually cleared the scene at around 9 p.m., according to a local news outlet.
Watch video of the shocking crash here.
I-15 to close in both directions
The Nevada Department of Transportation announced on Monday that I-15 will close overnight in both directions at Tropical Parkway from Monday, August 30 into Wednesday, Sept. 1 as part of the I-15 North Corridor Speedway Bowl project.
The closures are slated for 7 p.m. until 5 a.m. each of the three days "while crews install high mast lighting in the median of I-15," according to a statement.
For drivers headed that way on those nights, the organization provided the following list of alternative routes.
NB I-15 traffic will be routed on and off the interstate via the ramps at Tropical Parkway. To facilitate the detour, Tropical will be closed between Range Road and Nicco Way.
SB I-15 traffic will be rerouted onto WB CC-215, to Lamb Boulevard, to EB CC-215. Motorists will then continue onto SB I-15.
The Nevada DOT further warned that drivers "should use caution while traveling through the work zone and heed construction signage," and that the agency reports traffic information to Waze.
I-17 to close at night near downtown Phoenix
I-17 south of downtown Phoenix will close Monday and Tuesday nights into early Wednesday morning as crews work on a new bridge near Central Avenue.
NB I-17 will close overnight between 9 p.m. and 5 a.m. both Monday and Tuesday night near the I-10 "Split" interchange near Sky Harbor Airport and Seventh Avenue, the Arizona DOT said.
"Traffic will be detoured on westbound I-10 in the downtown area and drivers can connect with I-17 at the 'Stack' interchange west of 19th Avenue," the organization said in a statement.
SB I-17 will close overnight between Seventh Avenue and Seventh Street from 10 p.m. Tuesday to 4 a.m. Wednesday. The southbound I-17 on-ramp at 19th Avenue also will be closed, and drivers can detour on EB I-10 in the downtown area, according to the statement.
The crews will work on ADOT's $13.5 million project to build a new I-17 bridge over Central Avenue, which is scheduled for completion this fall.
[Related: Road closures, more after Ida makes Louisiana landfall: Resources]