Trucking news and briefs for Thursday, Sept. 2, 2021:
Drivewyze demonstrates automated electronic roadside inspections
Weigh station bypass service Drivewyze this week demonstrated automated electronic roadside inspections and how they can save time and money by streamlining the Level 3 inspection process.
The demonstration took place at the CVSA conference in Wilmington, Delaware, in front of convention attendees that included state law enforcement and fleets from throughout the country.
Trucks and drivers, provided by Western Express and Schneider and equipped with Drivewyze PreClear, were on hand to illustrate how e-Inspections work. A simulated inspection site showed how time-consuming elements of traditional manual inspections, such as searching multiple systems to verify carrier, vehicle and driver credentials and more, can be automated to save significant time for both inspectors and drivers.
Using e-Inspections, an officer viewed vehicle, carrier and driver-level information transferred electronically while the vehicle was still in motion. The inspection system further streamlined the inspection process by screening carrier, vehicle and driver data automatically against multiple systems – all at once – for compliance issues, allowing the officer the freedom to validate data or focus on non-electronic elements of an inspection.
In addition, the officer had their inspection form automatically pre-filled at the start of their inspection, avoiding time-consuming and error-prone manual data entry. When the officer was satisfied, the inspection was completed at the touch of a button, saving significant time, and improving the accuracy of the inspection.
"What the demonstration showed was not the future – it's showing the here and now, and how Drivewyze and our partners are re-creating traditional inspections," said Brian Mofford, Drivewyze's vice president of government experience. "It takes the leadership of our public agency partners, and the capabilities of our connected truck technologies, to create a new paradigm in delivering highway safety. There are too few inspectors for enforcement to operate effectively against an ever-increasing number of trucks on the road. e-Inspections are a force multiplier that increases the reach of our agency partners without impacting the movement of our economy's freight."
Mofford added that e-Inspections could cut a "clean" inspection from 30 minutes or more down to just a few minutes without impacting the effectiveness of the inspection.
"It benefits carriers and drivers who can log more drive time, plus it allows inspection officers to screen more vehicles in a timely fashion," he said.
According to Mofford, five states – Maine, Maryland, New Hampshire, Virginia and Michigan – are rolling out e-Inspections, through Drivewyze ELD partners Geotab, Platform Science and now Trimble, which was announced at the CVSA convention. Additional ELD partners enabling the possibility of e-Inspections will be announced soon, as will additional state partners.
Mofford added that e-Inspections will allow for more inspections to be conducted, which could be of help for carriers and their CSA scores if the inspections feature violation-free results.
Spot truckload volume increased 10.6% last week; truck posts decline
Load post volumes on the DAT network of load boards, operated by DAT Freight & Analytics, increased 10.6% during the week ending August 28. The number of available trucks fell 4.3% compared to the previous week, which pushed spot rates higher.
Truckload van freight hit $2.79/mile as a national average, up 2 cents compared to the previous week. The average spot reefer rate also jumped 2 cents to $3.13/mile, while the average flatbed rate rose a penny to $2.97/mile. All rates reflect any fuel surcharge.
Demand for trucks remained high: The bellwether national average van load-to-truck ratio increased from 6.4 to 7.5 last week. meaning there were 7.5 available van loads for every van posted to the DAT network. The reefer ratio was 16.3, up from 14.2 the previous week, and the flatbed ratio increased from 41.7 to 48.5. These ratios are considerably higher than the same period in 2020, when the van ratio was 5.7, the reefer ratio was 10.7 and the flatbed ratio was 36.7.
At once, busiest lanes cooled: While volume was up nationally, the number of loads moved fell on the country's busiest lanes. On DAT's top 100 van lanes by volume, the number of loads moved was down 1.9% week over week. Volume fell 2.8% last week on the 72 busiest reefer lanes, while the number of flatbed loads moved dipped 0.6% on the top 78 flatbed lanes.
Produce volumes taper off: Weekly truckload volumes of domestic produce have declined by 25% since the July 4 weekend, according to the U.S. Dept. of Agriculture.
Hurricane Ida: Before Ida made landfall on August 29, inbound van volume increased 5% during between August 22 and 28 while outbound volume jumped 19% compared to the previous week. Temperature-controlled shippers were also busy moving freight away from the storm, with outbound volume up 25% week over week.
New Orleans is not a large flatbed market, but during hurricane season inbound loads of building materials, machinery and lumber surge in anticipation of high demand during rebuilding. Two weeks ago, inbound flatbed volumes jumped by 47% week over week before dropping to more typical levels.
Flooding and power outages can snarl supply chains after a major storm. The American Logistics Aid Network (ALAN) posts a list of needs during recovery efforts including truck capacity, heavy equipment and warehouse space. DAT offers tools to move FEMA loads and emergency freight, connecting carriers with brokers and shippers who have urgent shipping needs.
Be wary of Labor Day cargo theft activity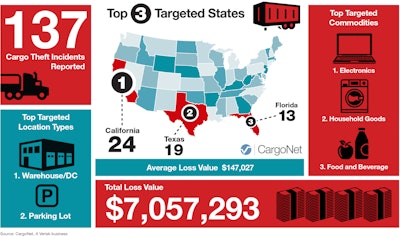 Cargo theft recording firm CargoNet is warning trucking companies and truck drivers of an expected increase in cargo theft activity during the upcoming Labor Day weekend.
CargoNet recorded 134 events involving cargo theft or theft of a trucking vehicle during the previous five Labor Day periods. Each event was worth an average of $147,027.
The firm notes activity was highest during the 2020 Labor Day period and increased 19% over the previous year. Nearly half of all events recorded during the previous five years took place on the Friday, Saturday or Sunday before Labor Day.
Electronics – specifically computers, computer parts, and televisions – were the most stolen category of goods in recent Labor Day periods. Electronics goods were distantly followed by household commodities such as major appliances, tools, and mixed shipments of household and houseware items, CargoNet says.
Theft activity was highest in California, Texas and Florida. More specifically, theft was most common in San Bernardino County, California, and was followed by Dallas County, Texas, and Los Angeles County, California. Theft was most common at warehouse locations, followed by retail store parking lots and truck stops.
The firm suggests trucking companies and shippers/receivers can step up security by arranging for same-day delivery of short-haul shipments, embedding covert tracking devices, and by using high-security locks to prevent trailer burglaries. Additionally, CargoNet says drivers should not leave their vehicles or shipments unattended, especially within 250 miles of pickup, and should also be on the lookout for any vehicles that appear to be following them.