The ATBS owner-operator business services firm hosts its mid-year owner-operator benchmarking call Thursday, September 16, at 6 p.m. Eastern, 3 p.m. Pacific, open to any owner-operator via this registration link.
A preview of some of the data ATBS President Todd Amen will discuss on the call was on offer Tuesday, September 14, in a presentation to ATBS fleet partners. There, Amen delivered some net income news that may not surprise any independent who's watched truckload rates over the course of the past 12 months.
"We had a big increase to more than $70,000 a year," Amen said, for the average income among ATBS clients "for the first time since we've tracked this data."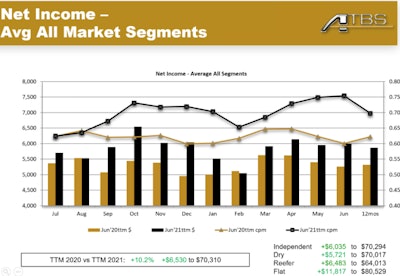 All in all, the gains in average income for the 12 months ending June 30 this year represent a 10.2% increase over the prior twelve months.
From a freight- and rates-fundamentals perspective, Amen called the current market "the best trucking environment that I've ever seen in trucking in 30-plus years."
Looking at the trend on a more long-term basis, too, Amen said, operators "are doing very well – it's great to see them making on average 70 cents a mile and $70K per year" at this point.
Headwinds exist in inflationary pressures on fuel, maintenance and equipment costs, yet rate gains are sustaining small businesses' efforts to make up for those pressures -- and then some, on overall fewer miles than in recent years. Spot market highs, too, have attracted owner-operators to get their own authority in numbers high enough that, Amen said, large fleets have found it hard to grow.
[Related: Where are the empty shelves? Keep those rate increases coming, shippers]
"We've added 60,000 owner-operators with their authority in the market" in the last year, he said. "Drivers are going out and taking the risk to do this. The barriers to entry, to be honest, are less than they used to be," with the possible exception of the high cost of commercial auto liability insurance for those new-entrant carriers. IFTA's easier to handle, freight's simpler to find -- "the complication of going out to do it ... it's easier than it's ever been."
Amen added that he knew of just two sizable partner fleets who'd grown their owner-operator capacity in the past 12 months.
Among the approximate half of fleet reps on the Tuesday call that didn't principally offer percentage pay programs for their owner-operators, however, few expected pay rate increases in the next six months.
For those percentage-pay carriers, rates increase with the carriers' ability to command higher freight pricing, a definite feature of the last year's worth of trucking, as Amen underscored. No surprise, Overdrive's compensation survey from earlier in the year showed incidence of and interest in the percentage pay structure for leased owners growing alongside freight rates.
[Related: Percentage pay is king for leased owner-operators, long after the rise of miles post-deregulation]
Find a few more "sneak peeks" at data Amen will share on the call/presentation on Thursday via the ATBS promotional infographic below, and stay tuned for information on how to sit in on an October Overdrive data-benchmarking discussion with Amen, part of our ATBS-coproduced Partners in Business series for more. Click here to download the 2021 edition of the Partners in Business manual.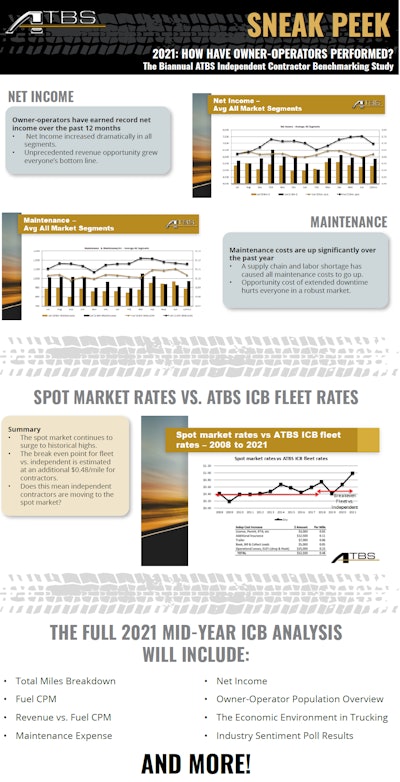 [Related: Owner-operator income for 2020 a mixed bag, plan for potential downsides, uncertainty]