Previously in this series: Time-based pay could improve fairness, reduce detention
"It's about the only way I would do it. If you operate for all-miles pay ... you're letting the house hold your cards. [When you do that,] the pay's always going to be less." --Owner-operator Henry Albert
Percentage of the load/revenue has risen to predominance over many years as the No. 1 compensation structure for owner-operators leased to motor carriers. Owner-operator Henry Albert was referencing that model when he spoke the words above. 
Nearly 8 in every 10 leased owner-operators in Overdrive's audience today are compensated on a percentage model, according to our 2021 compensation survey of owner-operators leased and with authority, small fleets and company drivers. It hasn't always been that way. As Overdrive reported just about a decade ago, for about 20 years following 1980s deregulation of pricing in freight markets, miles pay rose in prominence, given the shock of the post-deregulation rates freefall. The "guaranteed" aspect of miles pay appealed to those who were looking for more predictable income in a market they no longer understood. 
That's the thing about percentage pay -- those who excel under it have the ability negotiate their rates with carrier agents or otherwise at the very least exercise load choice to capitalize on local markets where they know supply/demand metrics favor them. There's plenty evidence that more owner-operators are putting that market knowledge into practice. 
Owner-operators' pay-package realities, as shown above, align fairly well with stated preferences, too. Polled here at Overdrive around the same time as the recent compensation survey, 7 in 10 owners signaled a strong preference for percentage structures over mileage or even a choice of miles or percentage, as shown. 
The long rise of mobile communications tools has helped lead the way there. Real-time market knowledge is a much easier prospect for self-employed owner-operators and trucking entrepreneurs who would build fleets in contracts with owner-ops. The easy access to information about rates along lanes and out of specific markets "is driving the industry to more percentage-pay programs," said Todd Amen, president of the ATBS owner-operator business services firm. "That's good, but there's no safety net when rates [inevitably] will drop," something an owner or even company driver newly participating in such a program should keep in mind. "If I'm going to go down with the market, I better be prepared for that. Save the money you're making when it's good."
A new generation of truckload carriers in varying niches are focusing on delivering strong income by keeping rates elevated as much as possible. In a percentage type of program, there's plenty of incentive for them to do that, and the same is true for an owner-operator with self-dispatch control in such a program.
Examples from recent Overdrive coverage include those of Sisu Energy out of Texas, operating mostly with oil-field-related freight in dry bulk, and the CloudTrucks carrier, whose model gives owner-operators leased there wide latitude to take control of their own destiny via rates negotiations with mostly brokerage partners posting freight to its system. In just the last couple years, both carriers have attracted dozens of owner-operators to lease arrangements with them, even as headwinds against the leasing model itself continue blown in from the West, most famously in the form of California's A.B. 5 law, currently headed toward a possibly final step in litigation before the Supreme Court. 
[Related: Trucking exempt from A.B. 5 until Supreme Court weighs in]
Both companies compensate leased owners in a percentage structure, with Sisu Energy-leased owners keeping 83%, not uncommon in the oil field. However, owner-operators leased at Sisu Energy must provide liability insurance roughly commensurate to what an independent single-truck owner might pay annually -- $10,000-$12,000, which in part accounts for the rates well above the more OTR industry-standard level of between 70 to 75 percent.
Per-truck, for instance, one leased small fleet owner interviewed this Spring noted he was paying right around $230 a week for insurance.
Good rates, though, more than make up for that cost, he added. The lease agreement is straightforward in terms of costs, too, he said. "I've seen some oil field companies with a higher percentage" in the terms, around 90 /10, but they have hidden fees that cut into the 90 percent.
Simplicity, too, in part drives the founders and managers of CloudTrucks, where owner-operators keep 85% of load revenue.
CloudTrucks' cofounder and CEO, Tobenna Arodiogbu, started up with a missions to put a structure in place whose benefit chiefly to the owner-operators that power the business, not the brokers or shippers who also use the company's platforms.
"A broker's primary customer is a shipper," he said, and plenty tech-savvy brokers in this day and age end up "helping the shipper be a lot more efficient." The owner-operator who serves that broker's bedrock transport needs for its customer, then, "is left behind" in the efficiency game. 
Arodiogbu went on: "We want to build tools to help the owner-operator be more efficient. How do you know the rates are fair based on market conditions? How do you know the best route to take?"
Tools within the company's system, including within its mobile app, allow for easy assists in both regards, and a "schedule optimizer" can be utilized to more efficiently plan routes from "hot market to hot market" if so desired. 
CloudTrucks-leased owner-operator Jason Hurley hasn't relied on that optimizer, yet he said the load board within the CloudTrucks system might show a load offer price, depending on the broker. And CloudTrucks displays a "range between the low and the high side" for what that lane has been paying in recent history. "It's all very helpful info and gives you a good idea where to start. Sometimes [offer] rates just don't make sense to me. It's all great information to help me make the best decision."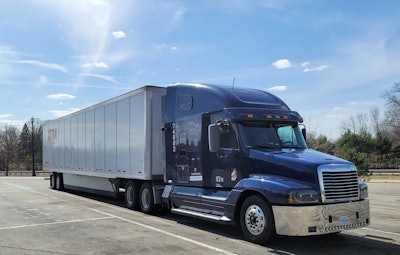 Hurley came to CloudTrucks from Schneider National, a very different company in terms of size and reach. Schneider's massive operation nonetheless offers leased owner-operators similar tools in its load-choice board for those in its Percent of Revenue structure, which has now become the dominate structure for owners leased there. Overdrive reported in 2011 on the choice owner-operators could make between miles-pay and self-dispatch in the percentage program. Since then, Schneider has dropped the miles pay option, according to company Operations Senior Vice President John Bozec.
The numbers from the 2021 compensation survey, shown above, illustrate the move away from miles pay. Compared to Overdrive's similar survey conducted in 2018, the move reflects an appreciation among haulers and the companies they work for (or contract with) of the gains to be made when freight rates are in their favor. That's been a reality for the last few years, as Amen pointed out, despite rates falling in late 2019 to early 2020. 
Company drivers at some fleets formerly under miles pay have been brought under percentage pay models, too. JLE Industries, based in Pittsburg, Pennsylvania, and  founded in 2014 is comprised today of 55% owner-operators and 45% company drivers. The company refers to drivers as "professional flatbed talent." All contractors are part of the company's lease-purchase program and pull company trailers.
CEO Evan Pohaski recently displaced its legacy per-mile pay structure in favor of a percentage model. Company drivers get a flat 27% of linehaul revenue plus accessorial charges. Contractors get 75% of linehaul revenue on loads.
Pohaski feels, as do Sisu and CloudTrucks, the percentage pay model aligns better with the mindset of revenue growth for both drivers and fleet managers. 
"When drivers focus on revenue it forces our team to work harder," he said. 
With the market up as much as it has been, on average, company drivers are making the equivalent of 80 cents per mile with percentage pay, and it's because of load-selection tools via a proprietary mobile app, Pohaski said. 
"We are going out of our way to equip [drivers] with tooling to give them connection, compensation and control. We put a hell of a lot of money in their paychecks," Pohaski said.
Schneider National this year introduced a new program, dubbed "All in Revenue," or AIR, for owner-operators that reintroduces flexibility in pay-package choice, said Bozec, if not on a miles-pay basis. Using technology, Bozec said, that company found a way to make more of the company's huge universe of contracted freight available to its leased fleet through the program, reflecting sometimes inflexible contract terms for accessorials and rates in lump-sum format to present to owner-operators a single revenue figure for any given load. 
Bozec describes the program as a "translator from how the customer's deal is structured into how the owner-operator is compensated." It's structured to take away the uncertainty of variations in rates and accessorial structures from customer to customer. He described an increase in opportunity for owner-operators leased there to haul dedicated to a particular customer, with predictable income results through the structure. That predictable-income aspect is also a hallmark of methods of payment like the annual salaries or weekly/monthly guarantees company drivers are seeing more of in recent years, and, to a lesser extent, miles pay.  
Owner-operator Albert certainly views miles pay as much more of a guaranteed pay structure than percentage pay. But he's skeptical of miles pay as "letting the house hold your cards." 
ATBS's Todd Amen, too, uses the guaranteed term in reference to miles pay and its steadiness generally, even as rates fluctuate in contracts and on the spot market. "Company and owner-operator pay per mile" is a "guaranteed pay program," he said. It's "steady when rates go up and down. When rates go up significantly, drivers want their part of the upside." 
Percentage pay delivers that. As any independent owner-operator working spot markets exclusively knows, though, what goes up will come down. If you're new to the percentage model, get prepared now to eventually share in the downside, too. --Aaron Huff contributed to this report
More in this series: Guaranteed pay as a solution to trucking's 'unknowns'