Previously in this series: Guaranteed pay as a solution to trucking's 'unknowns'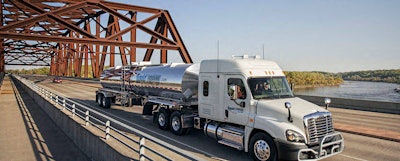 Paying drivers by the hour has for years been found primarily in union jobs, as well as some non-union local and regional hauling. That pay model appears to be spreading, even to small, long-haul fleets. The trend also puts a brighter spotlight on the cost of detention, which is all about time.
In a survey this year of Overdrive and Commercial Carrier Journal readers who own or manage fleets, almost one in four respondents with fleets of two to 30 trucks said hourly rates are the main way they pay drivers.
"Our drivers can slow down for weather and adverse conditions without having to worry about their pay being negatively impacted," said Jason Eisenman, director of human resources for Liquid Trucking, in a press release. The Plattsmouth, Nebraska-based fleet with 180 trucks has an hourly pay system that dates to 2012.
Time-based pay is beginning to show up more often among fleet finalists and winners in the Truckload Carriers Association's annual Best Fleets to Drive For competition. It's still mostly regional operators who are trying hourly pay, said Chris Henry, vice president of customer experience and recognition programs for Carriers Edge, which produces the Best Fleets program for TCA.
One of the "Fleets to watch" named in the 2021 contest, Carbon Express, is a "notable proponent of time-based pay," Henry said. "For those who can't get home each night, they provide them with a hotel room." Another of this year's "Fleets to watch," Western Dairy Transport, is "entirely based on per-hour" pay and has runs that exceed regional lengths, he said.
Hourly pay, with overtime, has worked well for local hauler John McGee Trucking, especially for some of its drivers who log six-figure incomes and are home every night. The Simsboro, Louisiana-based fleet serves the oil and gas industry, with virtually all hauls within 60 miles of the shop.
Most of the 18 drivers, all employees, work 12-hour shifts on a four-days-on, two-days-off schedule. The six-day pattern rotates all drivers through an occasional weekend off.
"I had at least three drivers who made right at $100,000 in 2020," owner John McGee said. A driver who bought a truck and left in recent months had earned as much as about $135,000 in one year by working extra hours.
Hourly pay fits McGee Trucking partly because the oil and gas industry pays him by the hour, including detention, so clients are motivated to load and unload quickly. McGee, too, removes the usual time sucks that hurt drivers under a mileage pay system.
"We pay everybody to clock in and clock out," he said. "If a truck breaks down, gets hung up in bad weather or traffic, we keep right on paying. I think all that means a lot. A man knows what he's going to make."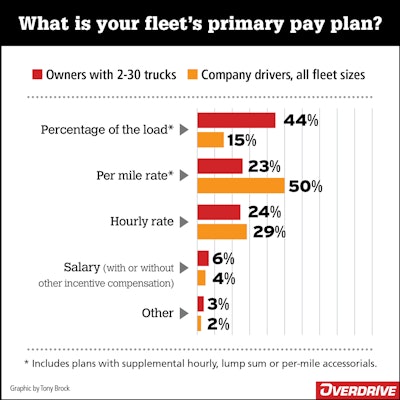 As of May, Teamster drivers averaged $28.26 an hour, a little under $59,000 a year, according to the ZipRecruiter employment website. The median earnings for drivers of heavy-duty trucks was $47,130 a year ago, says the U.S. Bureau of Labor Statistics. A flurry of driver pay hike announcements in this year's high-demand market should significantly boost that average.
Liquid Trucking's announcement said that under its pay raise announced in January drivers will earn a minimum of $80,000 during their first year. Like other hazmat carriers, the fleet was an early adopter of electronic logs due to added scrutiny of this sector.
The company used its log data to create an hourly system that reinforces driver safety. Its drivers now start at $25 per hour for all drive time, counted by the minute, with a $3 per hour bonus for hitting productivity and performance targets during the preceding quarter.
Drivers earn $20 for the first hour of loading and unloading, and at tank washouts, then $15 per hour thereafter. Tracking change-of-duty status starts when drivers enter an arrive macro into the fleet's in-cab mobility system and ends when drivers hit a depart macro.
[Related: How to build a small fleet into a destination for the best drivers]
One key for a fleet to be successful with non-traditional compensation programs, whether hourly or guaranteed minimums, is having detailed data on each load, including any detention. Incorrect or incomplete data "could be the difference between profit and loss," Henry said. Where detention is unavoidable, it needs to be adequately compensated.
"Normal detention pay doesn't allow for that," he added. "It takes kind of a market leader to go to a shipper and say we're changing our pay model, and we need additional compensation if you're holding up our driver."
Most detention plans don't cover the first two hours. After that, hourly rates often range from $50 to $100. Considering the value of a driver's time and the problems created by a serious disruption of a multi-stop run, even common detention rates are widely considered to be inadequate.
[Related: Owner-operators report negative, if any, change in detention times since ELDs were mandated for most]
Addressing detention with load data, as Henry mentioned, is precisely what Omnitracs has been developing for two years, said Michal Yariv, vice president and general manager of strategic initiatives. "We've created what we call location intelligence on close to 7 million locations," she said. It shows not only the length of detention, but its severity by days of the week and time of day.
Though some mid-large-size carriers have comparable data on their regular customers to measure average detention times and the software to manage it, other carriers don't. And carriers often lack such data on shippers and receivers they've never served unless they subscribe to a provider such as the KeepTruckin ELD provider with its Facility Insights tool, which mines user data to deliver in-and-out times averages at thousands of load locations.
Before launching into its own location intelligence project, an Omnitracs survey determined carriers would indeed be willing to use such data and move the industry toward a time-based system, Yariv said. Armed with such information, carriers could more accurately price bids to reflect the the total time required to serve a customer, and ideally pay drivers fairly for detention.
Carriers aren't the only ones who would gain. "So far, the shippers we've talked to have a keen interest in this," Yariv said. They want to know if their receiver customers are adding cost to the supply chain through excessive detention.
If a carrier bids on a shipping contract with precise knowledge of anticipated detention, the carrier would "in effect be pricing the time the driver spends there into the rate," conceivably even reducing or replacing traditional detention fees in some cases, she said. If all carrier bids reflected similarly high rates, it would induce a shipper to reduce detention. A rate system that's more time-based could also help establish fair payment for detained drivers.
[Related: '100% OK' to bring up detention before you get off the phone]
Knowing likely detention time also can reduce stress for drivers, Yariv said. "It's less frustrating when you know what you're walking into," as opposed to being surprised by a long wait. Unplanned detention also has been proven to be a potential safety problem because drivers often cut corners as they're pushed to make up for lost time, she added.
"Carriers are now accessing data to validate whether or not they can afford a time-based model," Henry said. With the use of electronic logging devices and other technology, "they can't use the excuse they don't have the data to make this work," he said. Most likely the industry will see more carriers offering dual pay systems for drivers to choose from, such as mileage and time-based. "A carrier should be flexible enough to handle both."
Though Omnitracs is known for its market share with large fleets, it also serves small ones. Yariv expects its forthcoming detention product will become part of Sylectus, its TMS (transportation management system) product for small to mid-sized fleets.
Fleets belonging to the National Association of Small Trucking Companies are mostly long-haul operations, said President David Owen, and therefore less likely to embrace time-based pay or guaranteed pay. "Our members would be the last ones to go to a unionized form of paying people, which is what that's all about," he said.
Small-fleet owners understand the uncertainties created by detention, weather, congestion and other factors, and the problems they pose to their drivers. Rather than try to smooth those rough edges with pay guarantees, Owen said, NASTC member fleets often emphasize affordable benefits and a driver-focused environment. NASTC supports that approach with programs such telemedicine, business training and a discount fuel program.
When it comes to the negotiating power of big fleets vs. small fleets, there's no question that the big players can tie detention fees to their contracts and enforce them, Owen said. Smaller ones often lack such policies or, if they have them, can't risk losing the business if they try to enforce them. Owen hopes to work on developing recommended broker contract language that would help NASTC members be better protected regarding detention fees since brokers are "50% to 60% of the sales force for small trucking companies."
[Related: Recruiting or retention? Which matters most in fleets' consideration of pay plans.]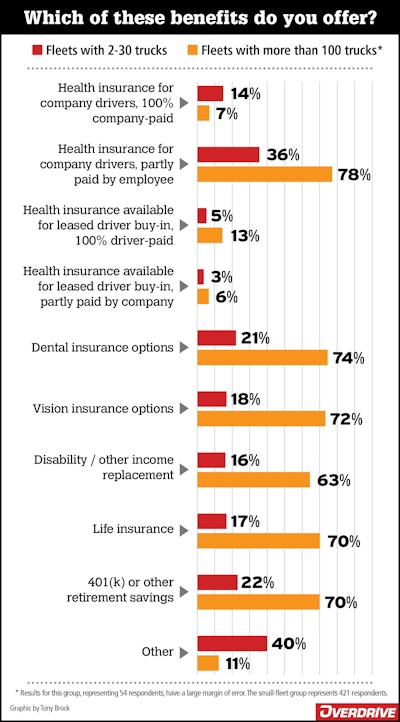 Hourly pay and other forms of guaranteed pay aren't the only ways to remove irregularities in driver pay. "One thing we've also noted, for both company drivers and owner-operators, is paying for in-transit loads," Henry said. That means if a load spans the end of one pay period and the start of the next, the pay gets prorated for miles or time in each pay period, providing the driver a smoother cash flow.
"Having a roller-coaster of an income stream leads to stress on the road and at home," especially for drivers struggling with creditors, he said. "Financial stress on any employee leads to lower productivity," and sometimes health problems. When drivers rate their carriers for the Best Fleets competition, they're very positive about such split pay arrangements, Henry said.
Another take on prorating pay was announced in March by Cargo Transporters, Inc., an asset-based regional and national carrier based in Claremont, North Carolina. In its All In package, drivers can opt to receive certain periodic payments as prorated with regular payments throughout the year. "The new package combines existing holiday and vacation pay, and a productivity bonus, with the driver's base rate per mile," said the announcement.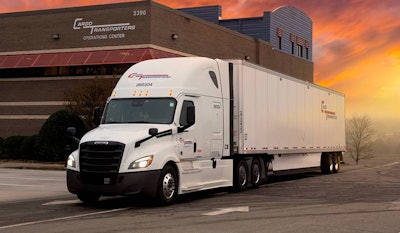 Drivers rating their carriers in the Best Fleets program have also responded well to some fleets' efforts to eliminate pay errors, Henry said. Multi-stop loads, sometimes generating more than one detention payment, for example, have been a common source of these mistakes and a sore spot for drivers.
"It hasn't been eliminated, but a lot of carriers have put a significant amount of time and money into solving this from a technical point of view," Henry said. "It's cheaper to pay for that than for lost drivers."
– Aaron Huff contributed to this story.
Next in this series: Percentage pay reigns as king for leased owner-operators