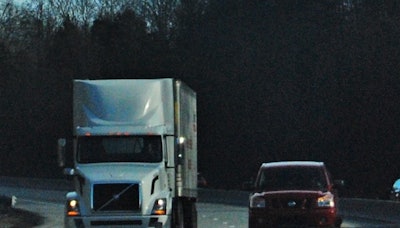 Recently I responded to a doctoral classmate and her thoughts on truck drivers, and thought I would share a little public education for those readers who are not truckers. While her views were not negative, they were a bit naïve, and prompted the following response.
I am actually a third-generation trucker and avoided it until I could no longer justify earning a minimum wage of $5.35 an hour with two babies in diapers. The average long-hauler or what we call an over the road (OTR) driver, logs anywhere from 500-700 miles a day, and might only spend two or three days at home a month, or 24-36 days a year at home. It takes a very strong independent woman to be a trucker's wife and raise kids pretty much alone. Though today's technology makes it somewhat easier, an OTR trucker's life consists of missed birthdays, anniversaries, graduations and supporting events like ball games and recitals. They basically sacrifice their lives to provide better lives for those they love.
But over the last couple of decades, the industry has begun to see a shift from OTR to regional operations, and many drivers are in fact getting home every weekend or every other weekend. In doing so, pay has dropped, because more than half of company-employed drivers are paid by the mile – that's according to Overdrive's recent compensation survey of such drivers in the publication's audience. Miles drop when you are home every weekend, of course. Though many companies have raised pay closer to 50 cents/mile, it's not hard to find an OTR driver running roughly 3,500-4,200 miles a week at a rate of 38 cents/mile, for $1,330-$1,596 in weekly pay (before taxes). A regional driver might average 2,500-3,500 miles, $950-$1,330 a week at that same rate.
According to the Bureau of Labor Statistics, the median annual wage for truck drivers is about $47,000 as of May of this year, which is hard to justify for the amount of time and risk involved. Pay has a huge impact on retention rates, but even that does not explain the 94%-116% turnover rate at fleets, which has been more or less sustained for more than three decades now.
Still, if trucking had simply maintained the average cost of living increase for the last 30 years, drivers should be making closer to $125,000 or more a year. Although this cost would have been passed to the consumer in rate increases, the biggest issue remains, pay structure.
[Related: The driver shortage alarm]
It's not uncommon for a driver to work 70 hours in a week, but most will not get overtime pay. They might spend 12-20 hours a week sitting at docks to load or unload and not be paid for that time, and if they are, not paid very much. Drivers spend a minimum of a few hours a week doing preventive maintenance in the form of pre-trip and post-trip inspections to adhere to federal regulations and to avoid downtime on the road, and again as like as not to be paid for that time.
While trucking has changed so that drivers are home more often, pay has not been restructured to account for it, or that restricting is so slow to happen it seems to constantly lag behind the proverbial eight ball – companies run on a very thin margin and manufacturers are hard to move when it comes to the rates they pay for moving their freight.
Also, though there are examples of companies paying overtime in some operations, it would take an act of Congress to force change to the pay model by requiring overtime. While time-based pay was enshrined with minimum-wage and overtime laws in the 1930s, trucking companies were allowed to avoid it by virtue of special exceptions, with the pay per mile model. Change must not only come from the industry standard, but government as well.
[Related: Parking, FLSA reform on owner-operators' wish list for Biden DOT]
Even so, pay is only one issue drivers face. Federal regulations limit the driver's ability to make money but are a necessity for safe highways. Yet these same regulations for safety often enough contribute to unsafe conditions in parking areas generally in short supply in high-freight-volume areas around the nation. Drivers must take a 30-minute break after 8 hours of driving and a 10-hour break after 11 hours total driving. But there is not always a safe place for a driver to do that. Added to that, a miles-pay structure incentivizes drivers to get as many miles in a day as fast as they can, in case of equipment breakdowns or traffic. This can increase the overall risk of unsafe driving, regulatory violations incurred trying to find a safe place to park, and/or loss of income, as drivers make a choice to stop well before their 11 hours to find parking, or because they've been held up in traffic (it's not uncommon to 1.5 or more hours a day this way). Federal regulations and increased traffic volumes and major bottlenecks cost trucking writ large billions a year in lost productivity and fuel, and the stress is most acutely felt by the driver.
We all know the studies on stress and how that impacts health. Drivers suffer from health issues due to stress, sitting for long hours, and poor eating habits. Rates of obesity and type 2 diabetes are well above average compared to the general population. This in turn places a strain on insurance rates and medical expenses, and results in lost productivity. The average age of death for a lifelong driver has been pegged to the early 60s. One possible reason for that shorter life span, though I don't believe it's been studied closely, is what I see as too many of us being in a continuous state of fight or flight.
We know that when the body enters into the adrenaline rush of fight or flight, the digestive system is impacted to maintain energy if needed. Truckers avoid or prevent major accidents on a daily basis. This requires constant vigilance, along with spatial recognition, and constant monitoring and reading of traffic flow against the horizon. Instead of the momentary rush and reaction, a trucker's fight-or-flight response is always on the very edge of action, increasing the stress hormones that contribute to metabolic syndrome.
[Related: What can we do about the physical and emotional violence of chronic stress made manifest]
Adding to stress factors are weather conditions, breakdowns, strained relationships. … It can be a physically and mentally draining profession. So, the next time you are sharing the road with a trucker, keep in mind what they face daily. Try not to make their day harder than it has to be, and when you get a chance, thank a trucker for what they do. They work hard for their families, and yours.
One way you can do that is to pay attention to the legislation presented in governments. Don't take the hype as gospel, and always remember, truckers are not just watching out for their safety, but your safety, and the safety of your families as well.
[Related: Time-based pay could improve fairness, reduce detention for drivers]