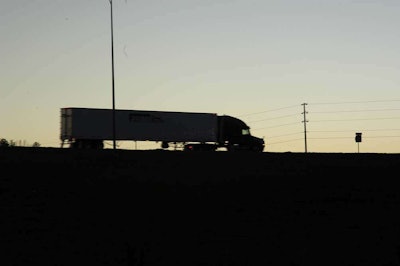 A change in the presidential administration holds potential for both challenges and opportunities when it comes to the course of long-debated issues — as well as changes already well on their way. More than a couple of items already in pursuit by government agencies, as news this week made somewhat clear, may be at least slowed down as a result of the impending presidential switchover — including items related to both potential further hours changes and a measure of independent contractor definition clarification at the federal level.
When it comes to Department of Transportation priorities for the incoming Biden Administration, Overdrive's recent polling of its mostly owner-operator readership revealed what owners felt should be action item No. 1, with support of those further hours changes figuring in down the list. Truck parking infrastructure, chiefly, figured most prominently — its dearth and, as one reader noted, its placement.
"We need intelligently placed parking on all highways, not just interstate highways," wrote David Caddell, commenting under the poll here on Overdrive, as well as "enough money spent on highway infrastructure" for new roads and maintenance. Caddell faulted wasteful spending on "items not directly connected to the highways" such as "sound walls, designer rest areas, [and] overpriced weigh stations" as contributing factors long-term in deterioration on both counts — parking availability and road quality generally.
Reader Richard Davis concurred on the parking needs, yet also singled out undue detention at shippers and receivers as his close No. 2. DOT leadership surely "can walk and chew gum at the same time," he said. Citing the study detailed in the story at this link, from 2018, Davis added, "The DOT has said, according to their own studies, that the longer drivers sit at a dock, the more likely safety goes down."
Distribution of owner-operators' No. 1 preferred priorities for incoming administration's DOT leadership
Though it has become more common through the years for carriers to actually compensate drivers for detention and reflect that cost in their contracts with shippers, the detention issue persists. The third most-common item chosen by owner-operators on the No. 1 priority list could result in even more common pay-for-time scenarios, and pressure on carrier customers to hurry up and load already. That choice urges DOT to work with the Department of Labor and potentially Congress to remove commercial drivers from the exemption from overtime pay standards. By some views, such a move could have the effect of more prevalent pay-for-time schemes for company drivers, potentially a better pay standard overall, and follow-on rates impacts for owner-operators.
The more cynical among readers urged Biden's DOT Secretary pick — former South Bend, Indiana, mayor Pete Buttigieg — to first take the time to understand the issues truckers face. "Listening to drivers talk about issues is OK," noted Steve Besteman, but "being in the trucking business gives you a lot more insight as to what really needs to be addressed. The experience of reality will be his teacher in finding what needs to be fixed and what needs to be prioritized."
Consider the points of view of those who do the work, many advised the young nominee, who will require eventual Senate confirmation for the post. "Get the driver council together," added a commenter posting only as "Gee," referring to the Federal Motor Carrier Safety Administration's intent to create a driver advisory panel to the influential Motor Carrier Safety Advisory Committee. Don't just fill it "with hand-picked drivers from the super-carriers," he said. Instead lean on "owner-operators and multi-million drivers. And tell the White House to butt out."
Roger W. Knieriem took that a step further, perhaps hopeful for general stasis when it comes to action from the DOT. "Stay in [your] office and do nothing," he cracked wise in advice whoever eventually fills the DOT Secretary's seat.
Finally, a reader posting as "Steve" proffered not a preferred priority but rather an expectation of what exactly will be done by the Biden administration when it comes to transportation. He figured the climate-action focus would be first and foremost, perhaps manifested in further rounds of new-truck emissions standards.
Otherwise, he felt, "they will push the normal talking points, but move slowly."