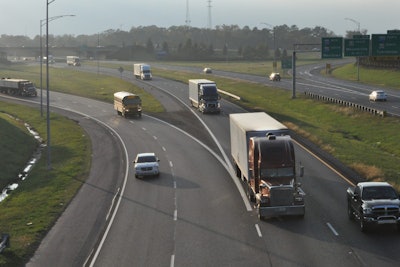 Trucking news and briefs for Monday, Jan. 4, 2021:
Independent contractor clarification, proposed pilot programs could be halted by Biden administration
A handful of regulations recently finalized or proposed during the final months of the Trump administration could be halted or delayed when President-elect Joe Biden is sworn into office on Jan. 20.
During a press briefing held last week, the Biden administration announced it would publish a memo after noon eastern time on Jan. 20 to halt or delay what they called "midnight regulations" – actions taken by the Trump administration that have not taken effect by Inauguration Day. The regulatory freeze would apply to both regulations and guidance documents, according to Biden's press secretary, Jen Psaki. Regulatory freezes are standard practice for incoming presidential administrations, she added.
Of note to owner-operators, Psaki specifically mentioned the Department of Labor's proposed rule to expand the definition of "independent contractor" as a rule that would potentially be affected by the freeze. Proposed in September, the rule would better define independent contractor in the context of the Fair Labor Standards Act. It would take into consideration five "economic reality factors" to determine a worker's classification.
According to nonprofit news organization ProPublica, there are also a few other trucking-related regulations that are considered "midnight regulations."
One which has already taken effect but may be targeted by the incoming administration is the preemption of the Washington state meal and rest break rules. The Federal Motor Carrier Safety Administration granted a petition in November to preempt the state's rules.
There are also two proposed pilot programs proposed in recent months that have yet to be finalized that may be halted. One is a pilot for 18-20-year-old truckers to run interstate to broaden the driver pool in the industry.
The other is a pilot to test pausing the 14-hour clock for as few as 30 minutes and as long as three hours, as long as the driver takes 10 hours off-duty at the end of the work shift.
FMCSA eyes update to 'yard move' guidance
The Federal Motor Carrier Safety Administration is proposing to revise its regulatory guidance on recording hours of service time as a "yard move," which can be recorded as "on-duty, not driving" rather than "driving" time.
Specifically, the agency proposes to replace Question 9 to 49 CFR 395.2, which asks how a driver's time should be recorded when he/she drives on streets and highways during the week and jockeys in a yard (private property) on weekends.
The proposed question is: "Under what circumstances may a driver classify the operation of a commercial motor vehicle (CMV) as a yard move and record it as on-duty not driving time?"
The answer to the question – which the agency notes is not legally binding and is just guidance to help clarify the regs – is that a driver can record time operating a truck for yard moves as on-duty not driving only if the movement occurs in a confined area or on private property. Examples of properties that qualify as yards, according to the proposed guidance, are: an intermodal yard or port facility; a motor carrier's place of business; a shipper's privately-owned parking lot; or a public road, but only if and while public access to the road is restricted through traffic control measures such as lights, gates, flaggers or other means. For example, if a driver must operate on a public road briefly to reach different parts of a private property, the movement may be considered a yard move if public access is restricted during the move.
Properties that would not qualify as yards include, but are not limited to: public roads without the traffic control measures listed above; and public rest areas.
FMCSA is seeking public comment on the proposed guidance, specifically in determining which types of properties are and are not "yards." Comments can be made here through Feb. 3.
Volvo recall for potential brakes issue affects over 6,300 trucks
Volvo Trucks North America is recalling approximately 6,314 model year 2021 VNR, VNL, VHD and VAH trucks over a potential issue with the air brakes, according to National Highway Traffic Safety Administration documents.
The recall alert says the collets (internal jaws) for the brass fitting inserts used in the pneumatic pass-through plate may have been damaged during leak testing, which could cause the brass fitting to completely release the air brake line from the pass-through plate while under pressure. If this occurs on the park brake circuit, signal pressure that holds off the mechanical spring in the park brake chambers will be lost, allowing the park brakes to apply.
Volvo will notify owners, and dealers will inspect the air brakes for proper engagement of the fitting in the pass-through plate for free. Owners can contact Volvo customer service at 1-800-528-6586 with recall number RVXX2006. NHTSA's recall number is 20V-782.
Insurance broker expanding for physical damage and cargo insurance
The Cover Whale trucking-focused insurance agent got its start known for its quick-quote platform and utility for small trucking businesses. Late last month, the agent announced a new fleet insurance program offering access to similar products from various insurers for larger entities. "Fleet managers and select insurance brokers will have access to our proprietary fleet platform," explained Cover Whale CEO Dan Abrahamsen, "and with Cover Whale's simple submission process, same day services, and competitive rates, they can be assured their time and risk are well-managed."
Starting January 1, the company began offering physical damage and cargo insurance through the program.