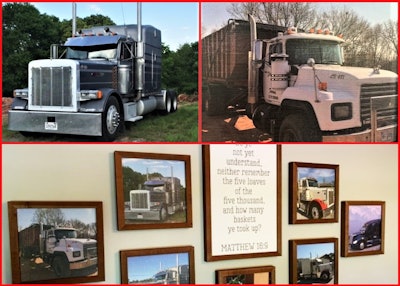 For fleet owners with more than 30 trucks, a perceived advantage in recruiting might be the biggest driver of adoption of minimum guarantee or salary pay structures, according to Overdrive's survey respondents this Spring who noted such a pay structure in place. If you've missed it as yet, catch Part 1 of an ongoing series on the trends in driver compensation. Though the sample size among respondents at the high ends of carrier size was small, percentages who believed such a structure would be valuable as a recruiting tool were a great deal higher than those who saw value in retention, often the more primary focus of the smallest fleets over the push to recruit new people.
Of course, the dynamics of recruitment and retention overlap, so many fleets see the benefits on both ends. Big G Express, a truckload carrier based in Shelbyville, Tennessee, is one. The same week in February when Big G rolled out its $1,000 per week minimum pay program, a crippling winter storm shut down about a quarter of its hauls, said Chris Kelley, vice president of operations.
"Back in the day, these drivers would have been out of luck and not paid," he said. "We held to our word and took care of them. It really has been a great hiring and retention tool and I always tell our drivers to remember this is just a safety net, not a weekly goal."
Overdrive's survey, which pinpointed recruitment and retention benefits, found some differences among respondents. For those fleets with 30 or fewer trucks, retention either outweighed recruiting as a motivating factor or was very close to equally weighted in survey results.
20-truck LB3 owner Brian Lindley out of Alabama is among small-fleet owners who put greater emphasis on retention than recruiting. "It's easier to overpay a driver and keep him, if he's worth keeping, than it is to nit-picky everything and have to start looking for other drivers."
Lindley employs a couple pay structures for LB3's drivers. Many are paid a percentage of each load, the compensation method most leased owner-operators will find themselves under (almost 8 in 10 leased respondents in our survey). For a select group on a dedicated account, though, as mentioned in Part 1 of our compensation series, Lindley introduced a bona fide salary structure to even out weekly income. It gives drivers a level of predictability that had been difficult to deliver on just scheduling, given the length of these particular hauls and hours of service limitations.
[Related: How to build a small fleet that's a destination for the best]
"It's kind of like a swing shift" in the way it works, Lindley said, with some weeks including five or more days' worth of work with two out-and-back trips, but others as few as three days' worth.
The basis for the salary structure is commensurate with Lindley's intent to be sure drivers are making at least $50K-$60K annually, with opportunity also for incentive-type compensation.
"We're trying to become a destination company and try to do things right," he said.
The move toward the salary structure was itself spurred by efforts to retain more than one of the operators on the dedicated account. "I started to hear some chatter" to the effect of "'maybe I need to buy my own truck,' and do this and do that," Lindley summarized his operators' talk at the time. "I'd already gone through losing some good guys once before and I didn't want to do that again. I thought, 'Let's make it hard on them to leave.' So we did."
You can hear more about Lindley's reefer-hauling operation, built from a one-truck chicken-litter-hauling operation, and his approach to his employees in this podcast conversation published in April: