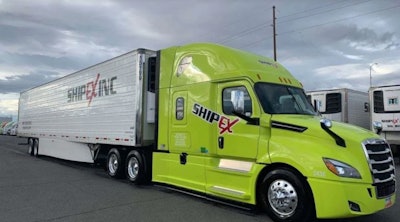 For long-haul owner-operators who've been paid by the mile or percentage of revenue for decades, receiving hourly pay or guaranteed pay might seem foreign. Yet there are some indications these compensation models are spreading.
While leased owner-operators are least likely to experience such changes, operators who get operating authority and add employee-driven trucks appear to be leaders in trying these newer models, especially hourly pay. Likewise, an owner-operator who, for whatever reason, transitions to being a company driver might well find opportunities to drive for a fleet offering non-traditional pay plans whose safety nets appeal to many drivers.
"One of our goals is to take some of the stress out of our drivers' week due to the unknowns, like time getting loaded/empty or countless other unexpected things that can happen," said Chris Kelley, vice president of operations for Big G Express, a truckload carrier based in Shelbyville, Tenn. Big G in February announced a $1,000 per week minimum pay program.
Alabama-based small fleet owner Brian Lindley, similarly, used a salary structure to enhance income predictability for his drivers on a dedicated account whose loads did not always conform to a typical 5- or 7-day workweek. Given hours of service limitations, drivers on the account were in a sort of "swing shift" – some weeks getting two trips out and back, some weeks getting only one in full. Offering predictable weekly income became Lindley's way of demonstrating his commitment to the drivers in an operation with a likelihood of a short week here and there.
[Related: How to build a small fleet into a destination for the best drivers]
In a detailed survey of Overdrive and Commercial Carrier Journal readers this year, only 6% of owners of fleets with two to 30 trucks said they use a minimum guaranteed pay model for company drivers. About a third of them have had the plan for two years or less. Nearly a fourth of respondents in that same set said an hourly rate is their primary model for pay. Only 4% of company drivers in fleets of all sizes reported receiving some form of salary pay, and 29% get hourly pay.
The increasing number of carriers willing to pay drivers for periods when wheels aren't turning signals an important trend, even if mileage and percentage pay remain dominant or at least choices on a menu of pay plans.
Carriers using or considering hourly pay and guaranteed pay have been among winners and finalists in the Truckload Carriers Association's annual Best Fleets to Drive For competition. Among the fleets recognized in that program, "Most of them do offer some degree of a guaranteed pay option. But there's varying criteria for what those guarantees are," said Chris Henry, vice president of customer experience and recognition programs for Carriers Edge, which produces the Best Fleets program for TCA. Carriers Edge assists fleets with driver training.
Two of this year's 20 winning fleets have pay plans that are clearly guaranteed in some way, Henry said. One is Central Oregon Truck Co., a flatbed carrier based in Redmond, which uses a salary pay model. Its website promises drivers weekly "salary pay ranging from $1,350 to $2,150" and says that "the top 10% of solo drivers earn over $89,000."
The other, Billerica, Massachusetts-based Boyle Transportation, has more of a guaranteed pay program that's not really a salary, Henry said. Using team drivers, Boyle's website shows regional drivers, on a five-day-a-week schedule, earn from $1,395 per driver weekly for up to two years of experience, topping out at $1,575 for at least eight years. The comparable range for OTR drivers on a six-day-a-week schedule is $1,705 to $1,925.
Henry said Boyle has about 100 trucks, Central Oregon about 320.
Central Oregon is the first "flatbed company operating on a true salary for over-the-road drivers" that he's come across, Henry said. More commonly using salary pay are regional and urban fleets, he said.
[Related: Guaranteed pay making waves in driver compensation]
While some of these recognized fleets are finding success with newer pay models, those programs are not inherently better than traditional ones. "I think the misconception is per-mile pay equals bad pay. We don't see that in the data." Henry said. "The top 20 are not only the safest fleets, but also the best-paying fleets." For the first time in the Best Fleets program history, average annual compensation this year exceeded $70,000. That can include bonuses and pandemic-related payments.
Omnitracs found a third of its customers were thinking about time-based or salaried pay for drivers when it surveyed them a few years ago, said Michal Yariv, vice president and general manager of strategic initiatives. Of those, 30% (or 10% of the total respondents) were in the process of implementing such a system.
Since driver time becomes a more critical element in such systems, Omnitracs is working toward a product that would give carriers detailed information on detention at millions of facilities, Yariv said. She believes projects such as this could push the supply chain toward more of a time-based approach to freight rates and driver compensation that would be fairer to fleets and drivers.
[Related: Hopes and hazards in using ELD data: Detention reduction]
Fleets with some guaranteed pay element usually have a minimum mileage criteria, Henry said. "They have to satisfy a certain amount of miles per day or week to achieve that guaranteed pay option." The parameters are such that neither a driver nor the fleet would be satisfied at that level of production over an extended period, so the guarantee is more of a backstop for occasional down times or other circumstances.
Yet some smaller fleets tie the minimum not to miles but to availability, as was evidenced in Overdrive's 2018 reporting on compensation. That report showed the examples of 12-truck Eagle Express in Canton, Mich., whose $1,000 weekly minimum had been in place since the carrier bought its first piece of equipment and hired its first driver about four years prior.
That minimum was tied to five-day weekly availability to work. Owner Leander Richmond believed it was as much a motivating factor for him to keep drivers loaded as it was a fair approach for paying drivers.
Similarly, regional fleet Osborne Logistics of Fairfield, Ohio, then was tying its $210 per day guarantee simply to availability to work. "I can't remember the last time one of these drivers quit," said the fleet's COO.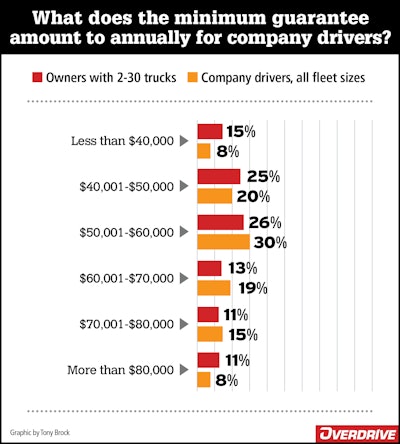 One of the 2021 Best Fleet finalists with a true salary pay plan is ShipEX, Henry said. Its website calculator gives totals ranging from $66,100 to $103,750 for an estimated annual guaranteed pay based on options of miles run, longevity with the company, and productivity and compliance bonuses. ShipEX, based in the Salt Lake City area, has more than 350 trucks.
[Related: Recruiting or retention? Why fleets small and large navigate to guaranteed pay]
In a sponsored online article, ShipEX said it's offered salary-based pay since 2015. The fleet pays "all drivers a steady $1,201 check every week. This means that even if you're struck by an unexpected repair, a weather-related delay, or if you're sidelined by an illness, you won't have to worry about how you'll pay your bills."
Many of the guaranteed pay programs among Best Fleets contenders have ranged from $175 daily to "upwards of $250," Henry said. For weekly pay, $900 to $1,000 is common. "If you're not in that range, you're probably not keeping up with the market." And as always, home time and other non-pay factors can have a large effect on recruitment and retention.
Nagle Companies, a 50-truck refrigerated carrier based in Toledo, Ohio, that services the East Coast, in 2017 moved drivers to a starting salary of $1,100 per week. Drivers' weekly pay had fluctuated, due to no fault of their own, to between 1,600 and 1,800 miles, falling short of the fleet's bonus threshold at 2,000 miles.
"Most people who are professionals get paid a salary," said Ed Nagle, president and chief executive, "and the reality is we are looking for drivers … who are critical thinkers and can trip plan and have all the positive attributes of a good driver." Nagle said his management team concluded drivers need to make a certain amount per week, and that the salary ensures compensation for productive time they lose for taking loads with multiple stops.
Nagle Companies in January announced a pay raise that starts at $1,400 and reaches a top pay rate of $1,800 per week, with bonuses for hitting safety and fuel efficiency goals. The 17% increase was the largest driver wage increase in the company's 36-year history.
–Todd Dills and Aaron Huff contributed to this story.
Next in this series: Hourly pay's efficacy for small fleets