Trucking news and briefs for Thursday, Oct. 14, 2021:
Trucking conditions back on the rise after falling since April
After easing modestly but steadily since April's record level, FTR's Trucking Conditions Index (TCI) in August rose slightly to a reading of 11.63.
Freight volume and capacity utilization were not quite as favorable for carriers in August as they were in July, but more robust freight rates resulted in stronger overall market conditions. FTR's TCI forecast remains for strong positive readings well into 2022. "Market conditions in trucking still strongly favor carriers, and we have no real sign of an inflection on the horizon," said Avery Vise, FTR's vice president of trucking. "After healthy – though not especially robust – gains in payroll employment during the summer, trucking job growth was relatively weak in September."
Vise noted that a shift in capacity from larger carriers to startups is continuing, "adding to the supply chain disruptions that are bolstering spot market volume and rates for much longer than we would expect in a 'normal' hot market like we saw in 2017 and 2018."
The impact of increasing diesel prices could cause a swing of capacity back to larger carriers if spot metrics soften, Vise added, "but we have no indication of that happening yet," he said.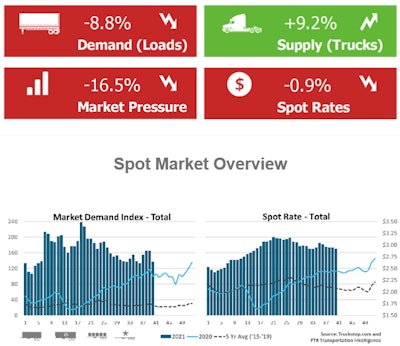 TCS Fuel Introduces a new "Digital Cardless Fueling Experience"
TransConnect Services announced a new "Cardless Fueling experience" that hopes to give carriers a quicker, more secure way to access discounts on fuel. TCS' platform allows drivers to set up accounts online and access "just-in-time digital funding options" that unlock discounts at more than 1,000 fuel stops around the country, including TA and TA express locations.
"Our new TCS digital Cardless Fueling experience came from listening to our clients and delivering practical technical solutions that help them save time and money," says Chris Courts, TCS President and Managing Director. "The new platform is designed to make the process of saving money on diesel easier, faster and safer for our clients. Now carriers can sign up for a fuel card and get diesel discounts the same day. They simply set up and implement their fuel cards through our online portal, then access Cardless Fueling on the TCS mobile app. That's it."
TCS' digital card uses Zelle, which allows 24/7 low-fee transfers from banks including Bank of America, BB&T, Capital One, JPMorgan Chase, PNC Bank, U.S. Bank and Wells Fargo.
By foregoing the physical card, TCS hopes the digital card will cut down on fraud at the pumps and save drivers money and time.