Trucking news and briefs for Friday, Oct. 15, 2021:
Wreaths Across America's new partnership ahead of big December campaign
Nonprofit Wreaths Across America (WAA) has inked an agreement with the International Association of Movers (IAM), whose members have long supported Wreaths' mission by hauling of veterans' wreaths across the country. The new agreement between the two groups outlines five key elements. These include setting a cadence of regular meetings to share opportunities and develop tools to support each other's initiatives, encouraging IAM member involvement in helping to move the mission, and sharing the stories of members giving back in their communities.
"The partnership with International Association of Movers aligns perfectly with our mission to Remember, Honor, Teach," said Don Queeney, WAA's director of transportation.
"This partnership is a perfect fit for IAM members, our domestic asset-based movers, as well as our international partners can offer an awful lot to help move the mission of Wreaths Across America," said Charles "Chuck" White, president of the International Association of Movers. "My father is buried at Quantico National Cemetery, where I have participated in the Wreaths Across America program for many years. The impact and the importance of this mission resonates with so many, and it's something I am proud to support."
This year National Wreaths Across America Day will take place on Saturday, December 18, 2021, at more than 2,700 participating locations nationwide.
[Related: Fifth time's a charm for owner-operator Bryan Smith, who bags big prize from Overdrive]
New procurement options from Fullbay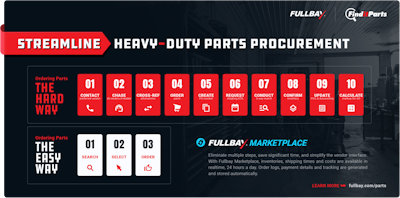 Fullbay customers among trucking fleet shops, as well as outside repair shops, stand to get a new parts-search-and-order experience via the new Fullbay Marketplace.
The new tool streamlines the part-purchasing process for independent and fleet shops, the company said, eliminating multiple steps related to ordering parts. The integrated parts-purchasing tool will allows shops to view part cost, availability, and shipping times across vendors and then perform a single-click order.
Additionally, the system enables users to drill down on landed costs for each part, something shops struggle to do without an automated system, Fullbay said.
The Fullbay Marketplace module, free to all Fullbay customers, is being launched with FinditParts as its first integrated parts vendor. On October 26, Fullbay and FinditParts will conduct a webinar to provide background and best practices on overcoming the current parts shortage, including how Fullbay Marketplace can help.
Those interested in attending may register via this link.
New Love's opens in Illinois
Love's Travel Stops this week opened a new location in Grant Park, Illinois, located at 8316 N. Route 1.
The new location offers 33 truck parking spaces, Chester's Chicken and Godfather's Pizza restaurants, five diesel bays, four showers and more.
The store is the company's 30th in the state.