Trucking news and briefs for Tuesday, Oct. 26, 2021:
Uber Freight adds partners for quicker carrier payments, fuel card
Uber Freight has partnered with card-issuing platform Marqeta and payments platform Branch. Through Marqeta's card-issuing platform and Branch's digital wallet, Uber Freight can pay carriers significantly faster at no additional cost, the company said. Rather than waiting 30 days or longer for the traditional accounts payable process, carriers on Uber Freight can get paid two hours after approved proof of delivery, the company says.
In addition to faster payments, Branch's digital wallet features a suite of financial services to help carriers grow their businesses, including a fee-free, FDIC-insured checking account and a commercial card specifically designed to enable the faster carrier settlements. The Uber Freight Card powered by Branch provides Uber Freight carriers a free-to-use card to spend funds from the Branch Wallet and fuel rewards to support owners on their biggest expense.
"We started Uber Freight with a commitment to empowering carriers of all sizes to get the most out of their workday," said Lior Ron, Head of Uber Freight.
[Related: Interesting approach to accessorials for Uber Freight app users]
Trucker named Highway Angel for helping teenagers who crashed car
Carroll Fulmer Logistics truck driver Robert Kravette has been named a Highway Angel by the Truckload Carriers Association for stopping to help two teenagers after they lost control of their vehicle and rolled into a highway median.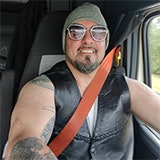 Kravette was headed west on I-26 near Aiken, South Carolina, when he noticed an SUV in the eastbound lanes swerve out of control and into the grassy median, where it rolled several times.
"Eastbound traffic had come to a halt pretty fast," Kravette said. "It appeared that when the SUV driver reacted and hit the brakes, he swerved and lost control."
Kravette pulled to the shoulder and then jumped out and ran across the highway to help. The SUV was lying on its passenger side when he arrived. "It looked real bad," he said. "I was afraid of what I would find."
When he got to the car, he found two teenage boys inside who were "scraped up and a little scared, but they seemed to be OK."
After unsuccessfully trying to bust out the windshield, Kravette and other motorists were able to get the driver's side door open and pull the pair out of the car.
For his willingness to assist, TCA has presented Kravette with a certificate, patch, lapel pin and truck decals. His employer also received a letter acknowledging their driver as a Highway Angel.
TA opens new service center in Florida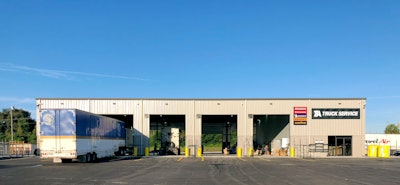 TravelCenters of America has opened a new TA Truck Service center at the TA in Lake City, Florida, located at I-75, exit 414. The facility offers five service bays and is open to serve guests 24/7/365.
The TA Truck Service in Lake City has a team of expert technicians dedicated to providing preventive maintenance, engine diagnostics, alignments, tire services, standard repair services, oil changes and NorthStar Batteries. RoadSquad emergency road call services will be coming soon to the location. All TA Truck Service centers provide a vast selection of parts inventory, oil brands, and a full line of tires from Bridgestone, Michelin and Goodyear.
To celebrate the grand opening, drivers can receive $50 off any preventive maintenance with the purchase of Mobil Delvac Oil. The promotion is taking place through Nov. 3.
[Related: Revisiting the cost of emissions-system maintenance]
Pilot offering free meal for Veterans Day
Pilot Company is inviting all active duty and retired military members to enjoy a free meal at any of its locations on Veterans Day, Nov. 11.
The company is also teaming up with the Call of Duty Endowment on an in-store round-up campaign to help veterans transition to successful civilian careers. Pilot has been a supporter of the Endowment since 2019, contributing to the company's goal of placing 100,000 veterans into high-quality jobs by 2024.
In honor of Veterans Day, guests at participating owned and operated Pilot and Flying J Travel Centers can join the Endowment's mission by rounding up their purchase from Oct. 25 through Nov. 15. Pilot will match the donations up to $100,000, and 100% of the proceeds from the round-up will go directly to the Endowment, the company said. This year's campaign hopes to raise $500,000, enough to support nearly 1,000 veterans in their transition into post-military careers.
On Nov. 11, veterans authenticated with ID.me in the myRewards Plus app can save their exclusive offer for a $10 free meal credit. Veterans can choose from a variety of food and beverages, including Pilot coffee, fountain drinks, non-alcoholic cooler beverages, hot and cold food items, name-brand snacks and purchases at more than 680 participating restaurants.