Trucking news and briefs for Tuesday, Jan. 4, 2022:
Schneider acquires 900-truck Midwest carrier
Schneider announced Tuesday it is growing its dedicated operations with the acquisition of Ohio-based truckload carrier Midwest Logistics Systems. MLS employs more than 1,000 truck drivers and operates 900 tractors across 30 central U.S. locations.
Schneider has acquired 100% of the equity interest in MLS for approximately $263 million, which Schneider financed through cash on hand. The Celina, Ohio, carrier will run as an independent subsidiary of Schneider, and MLS drivers and associates will continue to operate under the MLS name.
"Preserving the MLS identity is essential," said Schneider President and CEO Mark Rourke. "The carrier's family-owned nature combined with its strong culture and customer service make it a valuable contributor for growing Schneider's dedicated operations. With this acquisition, we believe Schneider is on track to generate $1 billion in annual revenue in our dedicated operations with over 5,000 trucks."
MLS annual revenues are approximately $205 million, and the acquisition is expected to be immediately accretive to Schneider's earnings per share, according to the company.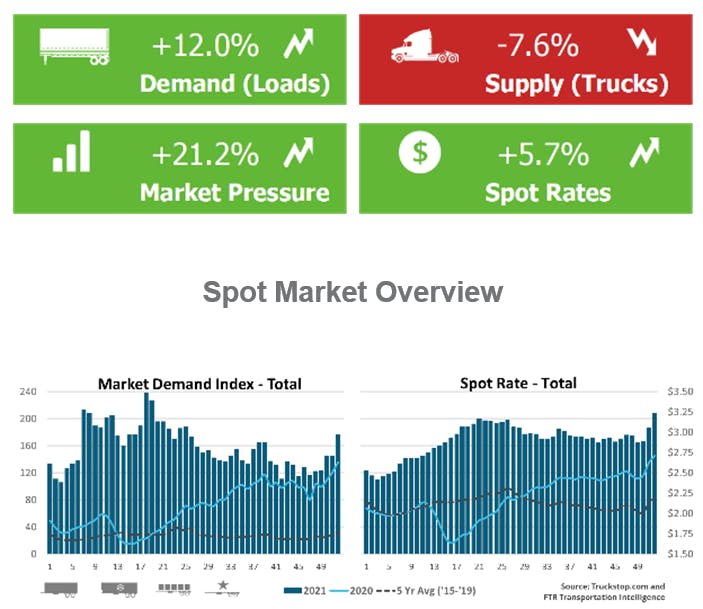 Spot rates close out 2021 at another record high | Total spot rates in the Truckstop.com freight-match system surged 17.5 cents a mile to another record level during the week ended December 31, surpassing the prior record set in May. The increase was the largest in a single week since late December 2017. Rates surged 35.3 cents – about 12% – during the final two weeks of the year, typically a strong period for rates. Load postings rose 12% during the week as refrigerated volume surged to its own record level. Truck postings were down at the same time, and Truckstop.com/FTR Transportation Intelligence Market Demand Index sat at its strongest level since early-mid summer 2021. Segment variations were evident, with flatbed fairly level week to week, reefer way up, and dry van sitting anew at its third strongest level on record.

CAT Scale celebrating 45th anniversary with giveaways
CAT Scale is celebrating 45 years of weighing in 2022 and will thank its customers by giving away a brand-new Ford Raptor pickup truck and thousands of other prizes. The Weigh to Win Sweepstakes kicks off Feb. 1 at CAT Scale locations.
Drivers will also have a chance to win more than $100,000 in instant prizes. Prizes include a Yeti outdoor prize pack, CAT Scale hats, Series 20 Super Trucks collector card sets, die-cast model trucks, insulated tumblers, water bottles, Oakley backpacks and more.
Each time a driver weighs, they will have a chance to win prizes in the online instant win game and enter for a chance to win the Ford Raptor. The grand prize winner will be chosen from all game entries.
The grand prize winner and their guest will receive a trip for two to the 2022 Walcott Truckers Jamboree to drive home the new Ford Raptor.
The contest is open to Class 8 drivers who are at least 18 years of age and U.S. residents. Weigh to Win will run from Feb. 1 through June 1. Drivers will be able to enter the ticket number and truck number from their scale ticket to play the instant win game, as well as find complete details and official rules, online beginning Feb. 1. 
Yokohama increasing tire prices next month
In response to the continued rise in operational costs, Yokohama Tire Corporation announced it will implement a price increase on its commercial truck tires and consumer replacement tires sold in the U.S., effective February 1.
The company did not disclose the percentage increase it will be implementing.