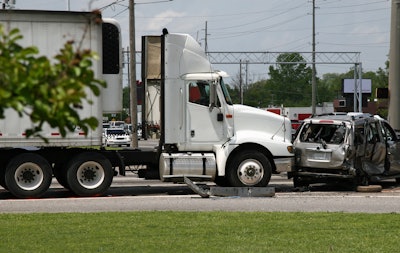 Getty
Previously in this series: How the nuclear-verdicts threat rolls downhill to small trucking companies, owner-ops
Holding onto your humanity in the hectic, litigious, fear-inspiring post-crash environment is a tall order, yet that basic humanity is an owner-op's first weapon against aggressive litigation at the scene of any accident, however minor. That's in addition to a bevy of time-worn tactics suggested by defense counsel and insurance companies with long experience fighting back against aggressive claimants and their attorneys.
If you haven't experienced such litigation before, there's evidence to suggest it could well reach your business' doorstep at some point in your career. A majority of Overdrive readers reported experiencing such at least once in the past.
Ted Perryman is a St. Louis-based defense attorney frequently representing trucking companies in crash cases. "One of the things you see about 50% of the time" immediately after an on-highway incident, he said, is the "first thing the truck driver does is call [his/her] company." The driver does that before dialing 911, before even "checking on the other folks involved in the crash."
Sentry Insurance claims director Larry Harlow's seen the phenomenon, too. "If the driver just sits in his truck" without checking on/engaging with other parties and/or potential witnesses on the scene, "you can imagine how that looks to a jury" months/years later at trial.
It's understandable a truck driver at the scene of an accident is "nervous, scared, worried about their job," Perryman added. He urged trucking company owners to create supportive environments to help reduce the fear involved in post-accident chaos. No matter who's at fault in the crash, "we need to provide the driver a great deal of support" initially. The driver "is our first person on the scene and the best at [initial] investigation."
Use a camera if you carry one on the truck – your smartphone is likely perfectly suited to the task – and capture photos of the final resting place of all vehicles, and any physical damage to the roadway. In highway-crossover type cases, guardrail damage and tire tracks in the median, too.
"If there are witnesses available," Perryman said, it's helpful to gather names and contact information. As a defense attorney, he feels it can be "important for us to get to the witness first – sometimes the story changes, otherwise."
In your efforts to be helpful and understanding with other parties involved in the crash and with witnesses on-scene, however, don't forget the threat of litigation that could rear its head. As Interstate Trucker firm President and attorney Brad Klepper wrote in a 2020 Trucking Law column here in Overdrive about accident-scene information gathering, "Always keep in mind your own legal protection. Part of that is being careful what you volunteer at the scene."
[Related: When trying to help at an accident scene can hurt you instead]
If you're hauling leased to or employed by a motor carrier, that carrier's safety department or lead rep will be your go-to for post-accident procedures, Klepper noted. "You may be excited. You may be scared. But the safety department's job is to handle accidents, so follow their instructions."
For independents with their own authority, your insurance company may well be your best source of support. Harlow notes his adjusters and/or investigative teams don't get to the scene of every crash themselves, but it's not unheard-of. Once the scene is secure in terms of checking on any involved parties, a call to the insurer makes sense.
"If the insured calls and they're still on the scene," he said, "we can patch that call through directly to one of our adjusters to guide the insured through" documenting necessary evidence.
Backing up the front lines
For operators on-scene, communication is important for appropriate support, Harlow said. It's also not uncommon for Sentry to send out an independent adjuster to the scene to help guide a driver, and ultimately his employers back at the office, through the process. "We find a lot with some of our small motor carriers that they don't have an office staff that might readily pull needed documents in – communication is a two-way street when we're looking for that information and we're trying to evaluate" responsibility and just how to proceed.
Oftentimes in cases where civil litigation is in play, it's common for Harlow and company to see a 10-page letter from a plaintiff's attorney demanding the motor carrier preserve documents and records. Don't have the logbook records from the day of the crash? Plaintiffs' attorneys can "make an argument that you spoiled evidence, and that again gets problematic."
That early call to your insurer or safety department, as the case may be, can help ensure expectations of document preservation are met. Dashcam evidence can be key in terms of showing the moments of the crash.
"A video of an accident that clearly shows somebody else was the one changing lanes can go a long way" toward arguing a driver's/carrier's case, Harlow said. "Even a bad video," one that shows a measure of responsibility for the crash outcome, "keeps us from going down the path of trying to prove a liability argument that will end up failing and alienating a jury. If we know liability is reasonably clear up front," it's easier for insurers to take the right path, whether settling the case or pursuing a court victory.
Preservation of data can extend beyond the data that you control, too. For defense attorney Perryman, it will include data downloads from the claimants' vehicles as well. "We want to preserve all that if we can."
Timely reporting of claims to the insurer in any incident can also provide other evidence dividends that might not be obvious. Security cameras at businesses in the area may have captured the crash as it happens, for instance, as Harlow pointed out. Such cameras don't often preserve every bit of footage they capture indefinitely. Getting to it quickly can make a big difference in a case.
"A gas station close by is a prime example," Harlow added. "We can send somebody out there – if nothing else, they get a copy of it on their phone, anything to get that information as soon as possible."
Police body cameras that may have been in use on-scene are valuable evidence, too, said Perryman, who noted a case he'd seen more than once where his client's driver noted "the plaintiff was walking around the car and nothing was wrong with him," yet injuries were claimed. "If police had a body camera on, there's a possibility there" to disprove those claims.
Your own truck's dashcam can be a similar source. Regular readers may recall the story of Payne Trucking Safety Director Chris Haney's successful navigation of the Federal Motor Carrier Safety Administration's DataQs system to challenge a crash that was deemed a tow-away crash and thus included on Payne's CSA Safety Measurement System profile. The dashcam in Payne's truck, however, had captured a police officer driving the passenger vehicle involved in the crash out of an intersection, clearly exhibiting that the vehicle was in fact drivable.
Don't be afraid to look for evidence in surprising places, either, said attorney Perryman. If he gets quick notice of a crash from one of his clients, "within 24 hours," he said, "I'll do a social media search on the people involved. You might get witness information from their relatives." He referenced drivers who'd taken YouTube videos in the aftermath of a 40-50-vehicle pileup in Wyoming. "We could almost re-create the accident from the videos. My client was one of the last ones in and hit the claimant vehicle," yet "the claimant vehicle had been in three crashes prior to us."
Before he'd located the wealth of video of the scene and the last parts of the crash as it happened, it had "looked like we were the only one."
[Related: Ticket challenges, courtroom crash drama, DataQs hurdles: Video's power for clear communication]
The many mistakes carriers and operators make
As Harlow suggested above, small carriers can do themselves a favor in the back office in preparation for the worst when it comes to post-crash litigation. Carriers' vulnerabilities extend well beyond the crash scene when it comes to effective operator support. DialVan Safety Director Sergio Hernandez also works on a part-time, as-needed basis as a service provider to smaller motor carriers in his area, Laredo, Texas. He conducts mock audits of those businesses, carriers of sizes anywhere from 1 to around 30 trucks, he said. "There are thousands of them here in Laredo. ... The majority of all of them fail miserably, since they have no safety program" in place.
Plaintiffs' attorneys know this all too well, Hernandez said. "We are their bread and butter."
Attorney Perryman called absolutely "amazing the extent that plaintiffs' lawyers go through [carriers' driver qualification files] with fine-tooth combs. To us, we look at that being on the compliance side" of the management equation, something maintained merely to check a box for a federal or state auditor. Yet Perryman urged carriers to look at it as risk-management, too.
"Plaintiffs' lawyers are 100 times worse than DOT officers are at making sure the qualification files are up-to-date and correct," he said.
Perryman was speaking in June of 2021, and the prior week he'd been involved in a long deposition around a crash case where inconsistencies in the driver's qualification file reared their head. The driver had filled out an online initial application for employment at the carrier where he said "his license has never been suspended," Perryman noted. Yet on the paper application he filled out when he was actually physically present at the company he'd said the opposite, "and both were in the file – there was no documentation that anybody had ever talked to him" about the discrepancy.
There was no suspension noted on his Motor Vehicle Record, and it turned out a move from Pennsylvania to Louisiana and a lapse in the CDL had been the reason the driver had indicated a suspension.
"Pull that driver qualification file out right after the accident," Perryman advised. "If there are inconsistencies there, we can address that up front. No matter how big your size" as a motor carrier, there's always bound to be "something in the paperwork that's just not quite right."
In prior reporting from Overdrive sister publication CCJ, Annette Sandberg, CEO of TransSafe and former Federal Motor Carrier Safety Administration boss, suggested that carriers work to get in front of the narrative post-crash.
"What you find with people on the defensive is they don't talk to the press. I don't know that that's always a good strategy," she said. "It doesn't hurt to make it look like you're aggressively investigating [an accident]. If you fire a driver, come out and say it. A lot of companies think they can hunker down and wait it out, but in this day and age, it never goes away. If your story isn't out there, nobody's going to hear it."
Additionally, if you know your driver is at fault, "jump on it and deal with it early," she said. "Don't force them to take you to court."
[Related: Another reason insurance costs are rising -- 'Claims' in no-fault accidents with threat of civil litigation]
Don't let your cellphone be a liability, either. "Cell phones are killing me on these accidents" in efforts to defend truckers from responsibility, said Perryman. "If a driver is driving 9 to 10 hours a day, how many hours is he or she on the phone? It's incredible the number of hours" he's seen. "Six, seven, eight hours a day on the phone. Chances are that having drivers not on the phone is almost impossible. They're all legal, but let's face it – there's a belief out there that if you're talking on your phone you're distracted."
In front of a jury drawn from among the general population, as has been said time and time again, it's a problematic data point. --Matt Cole contributed to this report.
Next in this series: How a plaintiffs' attorney shop works -- and how truckers can play defense to work it