Trucking news and briefs for Wednesday, Feb. 9, 2022:
G.W. Bridge intersection in New Jersey again tops truck bottlenecks list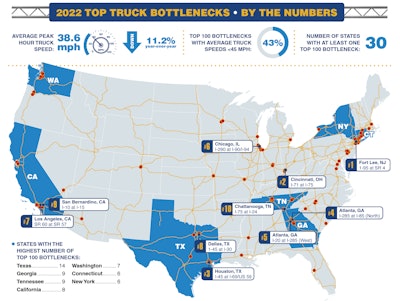 The intersection of I-95 and SR 4 in Fort Lee, New Jersey – for the fourth consecutive year – sits atop the annual rankings from the American Transportation Research Institute (ATRI) highlighting the most congested bottlenecks for freight haulers in America.
The 2022 Top Truck Bottleneck List measures the level of truck-involved congestion at more than 300 locations on the national highway system. The analysis, based on truck GPS data from more than 1 million freight carrying trucks, uses several customized software applications and analysis methods, along with terabytes of data from trucking operations, to produce a congestion impact ranking for each location.
ATRI's truck GPS data is also used to support the U.S. DOT's Freight Mobility Initiative.
"ATRI's bottleneck list is a roadmap for federal and state administrators responsible for prioritizing infrastructure investments throughout the country. Every year, ATRI's list highlights the dire needs for modernizing and improving our roads and bridges," said American Trucking Associations President and CEO Chris Spear. "We have seen, most recently in Pittsburgh, that the cost of doing nothing could also cost lives. It's time to fund these projects and get our supply chains moving again.
The bottleneck locations detailed in this latest ATRI list represent the top 100 congested locations, although ATRI continuously monitors more than 300 freight-critical locations.
The rest of the Top 10:
2. Cincinnati: I-71 at I-75
3. Houston: I-45 at I-69/US 59
4. Atlanta: I-285 at I-85 (North)
5. Atlanta: I-20 at I-285 (West)
6. Chicago: I-290 at I-90/I-94
7. Los Angeles: SR 60 at SR 57
8. Dallas: I-45 at I-30
9. San Bernardino, California: I-10 at I-15
10. Chattanooga, Tennessee: I-75 at I-24
ATRI's analysis, which utilized data from 2021, found traffic levels rebounded across the country as more Americans returned to work and consumer demand for goods and services continued to grow. Consequently, supply chain bottlenecks occurred throughout the country. Average rush hour truck speeds were 38.6 MPH, down more than 11% from the previous year.
What's the biggest bottleneck you see on your routes? Let Overdrive editors know via the comments under this post.
Mexican-licensed driver shut down by FMCSA
The Federal Motor Carrier Safety Administration has effectively shut down Mexico-licensed commercial driver J. Rafael Arizaga-Tapia, aka Nibardo Andrade-Mendoza, barring him from operating any commercial motor vehicle in interstate commerce in the United States.
According to FMCSA, on June 24, 2021, Arizaga-Tapia was notified he tested positive for controlled substances. As a result of the positive test, he was prohibited from performing any safety-sensitive function, including operating a truck. At the time of the positive test, he had a valid Mexico-issued license as well as a valid Washington state driver's license.
FMCSA's review of Arizaga-Tapia's driver history for both licenses revealed prior offenses for speeding, driving under the influence and refused tests. His Washington driver's license also has an ignition interlock device restriction.
After the positive test, Arizaga-Tapia obtained another Mexico-issued license under the name Nibardo Andrade-Mendoza. It is a violation of the Federal Motor Carrier Safety Regulations for a CMV driver to have more than one driver's license.
On or about Nov. 12, 2021, Arizaga-Tapia, using the second license under the different name, was running on State Road 97 near Orondo, Washington. The vehicle he was operating failed to negotiate a curve, left the road, crashed through the guardrail and fell into a ravine.
Arizaga-Tapia was in possession of opened and unopened beer cans, FMCSA said, and subsequent blood tests showed a measurable alcohol concentration in his system. At the time of the crash, Arizaga-Tapia's Mexico-issued license was still listed as prohibited in FMCSA's Drug and Alcohol Clearinghouse.
Mega fleet partners with Embark for autonomous truck deployment
Autonomous tech developer Embark Trucks and Knight-Swift Transportation Holdings on Tuesday announced the launch of the Truck Transfer Program, intended to give Knight-Swift and its drivers direct access to Embark's technology.
The Truck Transfer Program marks the first public initiative through which a U.S. carrier will directly own and maintain an Embark-equipped truck and is a step on the path to eventual purchase and ownership of Embark-equipped trucks by carriers, the companies said in a press release.
To date, Embark and other autonomous developers have operated a testing model in which they own, maintain and dispatch their partially automated trucks, placing their own drivers behind the wheel during hauls for shipper and carrier partners. This configuration has generated insights into the tech's performance and how best to integrate Embark-equipped trucks within existing supply chain operations.
The Truck Transfer Program aims to spur further development necessary for commercialization. The companies say this is the first time that the carrier – Knight-Swift – will own an Embark-equipped truck, maintain and deploy the truck, and place their own driver behind the wheel.
Currently, Knight-Swift and Embark are preparing the technology and carrier process flows necessary for launch. Embark plans to equip a set of Knight-Swift trucks from the carrier's slated 2022 OEM deliveries with its Embark Universal Interface. Embark plans to deliver the first Embark-equipped trucks to Knight-Swift for use in daily operations by the end of 2022.