Trucking news and briefs for Thursday, March 10, 2022:
Cargo theft activity saw year-over-year decline in 2021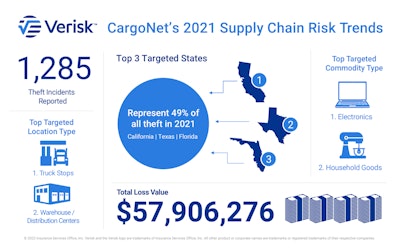 Cargo theft recording firm CargoNet recorded 1,285 supply chain risk events across the United States and Canada in 2021, a 15% decrease in activity year-over-year.
Fifty-five percent of events involved theft of at least one heavy commercial motor vehicle, which includes semi-tractors, semi-trailers, or intermodal chassis or container. Fifty-four percent of events involved theft of cargo or attempted theft of cargo. The average cargo value per cargo theft was $172,340, for an estimated total of $57.90 million in cargo stolen across the United States and Canada in this analysis period.
California remains the top state for reported cargo thefts with CargoNet recording a 13% increase year-over-year. This comes as no surprise to experts, as California continues to struggle with an increase of sophisticated attacks on shipments of computer components across the Bay Area and Southern California.
Texas recorded the second-most activity and saw a year-over-year decrease in theft activity of 15%. Florida rounds out the top three states with a slight increase of 6% and continues to see a shift from Miami-Dade into Broward, Palm Beach, Hillsborough and surrounding counties.
Cargo thieves continued to show a strong preference for electronics shipments, which saw a significant 34% increase year-over-year. Specifically, CargoNet has noted increased targeting of consumer electronics shipments – particularly computers and accessories.
Household items were the second-most stolen commodity but dropped compared to 2020. Household cleaning supplies saw a major decrease from 2020, which CargoNet mostly attributed to the increase in demand for cleaning supplies and household paper products particularly at the start of the pandemic.
In contrast, food and beverage thefts dropped 35%, because supply chain partners reported fewer pilferages of these products.
Entering 2022, CargoNet expects that theft activity will remain elevated.
"We continue to be concerned about the increase in rail thefts and targeting of computer electronics shipments shipping from California, as well as a breakout of full truckload cargo thefts spreading across the eastern half of the United States," the firm said. "CargoNet continues to track these events and work with law enforcement agencies across the country to share information and recover stolen vehicles and goods."
Moving company operators indicted in $12M HHG moving fraud scheme
Two individuals who operated a household goods moving company have been indicted by a grand jury in the Eastern District of Pennsylvania for wire fraud, interstate transportation of property obtained by fraud, and aggravated identity theft in connection with a household goods moving company fraud scheme, according to the Department of Transportation Office of Inspector General.
Matthew Pardi, Ashley Lynn Hars, and Pardi's wholly-owned corporation, Proud American Vanlines, LLC (formerly known as Moving Accounting Department, LLC) were indicted on Feb. 17.
The indictment alleges that from 2015 to 2019, the defendants created a series of online profiles for moving companies by stealing the identities of legitimate companies. The defendants falsely claimed that the companies were family owned and had existed for over a decade with more than a thousand satisfied customers.
OIG said the defendants created five-star reviews on their own websites, as well as legitimate review websites, such as the Better Business Bureau and Yelp, to try to trick customers into booking their moving services and making deposits.
The defendants also violated Federal Motor Carrier Safety Administration regulations by increasing fee estimates after booking customers and refusing to deliver household goods unless the customers paid the higher prices.
As a result of the scheme, the defendants fraudulently obtained over $12 million, OIG added.
Driver named Highway Angel for helping UPS driver whose truck overturned
The Truckload Carriers Association has named ABF Freight System drive Robert Schuhl, from Stockbridge, Georgia, a Highway Angel for rushing to the aid of a UPS driver whose truck overturned.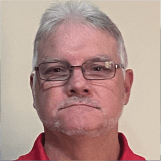 On Sept. 10, 2021, Schuhl was eastbound on Interstate 22 near Hamilton, Alabama, on his way to Atlanta when he witnessed a UPS truck up ahead lose control and tip over on its right side. "It looked like the driver was making a left turn, but then the truck bounced and rolled over," Schuhl said.
Acting swiftly, he safely pulled over and ran over to the truck. Another motorist had also stopped. He and Schuhl climbed up on top of the overturned truck, and the motorist held the door open while Schuhl climbed inside. He first turned off the ignition and then maneuvered to help the driver, who was lying against the passenger door.
"Her head was bleeding and she was dazed," he said. "I told her we were there to help her and get her out of the vehicle. However, there was no way she would be able to stand up and get out through the top."
Schuhl and the other motorist decided their best option was to kick out the mangled windshield. By this time, another motorist, a nurse, stopped to help at about the same time that a police officer arrived. They helped to move the windshield out of the way, and the nurse advised on how to safely move the driver.
"We covered the driver's face to protect her from the glass and lifted her just outside the vehicle," Schuhl said. "We didn't want to move her any further."
Another UPS driver stopped and helped comfort the injured driver until paramedics arrived.
Schuhl wasn't able to learn what caused the accident, but is relieved that the driver didn't appear to have any serious injuries.
TCA presented Schuhl with a certificate, patches, lapel pin and truck decals. ABF Freight also received a letter acknowledging him as a Highway Angel.