Trucking news and briefs for Friday, April 1, 2022:
Biden takes action to lower fuel prices, as van, reefer rates slide
In an effort to take pressure off Americans at the pump and counteract what the Biden Administration is calling "Putin's Price Hike," President Joe Biden announced Thursday a two-part plan to increase the supply of oil to bring down prices at the pump.
The first part of Biden's plan is to increase domestic oil production and release a historic amount of oil from the Strategic Petroleum Reserve.
According to a White House press release, domestic oil production is expected to increase by 1 million barrels per day this year and another 700,000 barrels per day next year. Yet Biden said oil companies could be doing more.
To encourage production, Biden urged Congress to make oil companies "pay fees on wells from their leases that they haven't used in years and on acres of public lands that they are hoarding without producing.
"Companies that are producing from their leased acres and existing wells will not face higher fees," the White House added. "But companies that continue to sit on non-producing acres will have to choose whether to start producing or pay a fee for each idled well and unused acre."
The Administration also announced the largest release of oil reserves in history, putting 1 million additional barrels on the market per day on average for the next six months.
"This record release will provide a historic amount of supply to serve as bridge until the end of the year when domestic production ramps up," the Administration said.
For the second part of Biden's plan, the White House announced its commitment to "achieving real energy independence — which centers on reducing our dependence on oil altogether." To achieve this, Biden will call on Congress to pass his plan to speed the transition to clean energy that's made in America. Biden will also issue a directive, authorizing the use of the Defense Production Act to secure American production of materials to bolster the "clean energy economy," the Administration said.
The moves come amid increasing levels of uncertainty in freight markets. DAT Freight & Analytics' analyst Dean Croke noted. "For the small carrier, the cost of fuel is about 46% of total operating costs right now," he said. "At this time last year it was 39%." For an average owner-operator, he likened the hit to a 41-cents-per-mile income swing, mostly felt within the last month. "The more important factor for small carriers to watch is fuel as percentage of revenue. On average, fuel as percentage of revenue was 36.51% as of last week and now is perhaps 37% to adjust for the latest national average price from EIA," $5.18/gal. as of earlier this week. "Carriers had been accustomed to something more in the 25% range."
DAT noted a few realities to watch:
1. The number of loads on the spot market is falling
Total number of loads on the DAT One network fell 7.9% last week. The number of available loads is down 17.9% since the first week of March.
2. The number of posted trucks is at its highest point since mid December
The number of trucks on the network looking for loads increased 1% compared to the previous week. There were 51% more trucks posted compared to same week in 2018.
3. National average, all-in spots rates continued to fall last week
Van freight averaged $2.96/mile, down 4 cents from the week before.
Reefers averaged $3.27/mile, down 5 cents.
The flatbed rate lost 3 cents to $3.28 a mile, though underlying linehaul rates, excluding an average fuel surcharge, were holding strong. See the chart below to compare flatbed's level trajectory compared to van (with reefer's trajectory generally similar to van).
Truck parking closed at I-95 rest area in Virginia to add more parking
Parking for trucks and other large vehicles will be temporarily prohibited at one I-95 rest area in Virginia starting later this month. The state is working to add more parking at the facility.
The Virginia Department of Transportation said starting at 7 a.m. Monday, April 14, the I-95 South Ladysmith Rest Area in Caroline County will be temporarily closed to trucks, trailers, buses and other large vehicles.
According to the VDOT, the closure is expected to last about three weeks as construction crews work to increase the parking capacity for trucks at the rest stop. The truck parking area will temporarily reopen the weekend of Easter Sunday. This rest area normally has 20 truck parking spots. That will increase to 45.
The restrooms and other amenities of the rest stop will remain open, as well as 55 parking spots for passenger cars.
VDOT said that, weather permitting, the project is expected to be completed by summer.
Another separate project will mean restroom facilities at the I-64 eastbound and westbound Charlottesville Safety Rest Areas in Albemarle County will undergo extended maintenance starting Friday, April 1, requiring the use of temporary restroom facilities at both rest areas through September 2023.
Both rest areas will remain open at all times, to include parking and all other amenities.
Portable restrooms will be available initially, for about 30 days, according to VDOT. These will be replaced by trailer-based restrooms, which will be in place until the maintenance project is complete. All temporary facilities will include handicapped-accessible restrooms and handwashing stations.
You've seen flat-spotted tires, but …
The Iowa Department of Transportation Motor Vehicle Enforcement Division stopped a tractor-trailer earlier this week going 30 mph in a 65-mph zone, and quickly discovered why the operator was taking it slow.
The department said enforcement action was taken against the driver, and the truck was escorted to a safe location for repairs and placed out-of-service until the tires were replaced.
"It appears the the brake locked up on that axle, dragging the tires until worn like pictured," Iowa DOT MVE said in a Facebook post. "The driver did have multiple opportunities to stop for repairs and choose not to."
Driver named Highway Angel for helping direct traffic after accident
The Truckload Carriers Association has named Terry Harper, of Wichita, Kansas, a Highway Angel for stopping to direct traffic following a vehicle rollover.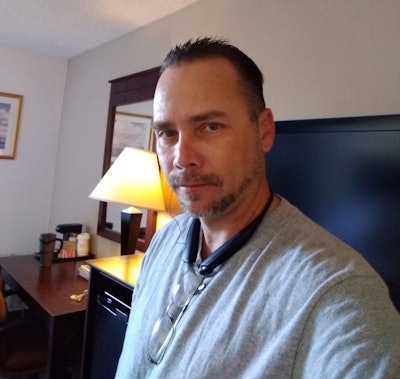 One evening in late December, the ABF Freight driver was traveling on U.S. 54 near Texhoma, Oklahoma, on his way to Wichita when he came upon an overturned pickup truck in the middle of the road.
"It was after 7 p.m., so it was dark out and the pickup was laying perpendicular to the road," Harper said. "It was hard to see it. It was across both lanes and vehicles were trying to go around it."
A woman was standing in the road and flagged Harper down as he approached.
"She jumped right in front of me," he said. "I had to move to avoid hitting her. It freaked me out."
She asked Harper to maneuver his truck to block traffic as other drivers were narrowly missing the overturned pickup. "I wasn't sure if I should do that," said Harper. Instead, he pulled to the right lane and shoulder.
The driver of the pickup was a young man whom Harper believed to be 17 or 18 years old. "He was sitting in another car with his father and appeared to be OK," he added.
Harper noticed a 30-day tag on the pickup. "The kid was probably new to driving. Maybe his dad had been following behind him."
Someone told him the young driver had reported feeling lightheaded when he was driving. "It was a really old pickup, so maybe there was an exhaust leak," Harper said. "Or maybe there was something in the road."
He grabbed a flashlight and began to halt traffic to prevent other drivers from hitting the overturned pickup. "We had traffic pretty much at a standstill," he said. An ambulance arrived in less than 10 minutes with sheriff's deputies arriving shortly after that to take over the scene. Harper is thankful that the young man didn't appear to have any serious injuries.
TCA has presented Harper with a certificate, patches, lapel pin, and truck decals. ABF Freight has also received a letter acknowledging him as a Highway Angel.