Trucking news and briefs for Friday, March 25, 2022:
TCA names new chairman for 2022-23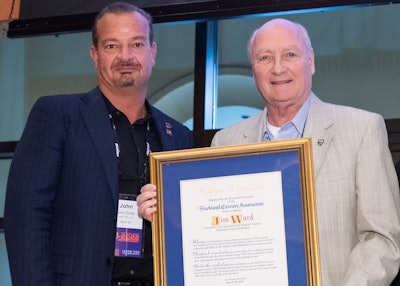 The Truckload Carriers Association has appointed Load One CEO John Elliott as its 2022-23 Chairman.
Elliott, a third-generation transportation professional, founded Load One in 2003, and under his leadership, the Taylor, Michigan-based provider of domestic and international transportation and logistics services has grown into a book of business that includes $135 million in annual revenue and more than 450 power units. The company has also won numerous awards and recognition and has been twice named as a Best Fleet to Drive For.
Load One was named Innovator of the Year in 2019 by Overdrive sister publication CCJ for its Ultimate Advantage mobile application that pushes business intelligence directly to owner-operators with real-time load visibility across the company's entire network.
[Related: A closer look at the freight-demand and planning app for owner-ops from Load One]
Elliott was the founder of ARC Supply Chain Solutions, a global provider of third-party logistic services. His extensive industry work includes serving as a TCA Officer, its First Vice Chairman, the Advocacy Advisory Committee Chairman, and as a member of TCA's Board of Directors, Financial Oversight Committee, Highway Policy Committee, and Regulatory Policy Committee.
He has also been a Vice President of the American Trucking Associations since 2018 and was previously the President of The Expedite Association of North America (TEANA).
A holder of a degree in Aviation Management and Logistics from Eastern Michigan University, Elliott is an avid sports fan and supporter of charitable causes like Wreaths Across America and Toys for Tots.
XPO selling intermodal business
XPO announced Friday morning the sale of its North American intermodal business to STG Logistics for $710 million.
XPO Logistics Chairman and Chief Executive Officer Brad Jacobs noted the divesture aligned with XPO's goal of "becoming two great companies," each publicly traded. XPO will be the third largest less-than-truckload provider in North America and one of only a few national networks.
"This divestiture simplifies our business model and moves our capital structure closer to investment-grade — two priorities in our strategic plan to unlock significantly more value for our stakeholders," he added. "We've completed a key step in preparing for our planned spin-off, when we'll separate XPO into two publicly traded leaders in less-than-truckload transportation and tech-enabled brokered transportation services."
The divested intermodal business will be known as STG Intermodal and operate under parent company STG Logistics. The business is expected to operate exactly as it does today. In all, approximately 700 people will immediately become STG employees.
[Related: Container haulers' past class-action classification suit against XPO]
Brief I-11 closures planned in Henderson, Nevada
Brief closures of northbound and southbound I-11 between East Paradise Hills Drive in Henderson and the U.S. 93 Business turnoff to Boulder City are expected on Monday, March 28.
The Los Angeles Department of Water and Power will be conducting overhead powerline maintenance.
The Nevada State Police (NHP) will conduct short-duration (10-15 minute) traffic stops between 9:00 a.m. and 3:30 p.m. while personnel and equipment are over the highway.