Trucking news and briefs for Tuesday, April 12, 2022:
Diesel prices dip again, with prices projected to drop into summer
For the second week in a row, the national average for diesel fuel has decreased, according to the Department of Energy's Energy Information Administration. The EIA also released on Tuesday its monthly Short-Term Energy Outlook (STEO), which includes a forecast for prices during the upcoming summer.
During the week ending April 11, fuel prices fell by 7.1 cents nationally to an average of $5.073 per gallon — nearly 18 cents lower than the peak in prices of $5.25 per gallon seen during the week ending March 14.
EIA, in its monthly STEO report, said that while there is a great deal of uncertainty in the forecast due to a number of factors, including the Russian invasion of Ukraine, diesel prices should settle to an average of $4.57 per gallon during the summer.
Diesel prices averaged $4.30 a gallon in the first quarter of 2022, and EIA projects a $4.82 per gallon average through the second quarter, followed by a significant dip in the third quarter to $4.32 per gallon for a Summer seasonal average of $4.57.
During the most recent week, prices fell in all regions, with the most significant decrease occurring in New England, where prices dropped an average of 10.2 cents per gallon.
California continues to be the only part of the country with prices averaging higher than $6/gallon at $6.223. The region with the next-highest average is the Central Atlantic, at $5.291 per gallon.
The cheapest fuel can be found in the Gulf Coast region at $4.84 per gallon, followed by the Midwest region at $4.887 per gallon.
Prices in other regions, according to EIA, are:
New England — $5.181
Lower Atlantic — $5.018
Rocky Mountain — $5.042
West Coast less California — $5.236
ProMiles' numbers during the same week saw fuel prices fall by 4.3 cents, bringing its national average to $5.011 per gallon.
According to ProMiles' Fuel Surcharge Index, the most expensive diesel can be found in California at $6.23 per gallon, and the cheapest can be found in the Midwest region at $4.846 per gallon.
Penske opens new facility in southern California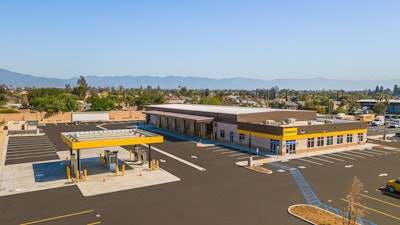 Penske Truck Leasing has constructed a new state-of-the-art facility in Fontana, California, located at 15436 Valley Boulevard.
The facility is the second full-service company location in the Fontana area. The new location will allow the company to better serve its existing customer base in the area, Penske says, as well as provide capacity to serve new customers.
At this location, Penske offers consumer and commercial truck rental, full-service truck leasing and contract truck fleet maintenance. It is also outfitted with the company's proprietary fully digital and voice-directed preventive maintenance process and connected fleet solutions, a value-added resource to help customers address issues and options related to onboard technology systems (ELDs, telematics, onboard cameras, etc.).
The location is 34,031-square-feet and sits on 5.5 acres. It has six truck service bays, an automated wash bay, a full-service fuel island and two electric vehicle (EV) charging stations.