Trucking news and briefs for Friday, July 22, 2022:
For-hire trucking saw more capacity, lower volume, rates in June
The latest release of ACT's For-Hire Trucking Index showed freight volume and pricing down, with capacity still on the high side, resulting in a lower supply-demand balance in June.
Carter Vieth, ACT research associate, said June's index "shows volumes continuing to contract, as sustained inflation and high fuel prices erode consumer confidence."
He added that consumers are choosing to spend more money on travel rather than goods, which is keeping freight volumes down.
"Pricing strength continues to moderate from January's peak, as volumes fall and more drivers enter the industry," Vieth noted. "The Omicron roll-off and Russia's invasion of Ukraine helped hasten the decrease by adding significantly to freight costs via fuel, hurting spot rates, even as consumer spending began reverting to services from goods."
He added, "The supply-demand balance reflects loosening in the trucking market and a late stage in the freight cycle. With improving capacity and slowing freight volumes, the pendulum has finally swung from tight to loose. Recent entrants reliant on spot rates will struggle, and their exit will set up the next tight market."
[Related: Is the 'trucking bloodbath' upon us? Trucking authority revocations paint a bleak, though misleading, picture]
Driver named Highway Angel for helping rescue woman who jumped off bridge
The Truckload Carriers Association has named truck driver Gregory Coleman, from Marked Tree, Arkansas, a Highway Angel for rescuing a woman who jumped off an Alabama bridge in the middle of the night. Coleman drives for Decker Truck Line out of Ft. Dodge, Iowa.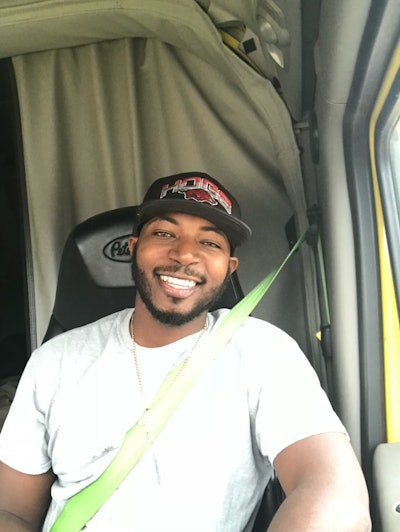 On April 25, Coleman was driving on I-65 in Priceville, Alabama, around 3 a.m. when he approached the 1-65 Tennessee River Bridge, where he was stopped by a man.
Coleman quickly brought his truck to a stop and was told by the man that a woman he knew had jumped off the bridge. Coleman asked if the man had any rope to throw down to the woman, who was still alive in the water.
"I could tell he was panicking," Coleman said. "At that point, I knew I didn't have rope, but I ran around and grabbed some straps."
Coleman and the man tied three straps together, each approximately 15 feet long, he said. Then they tied one end of the straps to the bridge and threw the other end into the water for the drowning woman to hold onto.
Coleman recalled that it took emergency responders from Morgan County Rescue Squad nearly 40 minutes to arrive at the scene. Responders arrived by boat and transported the woman to an ambulance at a marina nearby.
The sister of the woman who jumped off the bridge contacted Decker to thank Coleman, saying if he hadn't stopped with those straps, the family was sure she would have drowned before the rescue boat got there since she was hurt, cold, and barely able to stay above the water.
TCA has presented him with a certificate, patches, lapel pin, and truck decals. The company has also received a letter acknowledging him as a Highway Angel.
Penske opens new facility in Ohio
Penske Truck Leasing recently opened a new, state-of-the-art facility in Monroe, Ohio.
Located at 100 Clark Boulevard, the new facility expands Penske's capability to support the market and allows increased aid to the large territory between its Sharonville and Dayton sites in the same state.
At this location, Penske offers consumer and commercial truck rental, full-service truck leasing and contract truck fleet maintenance. It is also outfitted with the company's proprietary fully digital and voice-directed preventive maintenance process and Penske digital experience solutions, which help customers leverage Penske technology as well as options related to onboard technology systems (ELDs, telematics, onboard cameras, etc.).
The location's 14,520 square feet sit on 5.96 acres. It features three service bays plus an automatic truck wash bay, a two-lane fuel island and in-floor heating.
Atlas Van Lines gets a new agent in Richmond, Va.
Founded in 2014 by an owner-operator equipped with one truck, Richmond, Virginia-based Worth Moving is now a multi-unit moving and storage company committed to service excellence. Worth has now joined Atlas Van Lines as an agent, where Worth will continue to serve its customer base and expand its footprint.
Worth Moving operates within Virginia's Richmond, Fredericksburg, Williamsburg and Norfolk metro areas, in addition to the Chesapeake and Hamptons Roads regions. As an agent, the mover's also set to serve Atlas's interstate and cross-border moves.
"We look forward to working alongside Atlas Van Lines and know they will be an integral asset in our continued growth and expansion," said Tamela Davis, COO of Worth Moving. Today, the company is active facilitating residential, corporate, military, office, and same-day moves.
Worth also offers climate-controlled space to ensure convenient and safe storage of customers' goods while in transit.