Something weird is happening in the economy, and with trucking so often a canary in the economic coal mine, commentators have rushed to predict, or even declare, a freight recession as a precursor to a wider whole-of-economy recession.
In early April, predictions of a "trucking bloodbath" were everywhere, as spot van and reefer freight rates fell off all-time highs and diesel prices were on their record-breaking jaunt well past $5/gallon, and eventually to $6. Since then, the S&P 500 and Dow have both tumbled around 10% while core inflation, which even excludes food and fuel, has ballooned a whopping 9% year over year, according to the latest data. All of it carries consumer inflation expectations, and generally poor everyday economic sentiment that can create something of a self-fulfilling prophecy.
But despite investor losses and consumer pain, the U.S. isn't in a recession. While, colloquially, people say a recession means two consecutive quarters of negative GDP growth (we'll get some idea of Q2 on July 28), it's technically declared by the National Bureau of Economic Researchers, a private nonprofit that looks at a variety of factors before dropping the dreaded R word.
But tell that to a family that just bought groceries and filled up the family midsize crossover for more than $100. Tell it to the owner-operator who just filled up for a grand, is paying too much on a used truck, and is looking at spot loads for south of $2.50/mile just a few months after they might have been moving at $3.50.
Spot rates have indeed fallen, but remain fairly high historically. Supply chain issues have indeed snarled availability of everything from DEF and motor oil to parts and diesel itself, but freight volumes remain up. Diesel stands at a towering $5.42/gallon nationally as of July 18, but freight spending has grown, too.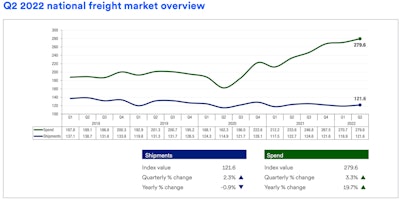 The weird state of play in the economy has economists scratching their heads, wondering if a recession is actually coming, how bad it might be if so, and how best to measure it. One metric that's gained some traction lately, and some may hold up as an example of a supposed "trucking bloodbath" claiming its victims, has been DOT authority revocations, tracked by FTR Transportation Intelligence, among others. Far too many in the wider trucking world seem to believe there's a direct correlation between those revocations and bona fide bankruptcies. Yet, a closer look at realities behind that data show that the prophesied "bloodbath" might well be more akin to a reallocation of resources, as nimble small trucking businesses shift approach with the winds of market change.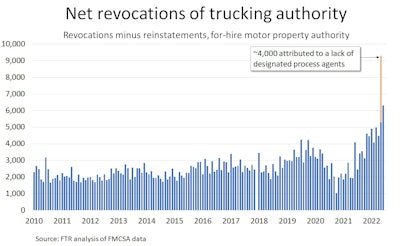 Trucking authority revocations might not mean much at all
To fully appreciate the graph above, which does show an admittedly unprecedented pace of revocations in recent months, first remember how many new businesses acquired their own authority since the start of the COVID-19 pandemic.
"Starting back in July of 2020 we started to see an unprecedented surge in the number of new carriers, which continues even now, though it's decelerating," said Avery Vise, VP of Trucking at FTR. "If you look back five years to the pre-pandemic, we typically saw 3,000 new carriers added per month. Since then we're seeing typically anywhere from 10,000-11,000 for most of last year, with 8,000 this June."
[Related: Driver shortage claims miss self-employment explosion]
Incredible spot rates, as well as the pandemic itself displacing many company drivers and an outpouring of stimulus checks and PPP loans, combined with the proliferation of technology that allows brokers to manage groups of trucks almost as well as an asset-based carrier, drove hundreds of thousands to start their own trucking businesses, according to Vise.
These were drivers acting of their own free will to go into business for themselves. Now, some, and not necessarily the same group, are making the opposite decision, but there's no reason to believe they're not also doing it for their own benefit.
Just as the great wave of new trucking authorities in the early pandemic coincided with weak payroll employment numbers in trucking, Vise said we're now seeing that undone as professional drivers who have what it takes to go out as owner-operators simply find career situations that better fit their needs.
"We see in the revocations data the impact just starting to show up in payroll employment," said Vise. "When you look at the growth we saw in April and May in trucking employment, those are the second two strongest months ever recorded," with the strongest month ever taking place in 1994 at the conclusion of a Teamster strike.
"A lot of those drivers are giving up their authority and now working for larger truckload carriers," Vise added, "either as leased owner-operators or as company drivers, which is understandable with diesel through the roof, and the spot market frequently not getting fuel surcharges. Company drivers don't ever worry about fuel prices, and even leased owner-operators get passed through surcharges," and often enough steep discounts at the pump via volume contracts their fleets negotiate.
With some fleets promising as much as $110,000 annual starting pay, "working for larger carriers has become attractive for a lot of these operators," said Vise.
[Related: How COVID-19 fast-tracked an explosion in power-only trucking]
Donald Broughton, managing director of Broughton Capital, pointed out that revocations alone can have many meanings, plenty of which aren't all that apocalyptic for the industry or wider economy. Broughton pointed out that over the pandemic, spot rates eclipsed contract rates for a record amount of time, 22 months within the reefer category. Now spot rates for the three major categories have crashed well below contract rates, but that's because contract rates "did their part" by rising, Broughton said.
Furthermore, Broughton pointed out that spot rates plus fuel have remained mostly flat, with fuel surcharges now becoming the main driver of cost in this market.
"When spot was at premium to contract, it incentivized people to do all kinds of things, like getting their own authority," he said. "Are those authorities related to private fleets or company fleets? There's no detail to the data. You don't even know if any authorities had a single truck. Maybe they applied for the authority and then never bought the truck, or decided they didn't need to have their own authority so they let it lapse."
Importantly, according to Broughton, the spike in revocations of authority "doesn't mean the capacity changed at all."
Taking dry van for example, Broughton observes that year-to-date load post volume remains higher than in 2021. While spot pricing has fallen 38.5% from the January 2022 peak, "it is still a healthy 34% above May '19." Contract pricing remains more than 50 cents/mile above the previous 2018 record high, "and poised to go higher," as Broughton wrote for the National Association of Small Trucking Companies' quarterly publication.
Broughton attributes the dive in spot rates, at least in part, to how difficult it's been for shippers to maintain freight capacity over the pandemic and their attempt to move to contract deals with more stable pricing. "In each and every contract in which we have been given access to the details, securing capacity was the shipper's primary objective," Broughton wrote for NATSC.
"What comes from that is carriers saying, 'OK, we'll give you guaranteed trucks, but you give us guaranteed loads,'" Broughton said, leaving shippers scrambling to occupy their contracted carriers and, ultimately, "it takes loads out" of the spot market.
What trucking can teach economists
There's no shortage of online content where so-called financial experts try to teach drivers the ins and outs of the economy, but as the supply chain has become a (if not the) central issue of today's economy, there's an important lesson to be gained for economists.
The entire debate over whether or not the nation has fallen into a recession essentially hinges on the question of whether or not demand has died down. The pandemic and accompanying stimulus checks saw unprecedented demand for durable goods across the country, which is all stuff that needs to be hauled in trailers. Now, economists predict that rising inflation and a shift to consumer spending on services, rather than goods, will hurt manufacturing and transportation.
But the latest U.S. retail sales figures narrowly beat expectations. Importantly, they showed spending on hobby items like sporting goods and musical instruments, both durable goods, remain 47% above pre-pandemic levels. What kind of recession have you ever heard of where people are still buying guitars?
Rates have dropped, sure, but remain historically high. Demand for goods and freight persists. Professional drivers still have plenty of profitable career options. The one true wildcard in the economy remains fuel prices. In July alone, JP Morgan predicted, in a worst-case scenario, oil could sail to $380 a barrel while Citi predicted a crash to $65.
Diesel has already dropped nearly 50 cents off its peak, and could head down further, enhancing profitability for small trucking operations exposed to fuel price volatility -- or making them viable and profitable once again, as the case may be, and lining the pockets of the lucky fueling up on a haul with a fuel surcharge locked in at last week's price.
Overdrive's last close look at the fuel situation concluded with a quote from an owner that "the strong will survive." It's an enticing bit of sentiment, because it's self-fulfilling -- those who survive hard times are strong. Those who don't? Not so much.
But in today's world, the skill to move freight as a professional, however one does it, represents an in-demand capability to bring to market. No amount of authority revocations, true trucking failures or garden-variety setbacks are likely to derail the career of a truly determined hauler.
[Related: Will only the strong survive historic fuel-price highs?]