Trucking news and briefs for Tuesday, Oct. 4, 2022:
Werner acquires Baylor Trucking
Werner Enterprises has acquired Milan, Indiana-based truckload carrier Baylor Trucking. Financial terms were not disclosed.
Baylor, a four-time Walmart carrier of the year and in 2021 Diversity carrier of the year for the second time, operates from two terminals in the east-central and south-central U.S. Baylor celebrated its 75th anniversary in 2020.
Werner will take on 200 trucks (170 company and 30 owner-operated) and 980 trailers in the deal, along with 234 operators, boosting the Werner fleet size by almost 2.5%.
"I have known Cari Baylor for many years, and I have tremendous respect for what Cari, her family and her leadership team have created at Baylor," Werner President and Chief Executive Officer Derek Leathers said of current Baylor Trucking President who, along with her staff, will remain in their respective roles post-acquisition, "and we are retaining the Baylor brand to ensure smooth integration and high driver retention."
Baylor will operate as a standalone business unit within Werner, and its financial results will report within Werner's One-Way Truckload unit within its Truckload Transportation Services. There are synergies between Baylor and Werner's One-Way Truckload unit, as more than half (51%) of Baylor's freight is one-way dry van (51%); 42% is expedited dry van; and 7% refrigerated.
Said Cari Baylor, "We will stand by our customers and continue to provide them with the superior service they expect from Baylor. Aligning with Werner only expands our service capabilities. Werner shares our passion for delivering value and continually creating personal and professional opportunities for our elite Baylor team."
[Related: Fleet acquisitions on torrid pace in 2022]
Motive unveils new Reefer Monitoring device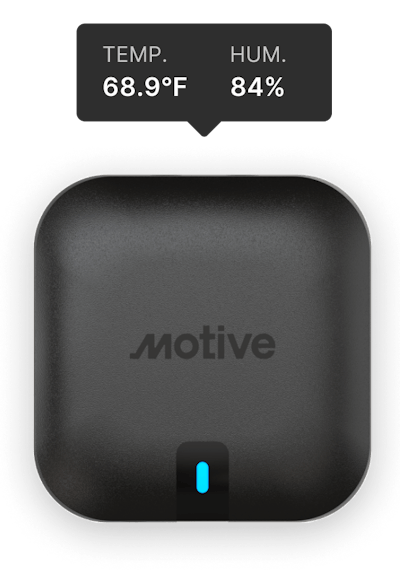 Motive, formerly KeepTruckin, is expanding services for the food and beverage market with the launch of a new Reefer Monitoring device for refrigerated vehicles and trailers. The new product helps businesses improve compliance with food transportation safety requirements and reduce costs related to reefer operations, the company said.
Motive Reefer Monitoring includes a new Environmental Sensor that remotely monitors reefer temperature and humidity conditions in real-time. With this capability, businesses have all their fleet data on a single screen, including location, vehicle telematics and reefer insights.
Carriers can also create reefer logs for any time period on demand without the need to visit a service center, which reduces cost, decreases reefer downtime, and improves the service that fleets can provide to their own customers, Motive says. It also helps the fleets to comply with the Food Safety Modernization Act (FSMA) requirements.
For customers using Thermo King reefer units, Motive collaborated with Thermo King to introduce a new integration that enables monitoring of reefer telematics data from the Motive Fleet Dashboard, which the company says helps to avoid any food spoilage and lower the operating and maintenance cost of the reefer systems by proactively detecting any problems.
In addition, the new integration enables customers to remotely program and control reefer units to eliminate manual pre-cooling before a trip, saving time and reducing the potential for human error.
[Related: CAP Trucking refocuses on asset business, growing success in North-South LTL reefer lanes]
Yokohama increasing tire prices
Citing a "continued rise in costs associated with operations," Yokohama Tire Corporation announced Tuesday it will increase its commercial truck tire prices in the U.S.
The increase will take effect Nov. 1.