Trucking news and briefs for Tuesday, Nov. 1, 2022:
Diesel dips to end October after rising throughout month
After increasing through most of the month, diesel prices ended October on a slightly positive note for truck owners, as the U.S.' national average fell by 2.4 cents during the week ending Oct. 31, according to the Department of Energy's Energy Information Administration.
After the slight decrease, the U.S.' national average for a gallon of on-highway diesel is now $5.32, up $1.59 over the same week a year ago.
During the most recent week, prices increased along the East Coast but fell in all other regions across the country. New England saw the largest increase of 7.9 cents, while California saw the biggest decrease of 7.7 cents.
California still holds the nation's most expensive diesel at $6.25 per gallon, followed by the Central Atlantic region at $5.88 per gallon.
The cheapest fuel can be found in the Gulf Coast region at $4.97 per gallon, followed by the Lower Atlantic region at $5.18 per gallon.
Prices in other regions, according to EIA, are:
New England -- $5.85
Midwest -- $5.33
Rocky Mountain -- $5.30
West Coast less California -- $5.42
ProMiles' numbers during the same week saw fuel prices fall by just three-tenths of a cent, keeping its national average at $5.36 per gallon.
According to ProMiles' Fuel Surcharge Index, the most expensive diesel can be found in California at $6.46 per gallon, and the cheapest can be found in the Gulf Coast region at $4.89 per gallon.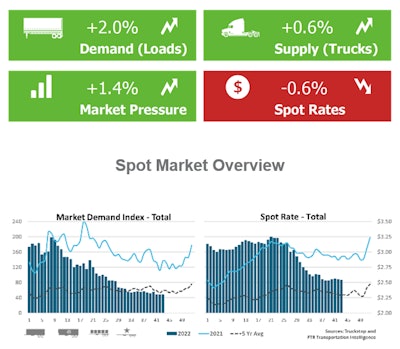 Ohio conducting survey related to traffic safety enforcement
Throughout November, the Ohio State Highway Patrol (OSHP) is conducting an online survey to identify traffic safety concerns and obtain feedback about interactions with the agency.
OSHP's 2022 Public Survey is anonymous and takes approximately five minutes to complete. The survey is designed to be used as a platform for organizational learning, asking specific questions related to traffic safety issues and previous interactions with OSHP employees.
For truck drivers, the survey includes questions related to truck enforcement and inspections.
New small fleet-focused credit card available
The Koffie Financial firm, which describes itself as an "insuretech" providing innovative financial services in trucking and transportation generally, announced the availability of a credit card built specifically for small fleets.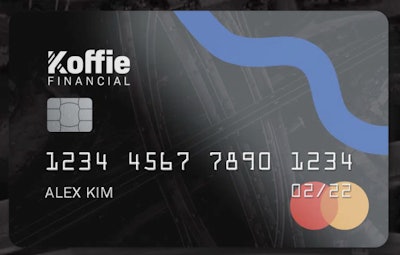 The Koffie Card, the company says, can complement the company's insurance products with credit access and "the tools and financial benefits to weather increasing cost pressures," said Mike Dorfman, co-founder & COO at Koffie.
Koffie partnered with Power, a leading credit card issuance platform, to launch the card with cash-back incentives enabled through credit card interchange revenue, and spend management and expense tracking capabilities accessed within Koffie's platform.
[Related: Trucking insurance: New tech models tie pricing to performance]
Public voting opens for Transition Trucking award
Public voting is now open for the Transition Trucking: Driving for Excellence award, which recognizes America's top military veteran rookie truck driver.
The general public is invited to cast their vote online on the Transition Trucking website. A short video about each driver also is available on the website. Voting runs through Veterans Day on Nov. 11. The voting is an important determiner for the Selection Committee in making their ultimate choice for the next Transition Trucking award winner.
Kenworth has again teamed with Fastport and the U.S. Chamber of Commerce Foundation's Hiring our Heroes Program to support the Transition Trucking award. For the seventh straight year, Kenworth is providing the top prize -- a T680 Next Generation equipped with a 76-inch sleeper and the Paccar powertrain featuring the Paccar MX-13 engine, Paccar TX-12 automated transmission, and Paccar DX-40 tandem rear axles.
The finalists for the award are:
Sean Adams, U.S. Navy, McElroy Truck Lines
Jason Van Boxtel, U.S. Marines, Veriha Trucking
Paul Gouker, U.S. Army & National Guard, Stevens Transport
Cale Jensen, U.S. Air Force and U.S. Army, G. Dubbels Farms Trucking
Ashley Leiva, U.S. Army, Draco Energy/Noemi Trucking
Dave Marihugh, U.S. Navy, Roehl Transport
Christopher McDowell, U.S. Army and National Guard, Epes Transport
Joe K. Nyenatee, U.S. Army, Melton Truck Lines
Talon Rogers, U.S. Army, CRST
Justin Silk, U.S. Army, Paschall Truck Lines
Michael D. Thomas, U.S. Marines, Prime Inc.
The winner will be announced Dec. 16 at the U.S. Chamber of Commerce in Washington, D.C.
Love's celebrates veterans with deal, donation to vets org
Love's Travel Stops is celebrating military veterans by offering a food and drink deal on Veterans Day in addition to extending a $150,000 donation to Operation Homefront, a national nonprofit whose mission is to build strong, stable and secure military families so they can thrive in the communities they've worked so hard to protect.
The donation will come from the sale of special edition Operation Homefront tumblers, combined with a gift from the company.
"Veterans Day is a day for us to 'pay it forward' and say 'thank you' to all current and former military members," said Jenny Love Meyer, chief culture officer and executive vice president of Love's. "We always enjoy finding new ways to support our veterans and Operation Homefront for the dedicated and impactful work they do."
On Friday, Nov. 11, all who have served or those currently serving in the military can get a free roller grill item and fountain drink with the purchase of one roller grill item at participating locations. A special edition, 24-ounce Operation Homefront tumbler will also be available for purchase throughout the month of November, with $5 from each sale going directly to the organization while supplies last.
"Our military families need our support, now, more than ever, and we are so grateful to Love's for their steadfast commitment to help us build strong, stable, and secure military families," said Brig. Gen. (ret.) Robert Thomas, COO of Operation Homefront. "Veterans Day is the perfect time to show our military families that we are grateful for all they have done for our nation in its time of need and to work hard to be there for them in their time of need."
In effort of helping military families overcome short-term bumps in the road and avoid long-term chronic problems, Operation Homefront offers critical assistance in areas including rent-free housing, financial support, caregiver support and various other recurring support programs.