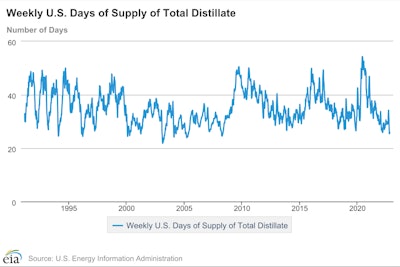 The U.S. supply of diesel fuel is at its lowest point since the 2008 financial crisis. The low point comes after President Joe Biden's long-ongoing pulls from the Strategic Petroleum Reserves in efforts to to push fuel prices lower, setting off alarm bells across the industry.
According to the U.S. Energy Information Administration's latest weekly numbers, the U.S. has just a bit more than 25 days of distillates, which includes diesel, left in stock. Essentially, not much has changed since the last time prices spiked and the specter of shortages loomed. The culprit remains largely the same: Weak refinery capacity and trouble moving the precious fuels around the country, particularly to the Northeast.
The weak refinery capacity is the product of a variety of circumstances, like a 2019 refinery fire in Pennsylvania, dwindling demand during the pandemic lockdowns and just plain old wear and tear on existing operations. The trouble with moving fuels, particularly diesel, around the country is the 1920 Jones Act, which strictly limits what ships can take what cargo between U.S. ports.
Around the world, other countries aren't doing that much better in securing the fuel of industry. France saw a worker strike at TotalEnergies refineries, and most of Europe faces an extreme diesel crunch when embargoes on Russian petroleum products take hold on December 5.
As a result of the overall market volatility, Mansfield Energy moved to "Alert Level 4" (the highest being five) and issued a supply alert for the East Coast: "U.S. diesel markets tend to be comfortable and liquid when inventories are around 35-40 days; 30 days of supply begins to get tight. At 25 days of supply, there's critically low fuel available when a crisis hits."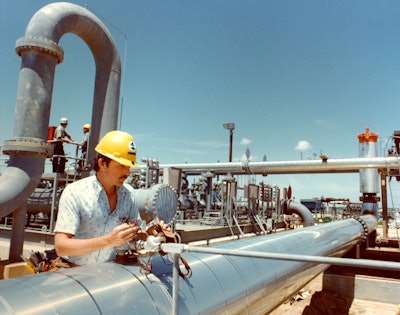 Furthermore, according Tracy Shuchart, a Global Energy & Materials Strategist at Hedge Fund Telemetry Geopolitics, the diesel fuel the U.S. is able to refine isn't going where it's needed.
"The U.S.'s problem with diesel is lack of refining capacity and lack of pipelines, specifically in the Northeast," she said. "Also, because we have the Jones Act, it's easier and less expensive to export diesel to Europe."
Shuchart said that U.S. refineries have been running at impressively high levels given supply chain challenges, but that refining capacity has suffered as drilling for oil has simply become unpopular and uncertain, over the long term.
"It's amazing we didn't have more refineries break down because of parts problems," she said.
So what to make of the 25 days number? Shuchart said the number fluctuates, but doesn't count down daily to zero. If the U.S., on any given day, refines more diesel than it burns, the number goes up, and if the opposite is true, that number goes down.
The currently low levels show Biden's SPR releases came "too fast, too soon, and too much," according to Shuchart, but it still doesn't mean "we're going to run out of fuel tomorrow."
Instead, look for increased prices. Andy Lipow, president of Lipow Oil Associates, LLC. told CNBC this weekend he expected to see diesel prices, now around $5.30/gal on average nationally, climb another 15 to 20 cents in the next few weeks. Average pricing had been down a bit nationally last week, as reported today.
Mansfield Energy wrote that "consumers shouldn't expect to see widespread fuel stations with bags over the pumps," but that "retail stations will find supply and stay running" while passing higher fuel costs onto consumers.
For fleets buying bulk fuel, Mansfield warned against "panic buying" and "ordering fuel when you don't know whether it will fit at delivery time," but encouraged staying in touch with fuel suppliers and revisit their storage situations.
For owner-operators, understanding fuel surcharges could take on ever more importance, as could planning fuel-ups to avoid troubled regions where pricing moves quickly upward.
One could take comfort from retailers, though, who don't see a sign for alarm, near-term at least.
"Diesel supply is tight and diesel inventories are low," noted Tiffany Wlazlowski Neuman, vice president of public affairs for NATSO, the trade association representing America's travel centers and truck stops. "This is a structural problem, but the market is adjusting to get product where it needs to be as efficiently as possible. Absent a disrupting event, the current period of vulnerable stability can continue."
Tina Arundel, senior director of communications for Travel Centers of America, said her company doesn't have any significant concern across its 280 locations in 44 states, and is "not certain why anyone would be out of product." --Jason Cannon contributed to this story.