Trucking news and briefs for Friday, Jan. 6, 2023:
Forward Air acquires Land Air Express
Forward Air Corporation, an asset-light provider of transportation services across the U.S., Canada and Mexico, has agreed to acquire full-service expedited LTL carrier Land Air Express for $56.5 million. The transaction is expected to close later this month.
Headquartered in Bowling Green, Kentucky, Land Air Express offers a variety of services, including guaranteed, standard, exclusive, same day, hot shot and pickup and delivery. With approximately 270 employees and more than 200 drivers (including company and leased owner-operators), Land Air Express operates 302 trucks from 25 terminals across the U.S.
Forward Air already provides expedited LTL services, including local pickup and delivery, shipment consolidation/deconsolidation, warehousing, and customs brokerage. Chairman, President and CEO Tom Schmitt said, however, the LTL business is a key growth area for the company, and the purchase of Land Air Express is an important addition to its LTL growth opportunities.
"This acquisition will accelerate the expansion of our national terminal footprint, particularly in the middle part of the United States, and we believe it will strategically position us to better meet the current and future needs of customers," he said, calling Land Air Express "a high-performing team that shares our precision execution DNA and a strong commitment to collaboration with customers.
"We believe this acquisition will increase our capacity to provide customers with the industry leading on-time and damage-free service they demand. We are thrilled to welcome Land Air Express into the Forward family."
Love's gets exclusive agreement to sell Interstate Batteries
Love's Travel Stops and Interstate Batteries recently signed a supply agreement that offers Interstate branded batteries exclusively to customers of Love's travel stops for the next five years.
"We're excited to announce that customers will be able to purchase the No. 1 replacement battery brand for commercial and heavy-duty trucks in the U.S. exclusively at Love's out of the big three over-the-road travel stops," said Gary Price, executive vice president of total truck care solutions for Love's. "It furthers our commitment of being the number one stop for professional drivers for fuel, maintenance services, amenities and products that get them back on the road quickly."
Interstate branded batteries are available at more than 430 Love's Truck Care and Speedco locations, and the lineup includes Group 31 AGM, Deep Cycle and Starting batteries.
"Having partnered with Love's for more than 10 years, we are excited to lock in a long-term agreement that continues to bring the Interstate brand to Love's customers," said Lain Hancock, chief operating officer for Interstate Batteries. "This partnership will continue to unlock promising growth for both Love's and Interstate."
Driver named Highway Angel for helping at scene of fatal crash
The Truckload Carriers Association has named truck driver James "Neil" Chandler, from Anniston, Alabama, a Highway Angel for aiding in a fatal, early-morning head-on collision. Chandler drives for Bison USA out of Amherst, Wisconsin.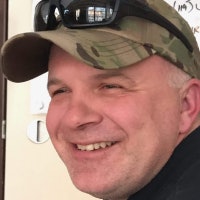 Chandler was driving south on I-65 near Cave City, Kentucky, around 5:30 a.m. on Oct. 12 when he encountered an accident on the dark highway.
"A quick fog came up," he said, "then everyone slammed on their brakes."
He and several other trucks pulled over, called 911, and then tried to aid the occupants of two cars that collided head-on.
After spending 16 years in the Army and Navy, Chandler's military training kicked in and he went to work at the scene. He checked on the car that was hit, which contained a female driver and her two teenage children. All three appeared to sustain injuries and wanted to exit the vehicle. He tried to keep them calm, knowing the mother was pinned in the car and may have to be cut out of the car.
Upon checking on the car that crossed over from the oncoming traffic and crashed into the other car, Chandler discovered the entire left side of the vehicle was destroyed and the driver was deceased.
"I hate that I couldn't do anything," Chandler said. He went back to the car with the mother and children in it and kept the family calm until emergency vehicles arrived.