Trucking news and briefs for Friday, Feb. 3, 2023:
Nationwide ELD revoked from FMCSA registry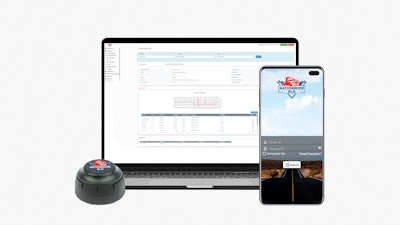 Truck drivers using the Nationwide ELD from Nationwide Technologies Inc. have until April 4 to stop using it and find a replacement for the device after the Federal Motor Carrier Safety Administration revoked the device's certification, removing it from the agency's list of certified ELDs.
Like the ELD ONE device revoked earlier this week, FMCSA did not say specifically what caused the Nationwide device to be revoked and instead said the company failed to meet the minimum requirements in Appendix A of the ELD regs, which lays out the functional specifications ELDs are required to meet.
Overdrive has not yet received a response from Nationwide for clarification on why the device was revoked and how many operators may be affected.
Carriers and drivers who continue to use the device beyond April 4 will be in violation of the "No record of duty status" regulation, and drivers could be placed out of service.
If Nationwide corrects what caused its device to fall out of compliance, FMCSA will place the device back on the list of registered devices. However, FMCSA strongly encourages motor carriers to stop using the device and replace it with a registered ELD to avoid compliance issues in the event that the device's deficiencies are not addressed in time.
[Related: View from the road: ELD mandate increases pressure on operators, in more ways than one]
High Definition Vehicle Insurance launches latest usage-based insurance product
The High Definition Vehicle Insurance (HDVI) company launched the second generation of its HDVI Shift usage-based, dynamically priced insurance product for fleets in select states on Feb. 1. The evolution of Shift has been to give fleets of all sizes more control over insurance costs, including an opportunity to increase monthly premium savings -- up to 20% for any fleet with strong safety performance.
Since Overdrive covered the company after debut in 2021, it's more than doubled (from 7 to 17) the number of states where its liability policies are available, continuing on a mission to help small and midsize fleets put safety-related telematics data to better use and improve overall operator safety. Using real-time telematics data in the program, fleets can reduce their premium each month by improving safety scores, the company notes. With this next generation of Shift, as noted, fleets will now be able to save up to 20% monthly.
[Related: Trucking insurance: New tech models tie pricing to performance]
HDVI's new Safety Lookback analyzes fleets' telematics data for the past 90 days when a policy is first quoted, HDVI said. Customers can earn immediate discounts that can be applied at the start of the policy period if the data shows strong safety performance. A 20% monthly savings could translate to more than $50,000 annually for a fleet of 25 trucks.
"During the first 18 months of Shift, customers had 40% fewer predicted crashes than industry averages, affirming that incorporating telematics data into our insurance product successfully drove safety improvements and reduced risk," said HDVI Chief Insurance Product Officer Todd Witte. "After talking with fleet operators and assessing months of data, we've enhanced Shift to be more responsive to factors fleets can control, and deliver customers greater immediate savings."
HDVI introduced Shift Score, the company's latest suite of products, to provide operators with monthly ratings to measure performance and quantifiable goals that must be met to unlock the next discount. The company also provides safety insights through its fleet portal and regularly consults with fleet customers to determine how they can improve their safety performance and reduce insurance costs. Drivers are also engaged through the HDVI Driver+ mobile app, where they can access various insights/metrics directly.
"Most trucking companies have an operating margin of 3-5%, making maintaining a budget and controlling costs critical," added HDVI Co-Founder Reid Spitz. "The next generation of Shift emphasizes behavioral factors which gives drivers and fleets more control over their month-to-month insurance costs."
HDVI is currently available to fleets domiciled in these 17 states: Alabama, Arizona, Arkansas, Colorado, Florida, Georgia, Illinois, Indiana, Michigan, Minnesota, Missouri, North Carolina, Ohio, South Carolina, Tennessee, Texas, and Wisconsin. The company expects to operate in 30 states by the end of 2023.
[Related: Usage-based insurance: Trucking's best-kept secret?]
Insurer offering discounts for dual-camera use
Video telematics company Nexar is partnering with commercial trucking insurance provider Cover Whale Insurance Solutions to provide Nexar's dual-camera dash cams to Cover Whale's independent and fleet truck drivers with the goal of improving safety and reducing insurance premiums.
Cover Whale offers a Driver Safety Program, which requires drivers to install dual-facing dash cams in their trucks. The cameras report events while driving, and Cover Whale offers coaching strategies to help drivers improve, the company says. With improvement, drivers' insurance rates will naturally improve. Cover Whale has chosen Nexar's dash cams to detect and monitor driver behavioral risks, such as hard braking, sharp cornering, hard turns, quick accelerations and sudden stops, providing the relative context in which the event occurred.
The integration of Nexar's dash cams into Cover Whale's Driver Safety Program will enhance the on-the-road coaching of truck drivers to lower both the frequency and severity of claims, both companies said.
"We're honored to be selected as a top video telematics dash cam by the country's leading insurtech for truckers," said Eran Shir, CEO and co-founder of Nexar. "This partnership further proves our advanced dash cam technology and capabilities."
Shir added that "the information retrieved by our cameras will identify unsafe driving practices," which will help avoid accidents and insurance claims.
Cover Whale's AI safety coaching, supplied by Nexar's real-time dash cam footage, along with GPS location and speed, provides reliable evidence in exonerating drivers against any nuclear verdict.
Cover Whale CEO and co-founder Dan Abrahamson addressed the long-held concern of drivers with dual cameras, one of them aimed at the driver, noting that he believes the benefits outweigh the downside.
"There have always been driver concerns surrounding dual-facing dash cams," Abrahamson said. "But given the frequency and severity of accidents, dash cams and the advanced telematics they provide are the best tool to provide a more comprehensive range of visibility and data with which to protect both truck drivers and motorists. We're pleased to integrate Nexar's capabilities into our Driver Safety Program to provide truckers and fleets with the protection and safety they deserve."