Previously in this series: Direct freight: Delivering a modicum of consistency in a turbulent market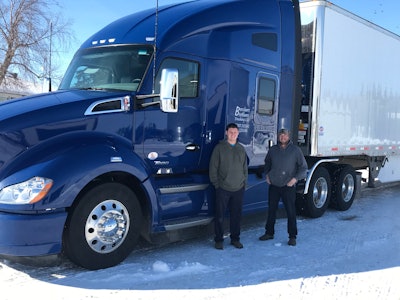 Utica, Nebraska-based Borchers Brothers Trucking has been in the trucking business since 2013, but mostly as a side operation to brothers Justin and Brandon's Borchers Ag farm business.
Justin Borchers said the trucking side of their business started as a way to keep a good farm hand happy. The hand wanted to get into trucking, so the Borchers went to their main farm customer, known as Monsanto at the time (in 2016 Bayer bought the company). They'd farmed for Monsanto for since 2000.
They talked about getting a truck on for seed harvest, which is just for the month of September, then hauled direct for Monsanto through the winter months that first year. The next year, they went full-time hauling direct for them year-round. They did that with just one truck for two or three years before adding a second truck, as long as they could get in for the seed harvest in September.
After some negotiation, the second truck got on the list -- primarily because they were also going to run it dedicated year-round, too. A couple years later, they added a third truck to do the same.
There's evidence more large shippers are recognizing the value the smallest carriers bring to their operations, as the Borchers' example illustrates. Speaking as part of a Journal of Commerce panel webcast last week, DAT Chief Scientist and MIT professor Chris Caplice presented data that showed the rhythm of new rates coming into the contract market. In the past, even the very recent past, annual requests for proposals (RFPs) were the most common bidding processes for carriers working with large customers, as evidenced in the chart below.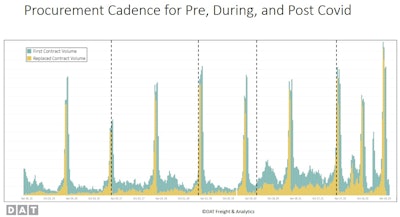 "The big spikes" in the chart, said Caplice, are "when new rates are being done" via traditional annual RFPs. Yet note the higher volumes of new contract rates toward the right of the chart, showing the post-pandemic period of recent years. "We've moved from having this paradigm of the annual bid to being more flexible. And I think that's going to stick," as shippers and carriers both respond to changing market conditions more quickly.
[Related: Can owner-operators crack the contract-freight nut?]
With more frequent contracting, lines between spot/contract freight blur, and those dynamics could play out to an advantage for a nimble small fleet hoping to secure direct business more readily.
Til Friday Trucking's owner-manager Michelle Hefner has seen her customers shift to semi-annual bidding processes, rather than the big annual RFP. The first round is sent to asset-only carriers, with the second round widening the scope to also include brokers. With the most recent turn in the market, It's gotten more difficult for her to effectively compete with larger-carrier players and brokers there, she said, but she's also seen a greater recognition of her four-truck fleet's service from one customer. "They like the job that I do," she said. "Even if I don't win primary on a lane, but secondary, they still send" the load their way often enough.
As suggested, part of shippers' growing "sophistication" in going to market with their freight has also meant a greater percentage of freight staying in the spot market.
In previous soft, lower-volume freight markets like the present one, spot market freight's share of the total pie ran around 11% of all freight moved, Caplice illustrated this with a chart showing that since the most recent flipping of the wider freight market back in shippers' favor, the percentage of loads going direct to the spot market has remained higher, around 20% of total volume.
"What we're seeing is two big things," Caplice said, in shippers' use of the spot market. One is more loads going direct to the spot market via brokerage partners, but also loads on low-volume lanes where contracts exist but aren't utilized, so-called "routing guide failures." Increasingly for many shippers, contracts on some of those low-volume lanes "make no sense" given higher contract failure rates. Many shippers are "getting rid of those contracts" on the order of 50%-60% of lanes in favor of just "riding the market" rates, whatever they are.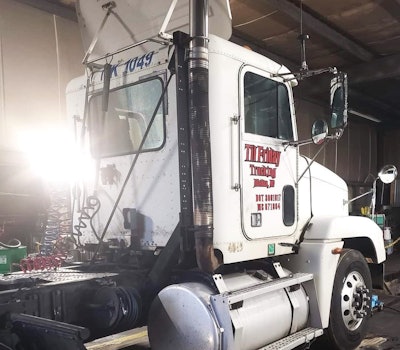 That will bode well for carriers when the market turns back in their favor, though most projections don't see that happening before Spring next year at the earliest. Nonetheless, the ability to turn encounters with shippers on the spot market into longer-term relationships on lanes of need seems more likely given these dynamics, Caplice suggested.
Owner-operator Chad Boblett, who operates primarily on the spot market, said he has turned spot freight into direct freight at times in his career. If there is a particular lane you like to run -- for him it was Lexington, Kentucky, to Nashville -- and there are shippers that are consistently moving freight along that lane, taking those loads and servicing them well over time can make that a direct customer.
A shipper may realize "this guy is always showing up at our warehouse, he does the right thing all the time," then just "work your way into the door," Boblett said. Though most brokers prohibit direct carrier solicitation of their customers with prohibitions against it in contracts, a carrier approached by the shipper might "cut out the broker, and you're working direct, and you're taking on as much freight as they can give you." Then you get to the point "you can't run all the freight they give you, and you can bring on another truck or become a broker."
Brokered freight hasn't been a growth lifeline for Borchers, though he did try working with brokers for a brief period to add more work for his drivers. It "might have been the biggest nightmare of my life," he said. "I'm not a fan of dealing with brokers. You have very little say, and that's not how I operate."
Borchers added that, since he works with a large company like Bayer, "in 10 years of doing this, I have yet to not get paid on a load" -- something that isn't always the case when working with brokers.
[Related: How to master work-life balance while trucking over-the-road]
Become the salesperson: Building interpersonal skills is key
Innovative Logistics Group's Adam Wingfield said one thing that is often overlooked in trucking is the importance of people skills. "Being alone on the road all the time, that takes a lot of interpersonal skills and puts them to the backburner," he said. Without well-developed people skills, it's hard to reach out to shippers and have effective conversations to sell your business.
Patriot Star's Kenny Long started his business in 2012 with a single truck and has grown since, leasing on owner-operators through the years. He was able to start working with direct customers right off the bat, but he also works with a number of brokers. His success has been such that Long launched a brokerage of his own in 2016 to help cover all the freight from his direct customers.
"Part of the reason for that was covering direct shippers can be difficult," he said. "Trucks have to be in the right area at the right time, so we end up brokering a lot of our direct freight."
Long gives his 15 leased owner-operators the freedom to book loads as they please through load boards, but he prefers that they haul for his direct customers when they're in the right place at the right time.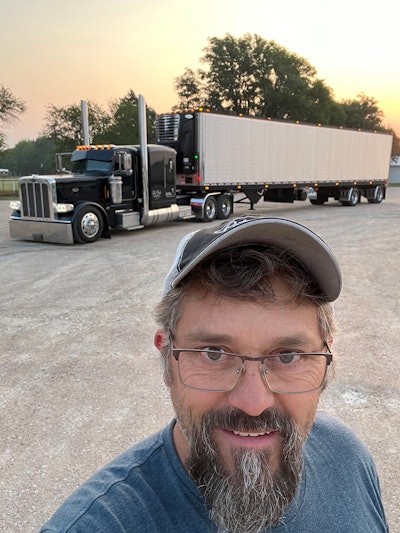 Much of Long's direct business is hauling plants from nurseries, extending from relationships he's built with nurseries in and around Apopka, Florida, some connections to that world going back to before he went out on his own with authority. His direct-freight story is a testament to the value of reputation itself as a kind of sales tool. Unlike some, he said, much of his directs are a result of people calling him instead of the other way around.
"They came to us because I had relationships with people" in the nursery busienss, he said. "They asked us for help. The majority of our directs at this point are all inbound calls asking for help. We haven't had a lot of success in making outbound sales calls."
Yet his thoughts on sales echo Wingfield's in other ways. Owner-operators need to know how to effectively do sales, he said. "Every carrier, the way it was historically, wouldn't become a carrier until they had a direct customer. ... Now, [many] rely on load boards and brokers to get all their freight. They don't have sales and negotiation skills. Most carriers feel like they are a victim because they don't understand the other side of it. You need to understand the sales side and the relationship-building side."
One big key to Long's success: "A customer is a customer," he said, whether it's a broker or a shipper. "When working with brokers, we do our best to treat them the same way as directs," he said.
Small fleet owner Paul Rissler said much the same. As the lines continue to blur between contract and spot freight markets, steady relationships will pay off for steady freight, wherever it comes from.
To wit, Rissler's fleet's now the go-to for three weekly loads of eggs for a particular broker. While it's not direct freight, it's dedicated, essentially. He's built the relationship to where his trucks are the go-to for those loads with a "dignity and respect" approach to all customers, he said, no matter who they are, brokers or shippers.
---
Owners looking for additional strategies toward direct freight, among a myriad of other topics, can find more in the Overdrive/ATBS-coproduced "Partners in Business" manual for new and established owner-operators, a comprehensive guide to running a small trucking business. Click here to download the updated 2023 edition of the book free of charge.