Reps from both DAT Freight & Analytics and, now, the Convoy brokerage and its generally open carrier platform describe a fourfold increase in double-brokering complaints around the spot market. A lot of that increase in activity originates in organized networks of both entities posing as carriers and posing as brokers, maintaining or manufacturing the paper that makes them seem legitimate.
Absent robust law enforcement against what some lump under the cyber crime label, many owner-operators, other carriers and brokers have remained skeptical about many among the tools boards and other digital freight platforms employ to effectively police their networks. Yet more and more entities continue to move ahead with increasingly automated systems aimed at ID'ing bad actors.
As DAT recently reported, it's in the process adding more automated defenses in its network to detect risky entities and prevent them from engaging in commerce on the platform, and Convoy today announced that its own somewhat similar efforts to police its open carrier platform have gone live.
Prevention of cargo theft , too, is a goal of the system, as double-brokering in some instances has been used in freight-misdirection and other schemes to make off with more than just money. (The Transfix digital brokerage platform itself just last week announced enhancements intended to combat such schemes.)
Over the last six-to-nine months, Convoy reps said, the new fraud detection system has reduced cargo theft, double brokering, and other forms of fraud in the network by 90% by their estimates. The new system combines machine learning technology, forensic behavioral data, automation, and industry collaboration to monitor risk and block bad actors where appropriate.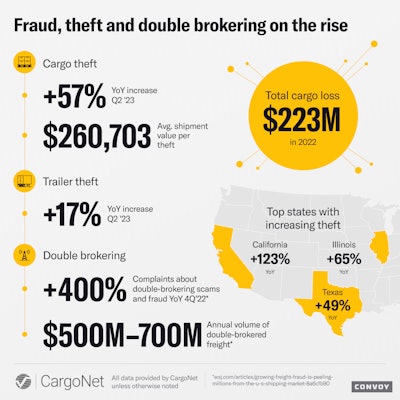 As of earlier this week, Convoy said, it hadn't experienced a single incident of theft of shippers' freight in the second half of 2023.
Convoy Associate General Counsel Ryan Gist and Eric Libby, the company's compliance lead, laid out weaknesses in the way freight networks -- whether those of load boards, brokers or carriers -- approach these issues today. Libby said that traditional fraud-risk management has been over-reliant on checks at the on-boarding stage, where a broker first contracts with a carrier to move freight in its network. "Vetting is necessary there," Libby said, just as it is from the carrier side, too, yet "risk isn't a static data point." It needs to be evaluated continuously. "MC numbers can be bought and sold, drivers at a carrier can change"
Convoy has begun requiring on-boarded carriers' individual drivers "to create profiles" in their system that are then "verified with a third party ... in combination with [the company's own] vetting processes," Libby added. It's another way to work with shippers/receivers to be sure not to release cargo if the wrong driver shows up.
[Related: Fight double brokering fraud: Prevention, ways to elevate enforcement]
"We're also doing millions of checks a day in the carriers' risk profile," Libby said. "We're building their profile over time based on what we know." Odd changes there then can flag the carrier for investigation by staff. "We're trying to get rid of those false-positives -- treating a good carrier like they're bad."
Brokers too often wield on-boarding policy like a sledgehammer. Libby cited the common no inspections and we won't business with you approach in some brokers' spot-transaction arsenal. Or, if a carrier is "located in a particular town, they can't do business," he said.
Then there's the "whack-a-mole" games boards and brokerage platforms play when a bad actor carrier/broker is identified. Both Convoy's Gist and DAT Chief Marketing Officer Jeff Hopper used that analogy, the latter referencing DAT's responses to the untold hundreds of complaints its compliance team triages monthly. One such, the case of the Cheetah Import and Export broker detailed in this week's edition of Overdrive Radio, is illustrative of the need for better preventative efforts to keep bad actors off the platforms, likewise more speed in platforms' responsiveness to those complaints. GMH Transportation's Matthew Patrick reported three separate instances of Cheetah, in concert with connected carrier entities, attempting to double-broker loads on DAT early last week. More than a week passed, Patrick said Thursday, September 7, before the broker's account was finally whacked with another sort of sledgehammer and finally suspended from posting on the load board.
It shouldn't take as long as it does, Patrick felt.
Convoy -- DAT, too -- hopes more of a scalpel-like approach to weeding out bad actors can be effective with background, always-on systems mining behavioral data as well as public data for connections between entities. The goal: to block those entities, whether both brokers and carriers in DAT's case or just carriers in Convoy's, from doing business within the platforms, so the hammer never needs using.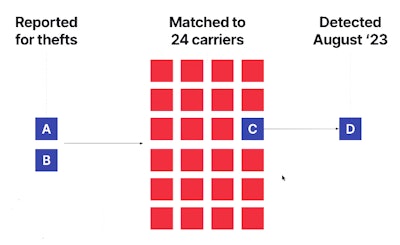 One element of a carrier's participation in the Convoy platform is proof of truck ownership in the form of pictures. In the example of above, underscoring the success of the network-graphing efforts, Convoy discovered that Carrier A and Carrier D had submitted the exact same profile picture of a white truck, with different photoshopped names on the door.
"We reported this carrier to law enforcement across the country," said Libby, as they have with regard to some of the double-brokering rings they've ID'd, where law enforcement is less likely to take direct action. At once, he added, when a broker like that in the above-referenced Cheetah case is getting loads moved with no intention of ever paying the carrier, "it's much less a victimless crime."
One of the core double-brokering rings Convoy feels it's ID'd, he noted, has "250 connections between carriers," as well as associated brokers.
Such intelligence shared among users of a variety of platforms, then, might yield wide improvement when it comes to identifying and shutting out bad actors all around the broader digital freight network.
If a double broker's carrier entities can't get access to legit brokers' loads to steal and post on load boards, "they can't double broker them and negatively impact legitimate carriers," Libby said. "We also have a policy of reporting any double-brokering activity to fraud monitoring platforms that are used by other brokers."
[Related: The third parties following you around the freight networks: Brokers looking more like carriers with 'data driven' decisions]
DAT's still in the process of building out a variety of always-on, background automated processes in a manner similar to what Convoy announced this week, and it's likewise working on a new service for the board's broker and carrier users to more effectively vet each other. "We're still working through the best way to go about that," Hopper said. "We have to have a useful, comprehensive system" but also an effective way to appeal information contained within it.
For now, the company offers its Carrier Watch monitoring platform to brokers for carrier evaluation. Owner-operators and fleets utilizing DAT can only really vet brokers via the DAT Directory, where reviews from other carriers can be helpful. There you'll find "reviews and other operating information, contact information," Hopper said. If the Directory shows a broker operating from one phone number and one address, and the person you've been talking to is calling from another, for instance, do all you can to "to figure out why."
And "report, report report," Hopper added of any suspicious behavior, and not just to whatever board or platform you may be using. "The sooner someone understands they may have been defrauded ... the sooner you should call the FBI" office nearest your home location, which he also emphasized on this week's podcast edition, below.
[Related: The double brokering slow burn: How it happens, ways to fight back]
Related resources:
**Read more about the Convoy company's security upgrade. via this blog post on the company website.
**DAT Freight & Analytics details some of its own efforts via this link.
**The Truckstop freight network's "Fraud Prevention Fridays" educational series is ongoing, with the most recent addition this one about cargo theft prevention.