Trucking news and briefs for Tuesday, Sept. 26, 2023:
Diesel prices dip after months of increases
For the first time in 11 weeks, the national average diesel price is down from the previous week.
According to Energy Information Administration data, the U.S.' average price for a gallon of on-highway diesel fell 4.7 cents during the week ending Sept. 25 to $4.59.
The decrease comes after diesel prices soared to their 2023 high during the previous week at $4.63 a gallon, as analysts' outlook for the situation with world oil pricing turned sharply pessimistic for substantial reductions anytime soon.
During the most recent week, diesel prices saw slight increases in three regions -- New England, Central Atlantic and California -- while all other regions saw price drops. New England went up 2 cents, while the Central Atlantic region and California each rose 1.6 cents. The largest price fall was in the Gulf Coast region, down 7.1 cents.
California and the rest of the West Coast remain the only parts of the country with diesel averaging higher than $5 a gallon. California is over $6, at $6.21. The West Coast less California sits at $5.23 per gallon on average.
Prices in other regions, according to EIA:
New England -- $4.61
Central Atlantic -- $4.76
Lower Atlantic -- $4.43
Gulf Coast -- $4.28
Midwest -- $4.44
Rocky Mountain -- $4.80
ProMiles' diesel averages during the most recent week showed a 3.4-cent increase to $4.55 a gallon nationwide.
According to the ProMiles Fuel Surcharge Index, the most expensive diesel can be found in California at $6.31 per gallon, and the cheapest can be found in the Gulf Coast region at $4.26 per gallon.
On the revenue side of the equation, DAT Freight & Analytics report load-to-truck ratios on DAT load boards trend down for vans and reefers, while flatbed demand metrics were slightly up in the latest week. DAT benchmark spot line-haul rates, minus an estimated fuel surcharge, were down for all three segments, with reefer rates losing the most -- minus 6 cents. Van's four-week average sat at $1.56, net fuel, reefer's $1.88, and $1.93 for flatbeds. More detail available via DAT Trendlines.
Truckstop and FTR Transportation Intelligence's overall spot market snapshot for the week shows rates on the whole in the Truckstop system last week fairly flat. Find more detail via their weekly report here.
[Related: Will trucking turn positive for owner-operators anytime soon? ATBS data analysis points the way forward]
Trucker Path adds spot cargo insurance to app
Trucker Path is expanding its Trucker Path Marketplace offering with spot cargo insurance powered by MiKargo247.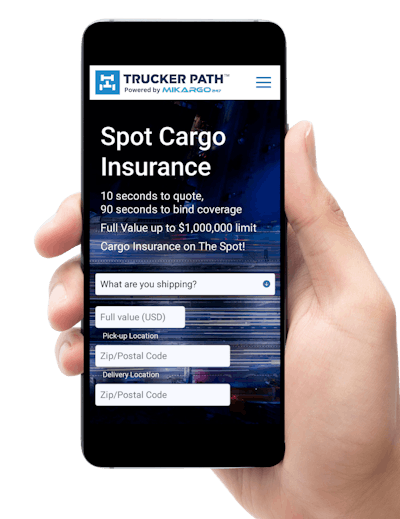 Using the Trucker Path Marketplace, truck drivers can have MiKargo247's all-risk coverage cargo insurance for up to $1 million per load.
According to DAT, it is estimated that up to 90% of cargo on the road is underinsured or not insured at all, Trucker Path said. MiKargo247 said this represents at least $15 billion in damages that cannot be recovered.
The partnership between Trucker Path and the company allows owner-operators to fully participate in the freight market by meeting insurance requirements and having reliable protection, with "single-trip policies and per-load pricing," said Chris Oliver, Trucker Path CMO. "Owner-operators can control their costs by choosing which loads to insure, and coverage amounts."
Obtaining coverage is a simple click on the spot cargo insurance icon in the Trucker Path Marketplace, then entering cargo information. Per-trip spot cargo insurance covers all risks and provides broader coverage for commodities typically excluded by other cargo policies, the companies added.
MiKargo247 is underwritten by Roanoke Insurance Group Inc. with underwriting authority provided by A-Rated Munich Re Syndicate Ltd. – Syndicate 457 at Lloyd's of London.
[Related: Not all cargo insurance is created equal]
Sheetz opening three new locations with designated truck diesel lanes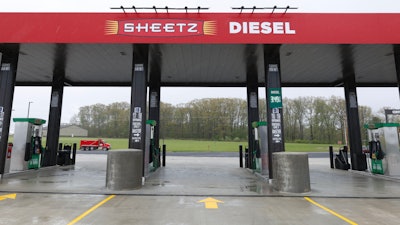 In the next few days, Sheetz will open three new stores that offer diesel fuel lanes for truckers. The first store, which opens on Thursday, Sept. 28, will be located at 701 Friendship Dr, New Concord, OH 43762, at Exit 169 off I-70. It will include seven diesel lanes with DEF and 29 free truck parking spaces.
Sheetz's second store opening will be in North Jackson, Ohio, at 1301 S Bailey Rd., opening to the public on Saturday, Sept. 30. This location, at Exit 57 off I-76, includes five diesel lanes, 59 free truck parking spaces and more.
Another store opening Saturday, Sept. 30, will be in Springfield, Ohio, at 4700 S Charleston Pike, Exit 59 off I-70. This location will offer eight diesel lanes and 32 free truck parking spaces.
Once these three locations open, Sheetz will officially have 40 locations across Pennsylvania, North Carolina, Virginia, West Virginia, Ohio and Maryland that offer truck diesel fuel lanes.