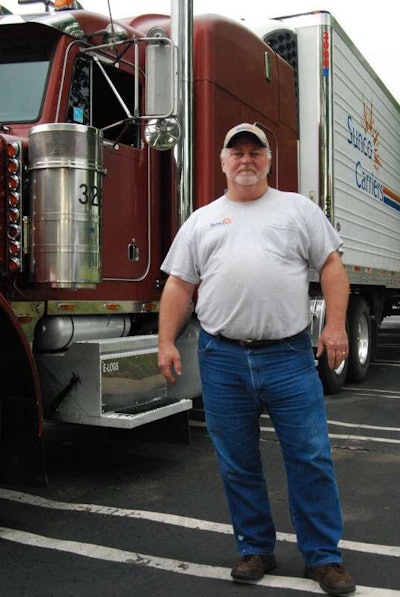 Owner-operator Bruce Johnston (pictured) today thinks twice before any small act of back-and-forth communication with a member of the motoring public. As Overdrive has previously reported, Johnston and his 1997 Peterbilt were the targets of a four-wheeler's ire in Chattanooga, Tenn., during one of his regular runs westbound on I-24 to Murfreesboro, Tenn., from Atlanta.
Forced over from the middle lane of a three-lane interstate into the truck-restricted left lane "to avoid causing an accident," Johnston says, he unknowingly found himself behind the rented auto of then-Chickamauga, Ga.-based Joseph Volpe, owner and operator of a business that collected video of unsafe on-highway actions by truckers. Volpe reportedly sold his services to motor carriers.
Volpe's own actions on that day, according to Johnston, were anything but safe, as he got angrier and angrier over Johnston's presence behind him, hemmed into the left lane by traffic, and began "brake-checking" the trucker to the point that the pair were traveling as slow as 30 miles per hour at a certain point, says Johnston.
The final result was Volpe's use of a 9-mm pistol to fire a shot through the back of Johnston's sleeper, missing the owner-operator's head by mere inches. Over the course of the trial of Volpe for second-degree attempted murder and other charges, says Johnston, local news outlets seemed willing only to pick up on the defense's side of the story.
As his lawyer had warned him, he says, the defense tried to paint Johnston as the primary aggressor, saying he "tried to run [Volpe] off the road." Guilty verdicts on three felony counts were handed down on Volpe in May, and sentencing is scheduled for later in June 2013.