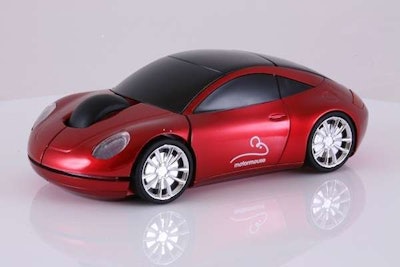 The folks at Avant Garde Gifts, LLC, offer the MotorMouse, a computer mouse of wireless design and in varying colors — and that looks like a sports car, as you can see (that the Porsche 911 you recognize). As company reps have it, it might well be a "great gift" for car lovers at Christmastime or for a birthday, is "perfect for the office or at-home use, and it's a guaranteed conversation starter." Indeed: imagine the talk you could get into next time you whip it out with your laptop out at the truckstop counter, eh? Well, that might not exactly be a pleasant conversation, depending on who's around.
The MotorMouse works on both Mac and PC systems, and features a trunk that actually opens — it's where the batteries are stored. It's available in red, silver and black.
What we want to know is whence the Class 8 mouse? It'd come with D batteries popped into the trailer, the scrolling roller like a gap reducer spanning the space between van and tractor. That would truly be avant-garde.