Strange days on the road
A New Jersey-based driver last Thursday jackknifed his rig under murky circumstances on I-805 during rush hour in San Diego, Calif. He then exited the cab, laid down on pavement just next to the center highway divider and, when police arrived, asked to speak to President Obama, reported Hailey Persinger of the San Diego Union-Tribune. Law enforcement reps noted he didn't say what he wanted to talk to the president about, but I can think of a few things.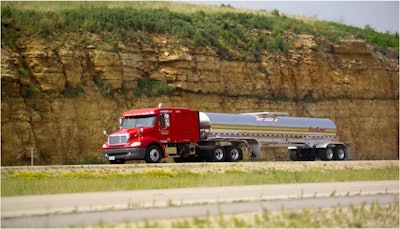 Coming home safe
The Iowa Committee for Employer Support of the Guard and Reserve (ESGR), an agency of the Department of Defense, named national bulk food-grade hauler Foodliner a Patriot Award carrier. The award come in recognition of the "extraordinary support" of employees serving in the Iowa National Guard and Reserve the carrier, with more than 600 company drivers and 100 owner-operators in total, delivered last year. "Supportive employers are critical to maintaining the strength and readiness of the nation's National Guard and Reserve units," said ESR Iowa Chair Dick Rue in recognizing the company. As those units are deployed, employer support is ever more crucial. Said Foodliner driver Jonathan Osborne, with the company for five years, "I deployed in 2007 to 2008 to Iraq. They held my job with benefits until I returned." This year, facing a deployment to Afghanistan, he added, "They are supporting me all the way. I can think about the mission and come home safe." ESGR provides education, consultation, and if necessary mediation for employers of Guard and Reserve employees. For more information about ESGR Employer Outreach Programs: www.esgr.org.