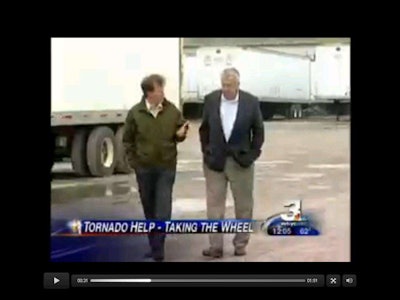 Buddy Allen of the 15-truck New Era Trucking fleet in North Ridgeville, Ohio, is calling on Northeast Ohio residents to help fill a 53-foot dry van's worth of non-perishable food, water and other goods to haul south to assist residents affected by last week's tornadoes. WKYC-TV News Channel 3 in Cleveland, Ohio, reported yesterday on Allen's effort, to which he'll dedicated a rig in his fleet and all associated transport costs. Click on the image here to see the full video report.
As Allen told the channel, seeing so many left homeless in the region spurred him to act: "I think it's important that trucking companies and people who can afford to… we can send a good load of food down there, and I'm willing to put a truck and a trailer and a driver together and get it down there for 'em. I've never done this before, and I've always wanted to." Read the full report here.
Reporter Paul Thomas says Cleveland-area orgs can contact New Era about the initiative via (440) 353-0223.
Like J.B. Hunt, donate to SCF
Speaking of philanthropy, J.B. Hunt is donated 75 cents to the St. Christopher Truckers Development and Relief Fund for every driver who "likes" its J.B. Hunt Drivers Facebook page, according to the fund's Donna Kennedy. Click the "Like" button here.