Penske Logistics IndyCar debuts in third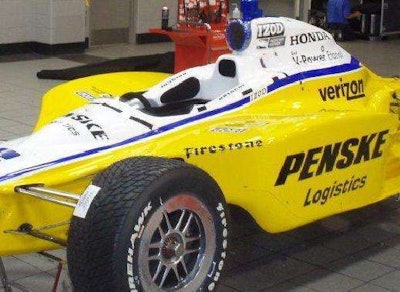 A Penske Logistics-sponsored IndyCar, driven by Ryan Briscoe, made a position 4 start and no. 3 finish yesterday in the Itaipava Sao Paulo Indy 300, presented by Nestle, on the exciting street track in the Brazilian capital. The new car's shown here undregoing "final preparations for shipment to Brazil at the world famous Penske Racing facility in Mooresville, N.C." Itaipava Sao Paulo was the debut race for the No. 6 Penske Logistics-branded car.
Penske Logistics is a wholly owned subsidiary of Penske Truck Leasing and offers full-service truck leasing, contract fleet maintenance, commercial and consumer truck rentals, used truck sales, and customized supply chain and logistics solutions.
'Trucker bombs' or what?
And in law enforcement official Monty Hight's "Cop talk" column for the Redding, Calif., Record-Searchlight newspaper, the author answers a reader question as to the identity of "numerous water bottles and other containers filled with a colored liquid other than water" left on the roadside. In Hight's response to the reader's use of the "Trucker bombs" label to describe such containers, you'll be happy to find this:
And it's not just truckers. While working in the Oakland area, I had a supervisor riding with me one afternoon. It was a clear day when all of a sudden moisture was hitting my windshield and it wasn't clear water. I glanced ahead and observed the passenger in the vehicle directly ahead of me hold what appeared to be a soda can out the right front window and dump its contents, which ended up on my vehicle. Needless to say, I made an enforcement stop on the vehicle.
Four-wheeler bombs, anyone? Read the full story here.