Below, a new vid below from my reporting on the Compliance, Safety, Accountability program. But first, a note about the storms that ripped through the Southeast yesterday, with a particularly large tornado moving straight through the southern part of Tuscaloosa, Ala., the town where Overdrive and Truckers News offices are located. I'm based off-site in Nashville, so my read on the situation there is from afar, but I'm happy to report at least that the offices were planning to open this morning had the electric power been restored. There's no doubt, though, that many Tuscaloosa families were affected by the powerful storms. My thoughts are with everyone in the office today, as well as those affected across the region.
Among other trucking-related storm reports is this one from all the way over in Glade Spring, Virginia, about a truckstop apparently taking a direct hit by early this morning. Those interest can donate to the Red Cross via this link.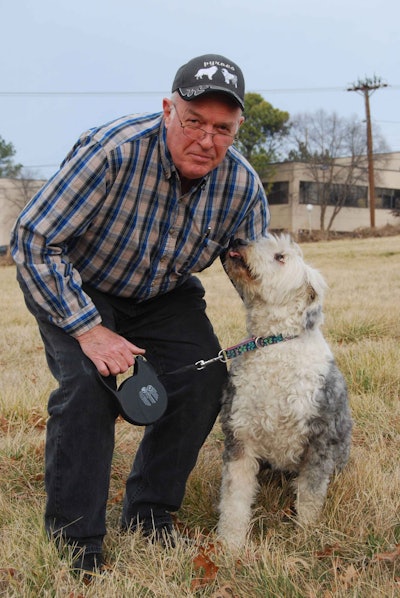 As for the vid, it proceeds from my talk with owner-operator Don Bradley (pictured with his on-highway pup), leased to Schneider National, partially reported on in this month's Overdrive in part 1 of a two-part feature on CSA, about what drivers can do to verify the accuracy of the inspection and crash information contained within the carrier Safety Measurement System and/or the Pre-Employment Screening Program, among other topics.
Bradley's only quoted briefly in the piece, but his input was invaluable to my understanding of the issues surrounding the program. A former corporate safety man himself, he turned to trucking just under a decade ago and has been an owner-operator ever since. He hauls in 2011 Kenworth T700 and, in this vid, explores his own thoughts about CSA.
"You can do anything in government if you say safety," he says, which he well learned in his years as a safety manager. "If you say, 'I want everybody to wear a flashlight on their head when it's dark because it's safer,' we all do it, and you can't argue with it because it's a safety issue."
Part of his apprehension about CSA runs along similar lines. For the rest of the story, enjoy the vid talk below. For more on CSA, read the "CSA and safety scores" story.
[kaltura-widget wid="g2omt80f0g" width="400″ height="365″ addpermission="" editpermission="" /]