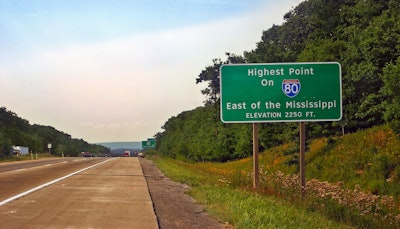 Make your voice heard! No, I'm not talking about the proposed mandate of electronic onboard recorders for hours of service compliance (for more about that: comments are open through May 23). Popular Mechanics editors are seeking out the "worst road in the USA," they say at the magazine's website. Who better to nominate it than the truckers of the USA? We well know — Overdrive's own Highway Report Card survey for more than a decade charted the worst and best of the haul routes around the nation. Consensus throughout the survey's run centered around I-10 and I-80 (pictured) in Louisiana and Pennsylvania, respectively. How are they looking today?
PM editors ask for a few photos of the "shoddy asphalt" you'd like to nominate as the worst in the country. You can send pics to pmwebmaster@hearst.com. "If your lousy road makes the final cut," the editors say, "PM will drive it in a test car equipped with sophisticated data-logging equipment to determine which road is really the worst in America." The PM team has partnered with "National Instruments, a manufacturer of industrial test and measurement technology," they say, "to create a customized data logger with a multiaxis accelerometer. We're going to bolt this thing to a test car, then drive over the most cracked, crumbling, pothole-ridden, frost-heaved stretches of highway in the nation."
All submissions must include your name and email contact info, plus several photos or video showing just how bad your road is, location info (GPS coordinates or mile-marker designations for the worst 1-mile stretch) and a short description of the road's condition. All nominated roads must be state-level or above (no private roads), paved (well, there must have at least been an attempt to pave it at some point), within U.S. borders (sorry, Canada) and neglected for the last several months (no attempts to fix the damage).
For more, check out the PM website.