"I just spent all day yesterday cleaning up tornado damage," Overdrive Trucker of the Year Dan Heister told me this morning.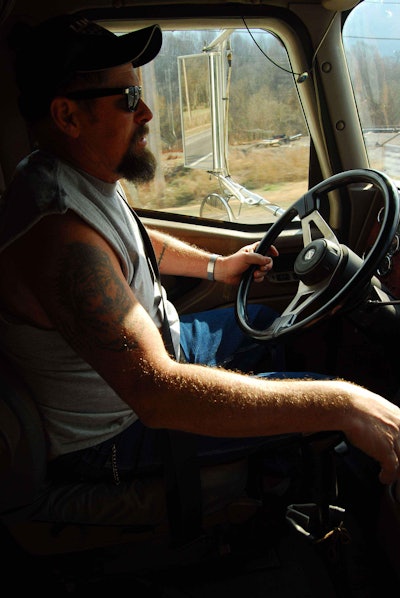 Heister (pictured) was loaded heading south on I-65 bound for Saginaw, Ala., Wednesday afternoon, when he could see the big tornado that made its way into Cullman, Ala., around 3 p.m. that afternoon. "I kept the hammer down and got about four miles south of it" before it made the interstate, he says, then kept on to the headquarters of his carrier in Birmingham, Boyd Bros. Transportation, where he stopped in, anticipating a later delivery.
But he wouldn't make that delivery. That section of Birmingham, north of downtown, was in the path of the supercell system that went over the area after 5 p.m. Wednesday. "I watched the one in Birmingham come and it went right over the top of our building," Heister says.
Fellow Overdrive senior editor Max Kvidera reported on the damage Boyd's headquarters sustained in this story yesterday. Thankfully, the damage was only to property. Personnel are safe, and Heister reports the company's fully operational at a temporary headquarters at a steel mill where Heister was even able to load this morning for a trip north bound ultimately for Indianapolis that would get him home.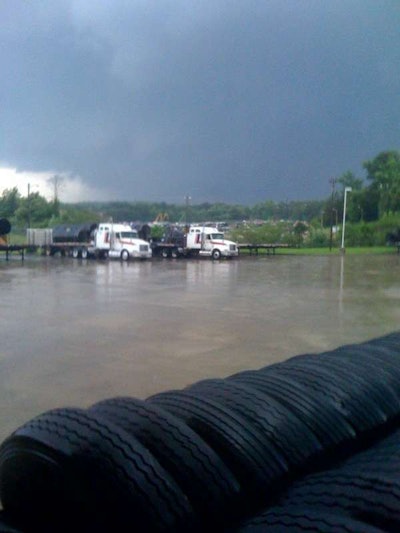 Heister's original load of steel, too, was undamaged, though the storm (pictured) picked up and "dropped another trailer right on top of it" (also pictured, below). His International 9900ix tractor suffered a broken window on the passenger side as well as one in the sleeper. "I found a window" for the door "and put it on myself" yesterday, he says. "I've got the window for the sleeper but it's a whole lot more work. I'l have to do it later."
Today he's homebound to Erin, Tenn., where minor flooding has kept his son Jake out of school the last two days. "He just went back to school today," says Heister. "A lot of the creeks went over the banks — nothing major like last year," when record flooding hit my home base in Nashville and extended along the Cumberland River to Erin, Clarksville and beyond.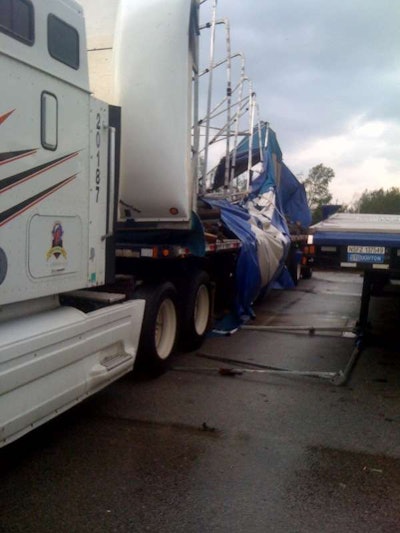 As owner-operator Heister was ducking for cover with Boyd personnel, MRM Experiential Tours driver DanFuller was sitting at a hotel off I-459 south and west of downtown Birmingham, "under ten miles from where the big F5 tornado cut through," Fuller says. "We were watching the weather radar on the iPad to see if we needed to race to take cover. If I'd been a little bit north of where I was, I would have been able to see the funnel. We were on the edge of the supercell system."
During the event, paper, bits of fiberglass and other debris kicked from points west fell from the sky into the hotel parking lot.
Fuller's operation is business-to-business mobile-marketing. He drives a Volvo outfitted with a generator to power display trailers of various kinds. Currently, they're touring with one for the Vacon company, and yesterday, in spite of power outages throughout the region, they showed at Motion Industries' corporate headquarters in Irondale off I-20 exit 135. Considering the crisis in the city, Fuller says, "It went well, but there were a lot of people who couldn't be there. Some lost their houses," as was the case across the region. Fuller's hoping for no tornadoes at his next display, in Tampa, Fla. "The last three shows we've done were Louisville, Memphis and now Birmingham — all had tornadoes while we were there. We'll be in Florida today," he said this morning, "so hopefully no more bad weather." The Southeast has seen more than its fair share the past few years, no doubt. I'm crossing my fingers, too.
(Fuller's also the proprietor of the new Hotels4Truckers.com rig-friendly hotel search site. I wrote about his development of the search tool in the May edition of Truckers News. Read the story here.)