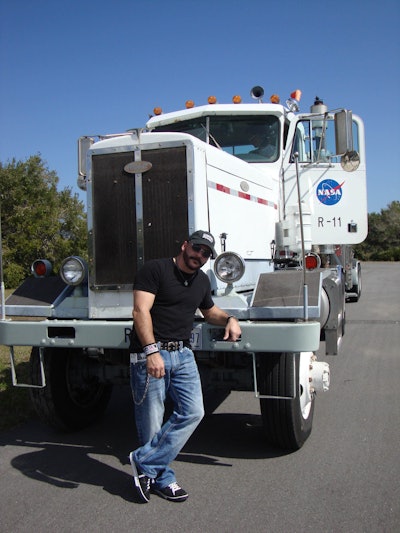 If you missed the news two weeks back, the final episode of the first season of American Trucker on the Speed Channel will features the production crew's documentation of the last mission of the Space Shuttle Discovery and, more particularly, the trucks that are front and center in preparations for the journey. Among them are some that have been present at space missions since the beginning of the shuttle program — like the walking-tall Peterbilt you see here pictured with American Trucker host Robb Mariani.
"The Pete is quite special," Mariani says. It's one of five NASA commissioned in the late 60s for special service, he says. "I believe," Mariani adds, "that those 351s were the only 351s to ever come with a 'buzzin'-dozen' Detroit! The narrow hood housed a small radiator and was not intended for a V12, and the 359 was not born until '68" with a wide hood and a big radiator for big power.
"Right there, the NASA Petes are beyond cool!" Mariani says. "Factor in the fact that they were all ordered as 4-by-6s, and the plot gets thicker." That's why they're so tall, he adds. "They were really off-road units, possibly even heavy construction units. They were all re-cabbed with 1100 series cabs in the 80s, so they really had little window cabs until then. They all still have the cool 'dash of class,' though!"
Tune in this week thursday at 10 p.m. EDT on Speed for the episodes, which will follow in repeats thereafter. Keep tuned to the Speed website for American Trucker for scheduling information. And, good news, AT will launch a second season next month.