Owner-operators, there's been no shortage of talk about the profusion of truck-tracking devices and the relative problems they could cause, given ongoing hours-of-service/EOBR issues and discussions. But the simple fact of the matter is that allowing shippers and consignees a real-time window into your location could be a quite simple way to engage potential direct-freight customers if you're using brokers, or a value-added service if you're already independent with your own shippers (if, of course, you're not doing it already via other services).
An iPhone and Android app called See It Ship now is utilizing the capabilities of smartphones to allow you to do just that, and it's a totally free service. Check it out on the iTunes and Android apps markets, or download via the See It Ship app's website, which receivers/shippers will utilize for tracking your arrival simply by entering the tracking number you provide them from the app.
Nifty idea, but I'm wondering what you think about potential for good use — would it have a beneficial effect on customer relationships? Is it practical? Other potential, personal uses — family benefits? Another distraction? Definitely post any thoughts here in the comments.
GATS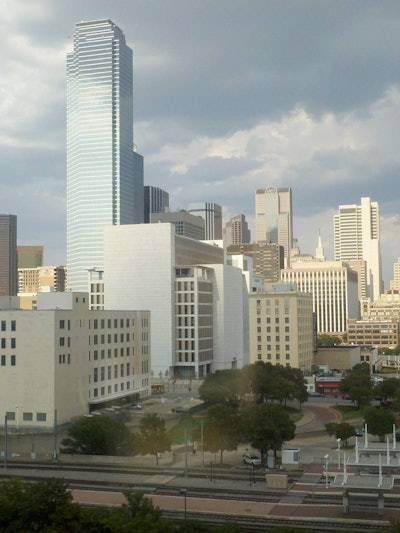 I made it to Dallas for the Great American Trucking Show (how's this for a room window view?); follow my progress through the reporting I'll be doing via the my Twitter feed. I attended the final two sessions of the Commercial Vehicle Outlook Conference for today. Some interesting news coming out the meeting. Check out reports from Jeff Crissey and Jack Roberts via those links about the "Future Truck" from sessions this afternoon. Some market dynamics were further discussed in later sessions with analysts from FTR Associates and Jeffries & Co. I tweeted some of the highlights.
UPDATE: The See it Ship app is still in beta, the makers say. Waiting on official inclusion in the iTunes store. Nonetheless, give it a look.