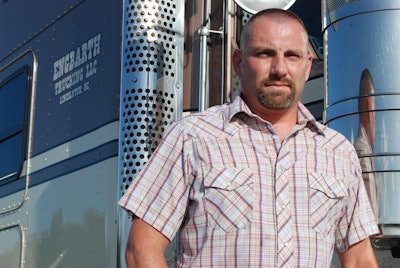 Success in hauling with your own authority often requires negotiating contracts directly with shippers and keeping those contracts when bigger competitors come prowling.
The father-son operation of John and Erick (pictured) Engbarth learned this by experience. Erick makes regular hauls from North Carolina to California loaded with plastics and usually carrying motorcycles back.
When Engbarth Trucking first bid on a key contract with a N.C. manufacturer, the rate didn't exactly seal the deal, but the prospect of regular, dependable service did. With the promise of a truck every Friday, each of the Engbarths has loaded on alternating weeks virtually every week since 2003, with plenty of home time for both men.
Though competition has tried to "undercut the rate," says Erick, their service has kept them in freight. Features such as "not being late, taking care of the product, having nice equipment, having a one-on-one conversation with them, just being able to talk to them about what they need and help them understand the trucking aspect of it" pay off.
After loading Erick on July 29, for instance, the shipper noted at the final moment that a part at the front of his van needed delivery sooner than his scheduled drops would allow.
"They decided to air-freight the piece," says Engbarth, which meant the entire trailer had to be unloaded, then reloaded. "It put me a little bit behind," he says, "but to keep hauling this stuff, which pays good, you don't want cry about it."
He had no problems making his delivery on time.
"We understand that customers come first," says Erick, who drives a 2009 Kenworth W900 and dry van. When he was just 5 weeks old, Erick got his first experience in the cab of a big truck with his father, John, an independent owner-operator for more than 40 years. "God's got a purpose for us out here on the road," Erick says.
If you missed the October edition of Overdrive, in which this piece appeared (photos of Erick Engbarth by James Jaillet) in the Roadside Attractions section, access it all via this link.