And what's best about it all is that the proceeds will go toward benefiting trucking families in need at Christmastime via Trucker Charity's Christmas Group. Tickets to enter the raffle for the car (pictured), which was donated by Freedom Air Filters, can be purchased through Paypal via the Trucker Charity website for $3 for a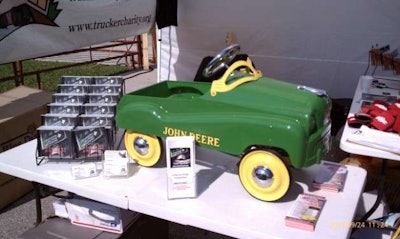 single chance to win, $10 for 11 chances, and $20 for 25. The organization, whose tagline is "Truckers helping truckers," will use the proceeds toward benefiting families in need via its 2011 Christmas Group drive. Deadline for nominations/donations is Dec. 17.
The Christmas Group itself has a nice story. As posted on the Trucker Charity site, it stems from a driver going by the name of, simply, Wonderful Wayne. In late 2008, Wayne posted on the CDLofit.com trucking social site the following message:
Got to thinking about Christmas. I like to help the needy. Thought maybe my fellow truckers might want to join me in setting up a fund.
I'm not good on this computer thing, so I'm asking for your help. We would need someone to take charge of the money situation. I wouldn't know how to do that. I will start the contributions by making my donation and we can proceed from there. We would need someone to be in charge of finding the families. Guess what I am trying to say is getting a committee together. Tell me what you think of this idea. I appreciate all comments pro and con.

If anyone has another idea put it up here and we can talk about it….
Three years on, the project is a continuing reality, evidence of the things a few thoughtful people can do with a clear goal in mind, eh? Check them out to get your raffle ticket here. Also while you're there, if you know of a trucking family in a time of need, don't hesitate to recommend them as a potential beneficiary in the form at the bottom of the page here.