What's wrong with this picture?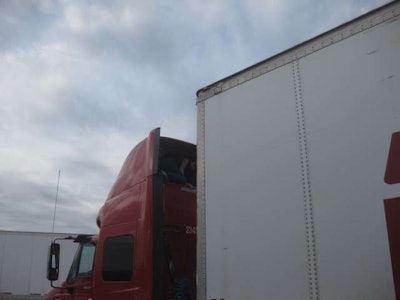 Taken by owner-operator Henry Albert, with whom we just checked in last week, it shows a desperate attempt by a couple to stow away on a rig on its way from the border zone into the U.S. interior.
A testament to the value of drivers looking out for each other, Albert posted it to his blog late last week, after one of his regular runs from the Charlotte, N.C., area, where he lives, to Laredo and back. The driver of the pictured rig was fueling when a fellow hauler saw his extra passengers and approached Albert, who was also fueling, asking urgent questions in an attempt to locate the rig's driver.
Come to find out, unbeknownst to him a young man and woman were crouched on top of his sleeper in the area behind his high roof fairing. I can't imagine a more uncomfortable spot anywhere else on a tractor but straddled atop the trailer landing gear, as unrealistic as that might be. (Though the circumstances are very different, it does bring to mind the hauler who, in an effort to foil a theft of his tractor, running bobtail, ended up on its deckplate during a dramatic hour-long police-chase ride outside Atlanta I wrote about in 2009.)
The truck's driver, Albert said, did the smart thing and decided to let the authorities handle the situation, calling police. "Also, he contacted his company to make them aware of what was happening," Albert wrote in his blog post about it. "The two individuals realized the truck was sitting for too long and they climbed out and ran away. When the police arrived, they asked us questions and we gave them the pictures we each took and a description of the young man and women. The police left and began their hunt."
If you're hauling regularly to the border zone, best to keep extra-vigilant awareness about you during stops, Albert says. Miss something like this happening and you'd have quite a problem on your hands at the checkpoints at the end of the border commercial zone.
In the following picture, you can see one of the pair running away, Albert notes ("between the pumps and the scale," he says). Read Albert's original post.