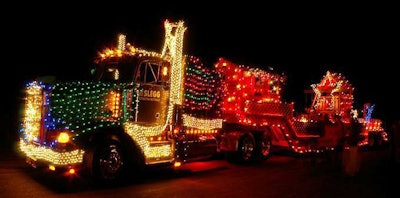 I don't know about you, but this has to take the cake for the most brilliantly extravagant of the Christmas truck parades — those I've seen, anyway. Hand it to the Canadians for these fantastically decorated rigs, the one at right the property of Slegg Lumber, headquartered on Vancouver Island in British Columbia, where the parade is taking place tomorrow, Saturday, Dec. 3.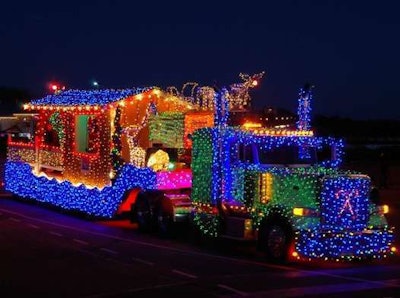 For 12 years now the Island Equipment Owners Association has put on the Truck Light Parade and Food Drive for the benefit of area food banks and now thousands of spectators along the 35 kilometers of the route, traveling through five individual municipalities. It's a grand spectacle that stems from, as so many things do — eh? — a single truck driver by the name of Norm Johal, who organized the first parade in Victoria. Eleven trucks participated. Within a single year the show grew from 11 to 40 trucks, and Johal just didn't have the time to devote to event to do it right, says IEOA's Laura Brewer.
After the IEOA became involved, 12 years later a total of 700 trucks have participated, and it's become something of an area tradition, with neighborhoods planning cocktail parties, block parties, tailgate parties and bonfires that coincide with the timing of the trucks as they travel along the route. IEOA has collected in aggregate around 107,500 pounds of non-perishable food products for distribution to organizations such as the Mustard Seed Food Bank and the West Shore Christmas Hamper Fund Society.
My guess is if you're living anywhere near Victoria you already know about it. But if not and you find yourself in the area with time, check it out tomorrow, starting up around 5:45 p.m. at Ogden Point. Full details of the route and timing find via the IEOA page.
And here's a great YouTube vid from the 2009 event to give you an idea of the full range of the spectacle. Enjoy!
[youtube xDF70PXG4YA nolink]