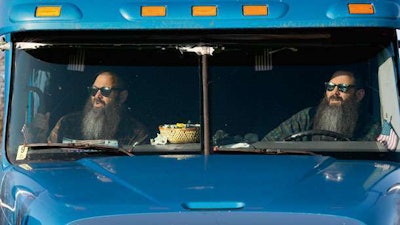 Part of a feature story in this month's National Geographic on various aspects of identical twin siblings features in its lead a couple of trucking twins near the lead. Dave and Don Wolf, pictured here in a National Geographic photo by Jodi Cobb (click through the picture for more of Cobb's excellent work in a full gallery), also happen to be team drivers. "
Writer Peter Miller caught up with the Wolfs at the annual Twins Days Festival in Twinsburg, Ohio, last August while the two were checking out a booth testing the FBI's facial recognition software to determine whether it could differentiate between identicals. "Like most twins who attend," Miller wrote, the Wolfs "enjoy spending time with each other. In fact, during the past 18 years, the 53-year-old truckers … have driven more than three million miles together, hauling everything from diapers to canned soup from places like Seattle, Washington, to Camden, New Jersey…."
Find the full story via the National Geographic website this month.
Among the highlights: Dave asks one of the FBI researchers whether shaving his beard would fool the recognition software if he "went out and committed a crime." Answer? Probably so, but don't go committing a crime….
It's a fascinating piece for many other reasons. Give it a read.