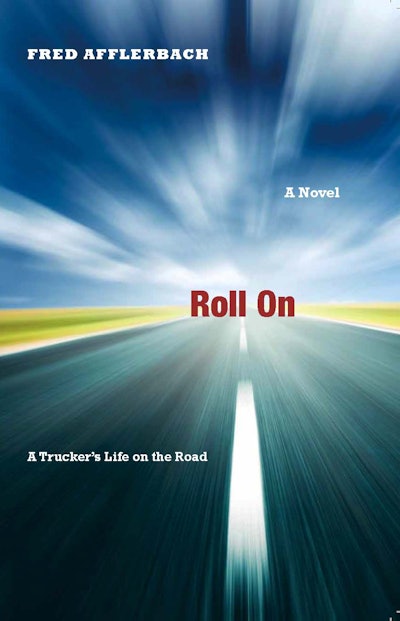 Fred Afflerbach didn't set out to launch a trucking career when he took a job working for a Bekins Van Lines-affiliated moving company in Austin, Texas, in high school in the 1970s. He caught the fever all the same. "The owner-operators would come rolling in and the drivers are telling stories and your eyes are popping out of your head," he says of the days his affliction began. "You work for them loading, and their families are from Buffalo or wherever – might as well be the North Pole to me. That's when I got the bug, in the summers working for these operators."
As with the author of one of the last few books I lauded in these halls, Marc Mayfield (and his In the Driver's Seat memoir), Afflerbach's love affair with trucking came with more than its fair share of codependency — all of which and more is explored in fictional form in Afflerbach's forthcoming Roll On novel (set for release in mid-April). The book captures the time Afflerbach first sat behind the wheel, the late 1970s and early '80s. "I got my CDL in 1976 and went to work with the local moving company," he says, then buying his first truck and going over-the-road as a "bedbugger" leased to Bekins in an era fraught with big differences of opinion industrywide, including among independents themselves.
In Roll On, owner-operator Ubi Sunt, a child of the orphan trains of the first quarter of the 20th century, is on what might well be his last cross-country haul. The company he's leased to is struggling with a buyout and the era's falling freight rates, rumors of an independent drivers' strike he wants nothing to do with abound and, perhaps most importantly, Sunt's daughter and grandkids are tugging on the owner-operator's road-bound comfort. They want him to retire from the road, take up residence nearby their Philadelphia home. But Sunt's 1956 Pete cabover, known the roads over as "Old Ironsides," and Sunt himself, have some work to do yet.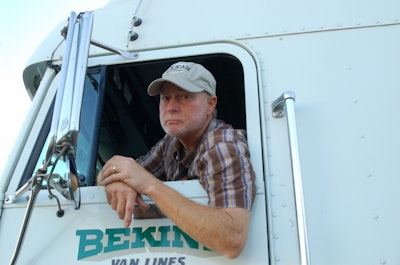 Hardworking, restless but business-savvy, at home and showing great expertise — at times, valor, even — out on the road, Sunt is a tribute, says Afflerbach (pictured), to those who came before. "Every generation hands off to the succeeding generation what they know and what they've learned," he says. "When I came on, I was listening to these old-timers – these guys drove when the roads were more primitive, drove with more primitive equipment, too."
Afflerbach was only 22 when he bought his first rig, "and these old-timers showed me the ropes – adjusting your brakes, what to do when your brakes freeze up… When you broke down on the side of the road, you had to figure out how to get running again yourself. Most of that's changed today."
After Afflerbach retired from the road, he got work as a newspaper reporter, and has been teaching school and writing his books for the last year or so. And yes, you heard books right. Watch for a sequel to Roll On in the coming years.
Afflerbach started the book looking to answer a particular question: What happens when an independent trucker who's clearly addicted to the road finally has to settle down? "I don't think I answered that," he says. "In the 1970s I ran acrss so many guys who settled down only to come back on the road when the wife looks at them and says, 'Go back out there or we're going to get a divorce.'" He's joking, partly, but adds that he thinks of the pull of the road as something that "transcends trucking" to one degree or another. "It's people who just move for the sake of it," he says. "A lot of people have that bug."
He's hoping, of course, they might well be the kind of people who'd enjoy his book. For what it's worth, I don't think you'll regret picking it up.
It's available on Amazon for a preorder price of $12.21 (list: $17.95) today, and will be available widely after release by Academy Chicago publishers. Find more about Afflerbach (including a neat photo gallery from his early days trucking) on his site. And check out the vid interview there , shot with the help of a Bekins operator who remains a close personal friend to the writer — in it, he talks about the beginnings of his long sojourn to writing through trucking when, way back in 1984, he placed in a story contest hosted by a trucking magazine. That magazine was none other than Truckers News and the Mark Twain contest we've hosted for years. The honored story was about "me taking a buddy on a road trip who'd never been in a truck before," says Afflerbach.