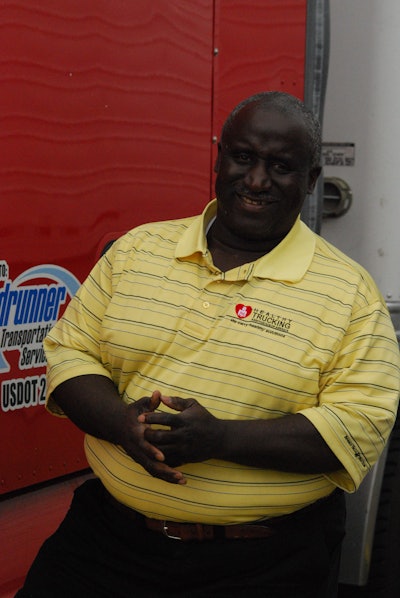 Come September, Roadrunner Transportation-leased owner-operator Glenn Keller will run his first sprint triathlon (half-mile swim, 18-mile bike ride, 4-mile run) — pretty uncommon stuff, given the hauler just six months ago weighed upward of 300 pounds. Since I wrote about his selection to be one of seven individuals the nation over to be part of CNN's Fit Nation Triathlon Challenge, which now in its third year takes selected participants through the tri training stages toward a goal of better overall health and personal accomplishment, Keller's already dropped 35 pounds.
Last year, he got his very first one-year conditional medical certification due his blood pressure being elevated. As of a few weeks back, after his renewal DOT physical, he's back on two-year unconditional certification and he's feeling better than ever, he says.
"This has been crazy," he says about the the Fit Nation program thus far. (If you haven't seen the CNN reports thus far, find various videos, pictures and news via this page.) He's talking mostly about the five-minutes-of-fame dynamic — not only have reporters like myself been tracking him down for stories, but it's gone so far as folks recognizing him on the street. "Is that him? Is that Glenn Keller?!"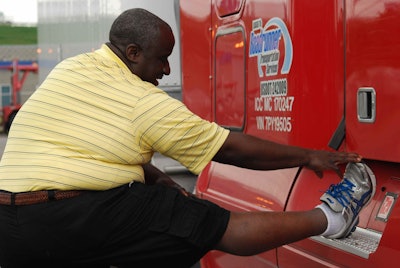 His hometown of Burleson, Texas, just this past weekend held a "Get Going With Glenn" 5K in his honor. He finished at 56 minutes doing a combination walk-run.
The operator's just happy for the extra incentive his six Fit Nation teammates and community efforts like this give him to succeed in a goal that is something of a tall order for the 5'6″ hauler. "I'm shooting for around 200 pounds" ideal weight, he says, regardless of results of the triathlon competition. "I can't go back to 300 pounds."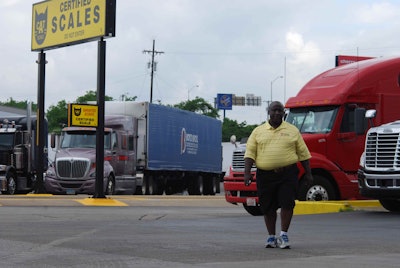 He's hurdled the barrier of understanding his weight's origins, at least. He well recalls being in his mid-late 20s just starting out trucking and thinking nothing of it to lump loads himself and make a few extra bucks — and getting in no small amount of exercise. "Then I remember the days of coming into the truckstop all hours of the night" after a long run and hitting the buffet to then lay down right on top of it immediately after, he says. "Pretty soon it's 'Where are the lumpers?'" They want to charge $200 for the heavy lifting? No problem.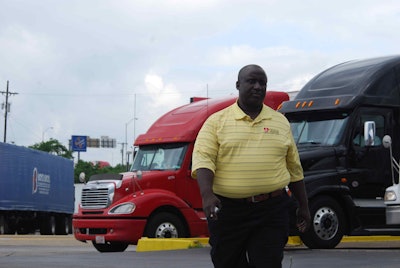 It wasn't laziness, of course. We all know the financial incentive to run more miles, and for Keller what exercise lumping freight could get him was quickly gone entirely.
Keller became an owner-operator the day the Federal Building in Oklahoma City was bombed. He bought his first truck, an early 1990s Freightliner FLD, transitioning from running as a company driver with Freymiller. In OKC to take the keys to his new business, he well remembers the audible shock of the explosions, shockwaves rattling his motel room's door.
It wasn't his last close brush with disaster. Keller, born and raised in New Orleans, La., evacuated to the Dallas-Ft. Worth area before Hurricane Katrina devastated his lifelong hometown. Thankfully, it spared his house, just off Canal Street near downtown, but the ruin of the city in the storm's aftermath discouraged him from returning. Today in Burleson, in addition to his trucking business, he operates Making a Difference Ministries.Through the organization he donates clothing and other items to the poor in his area in Texas as well as in and around New Orleans.
He also conducts a live prayer-request line three times daily wherever he is via the ministry, just his way of reaching out to help people where and when he can.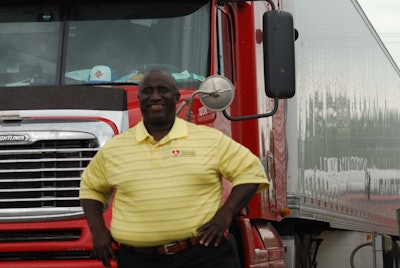 With Fit Nation, he says, he's finally gotten needed attention back to himself. "I was taking care of everything but myself," he says. "My truck gets serviced every 15,000 miles, the car every 3,000, but I wasn't taking care of myself.
"I'm blessed, at my height, not to have developed Type 2 diabetes or having to go on blood pressure medications." After a diagnosis of sleep apnea made 10 years ago, Keller is already saddled with a CPAP machine that "goes everywhere with me," as he wrote in one of his Fit Nation blog posts. "I've been unable to go anywhere without it for years." As he continued on in that post…
It has gone more places with me than my wife.
When I went on a cruise … it was there.
When I go to Louisiana to visit my mother – it's right there.
Spend a night somewhere in a motel … and it's right there.
And yes, it's in the truck also, every time it moves.
It's really an experience going to sleep looking like a scuba diver.
When weight loss really gets going, as some drivers I've talked to have experienced, it's possible to escape the sleep apnea condition — provided weight gain is the primary culprit in the condition. Keller's CPAP machine recently went down, he says. Without it for a brief time, he felt sufficiently energized by natural sleep to, during the Healthy Trucking Association's Healthy Trucking Summit in Atlanta in April, take another sleep test that confirmed he still had the apnea condition.
All the same, he's hopeful getting to 200 lbs. will allow him to to cast off the yolk of the machine.
He's got "75-80 pounds to go," he says. Wish him luck.
Follow Glenn and teammates' progress via this page.