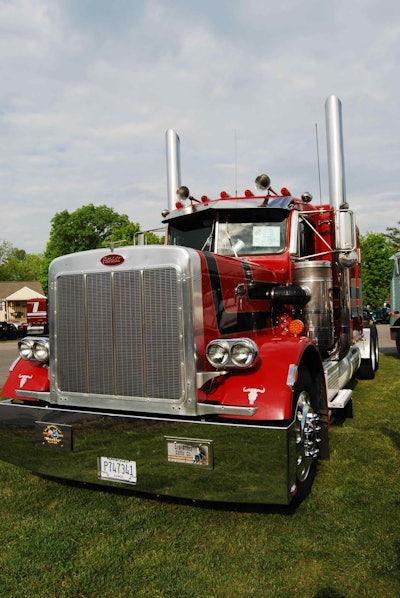 This 1986 Peterbilt 359 is the result of a three-year project conducted from 2007-10 by owners Wayne and Kelly Ziegenfuss, today leased to Bennett Motor Express and hauling mining equipment to Arizona, coming back with copper, on a step deck from a Hendersonville, N.C., home base.
I met the pair at the Southeastern Regional Truck Show in April. They located the base truck in Virginia and did all the work themselves putting it back into operating/show condition, says Wayne. It helped that he'd "been in the collision business for 20 years," he adds, owning and operating Dana Paint & Body from 1990 on.
That after having driven in the 1980s, following growing up with his father driving for B&A Hyder Trucking, also of Hendersonville, through his childhood.
Enjoy the pictures of the unit — one of the many fine trucks I saw at the show, a collaboration of multiple regional American truck Historical Society Chapters around Knoxville, Tenn. Keep tuned for more from the event from time to time. I met a wide array of operators and many a pristine unit there, as any regular reader well already knows…