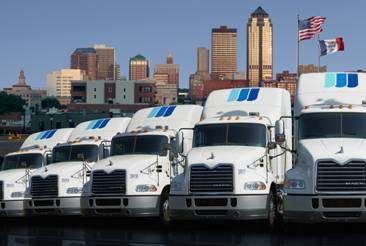 Something is going right for the Jacobson Companies 3PL — Mack Trucks announced yesterday that they took delivery of an order of 259 built-in-the-U.S. Mack Pinnacles, 139 daycabs and 120 sleeper trucks, and they're hiring dedicated company drivers for runs based out of their Des Moines, Iowa, headquarters. Any owner-operators out their run freight for them on occasion or regularly?
The new tractors (some of which are pictured), Mack says, were delivered to Jacobson locations throughout the U.S., and the primary reason the company chose the bulldog had to do with the Pinnacle's fuel economy numbers, as well as the safe and comfortable in-cab driver environment. "We chose Mack because they developed a truck that met our needs and would retain its value in the market," said Scott Temple, president of Jacobson Transportation Logistics Services. Temple added that the new truck would primarily "replace older model trucks and refresh our fleet with new technology and improved fuel efficiency."
When is the last time you bought a new unit? Owner-operator Jeff Clark, a trusted source on the blog here, got into his 2006 Volvo when it was new, paying $105,000. He's "priced a similar 2012 for about $135,000," Clark says, putting around $300 a week in an escrow account to hedge against the possibility of major repairs, "or possibly a large down payment on a new truck."
All the same, while his basic plan is to "get at least two more good years out of this truck, at that point the money in the escrow account will be close to paying off the house. It will be time to re-assess life. I simply do not enjoy my job as much as I used to with all the regs and tight monitoring."
Given equipment costs and more, as owner-operator Clark stares down potential industry exit years down the road, what's your big equipment plan for today's environment? The rising cost of equipment is one of the top owner-operator problems you helped us identify that we'll be analyzing in August-issue reporting. Any thoughts in the comments here are appreciated, or email me direct.